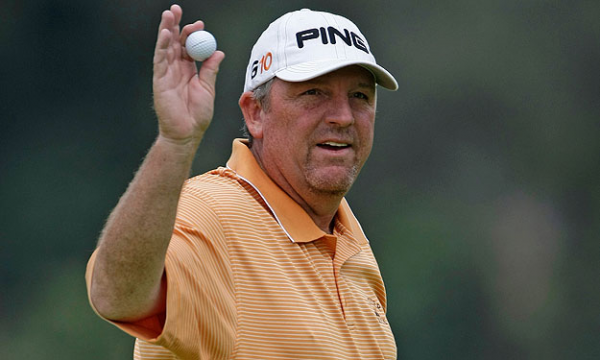 Mark Calcavecchia recorded his second consecutive 3-under-par 69 and took a one-stroke lead over Jay Haas after two rounds of the Regions Tradition, the first Champions Tour major of the year, at Shoal Creek Golf Club in Birmingham, Ala.
Calcavecchia, who has won 30 times in his career including the 1989 Open Championship at Royal Troon in a playoff over Aussies Greg Norman and Wayne Grady, bounced back from his only bogey of the day at No. 15 with an eight-foot birdie putt on the last hole.
"It really doesn't matter, other than the fact that I'm happier that I made the putt on the last hole, made the eight-footer for birdie as opposed to missing it," said Calcavecchia, who is seeking his first Champions Tour win since the 2012 Montreal Championship.
"Sixty-nine sounds better than 70, it always has. It always feels good to birdie the last hole. Leading as opposed to being tied for the lead, that makes no difference whatsoever to me."
Haas, who had a share of the first round lead with a 69, birdied the first four holes and held sole possession of the lead until taking bogeys on the 15th and 18th holes to drop back and finish with a 70.
Olin Browne, who played college golf at Occidental College in Los Angeles, also had a share of the lead on the first day and followed his 69 with a 71 and was two shots back in a tie for third with Kenny Perry, who had a 68.
John Cook, who grew up in Rancho Palos Verdes, posted a 70 and was three shots behind in a tie for fifth with Steve Elkington of Australia, who came in with a 71.
Tom Pernice Jr., out of UCLA, recorded a 70 and was another shot back in solo seventh.