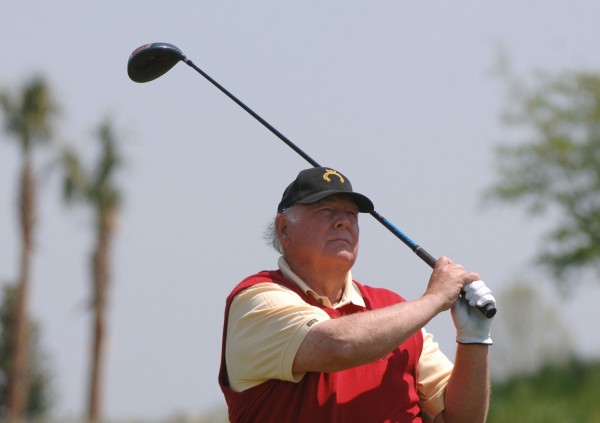 Billy Casper, who grew up in San Diego and went on to become one of the greatest golfers of all-time, died at the age of 83 at his home in Springville, Utah.
Casper, who won 69 tournaments as a professional including three major championships, passed out in the clubhouse at Augusta National during  the Masters last year, later underwent several heart procedures and suffered a bout of pneumonia near Thanksgiving.
"Billy Casper was one of the greatest family men, be it inside the game of golf or out, I have had the fortunate blessing to meet," Jack Nicklaus said in a Facebook post. "He had such a wonderful balance to his life. Golf was never the most important thing in Billy's life, family was. There was always much more to Billy Casper than golf. But as a golfer, Billy was a fantastic player, and I don't think he gets enough credit for being one. I have said many times that during my career, when I looked up at a leaderboard, I wasn't just looking to see where a (Arnold) Palmer or a (Gary) Player or a (Lee) Trevino was. I was also checking to see where Billy Casper was.
"Billy had tremendous confidence. He just believed in himself. You knew when you played against Billy Casper, Billy would not beat himself. You want to talk about someone who could perform under pressure, if you wanted someone to get up and-down for you, Billy Casper was your man. I think it is fair to say that Billy was probably under-rated by those who didn't play against him. Those who did compete against him, knew how special he was."
From 1962 through 1970, Casper and Nicklaus each won 33 times on the PGA Tour and Palmer won 30 times.
According to Golf Digest, Casper's winning rate of 9.2 percent trails only Nicklaus (12 percent) and Woods (26 percent) among all golfers who began their careers after 1950.
Casper, considered one of the greatest putters of all-time, was a member of the United States team in the Ryder Cup eight times, posting a 20-10-7 record. He was Captain of the U.S. team  in 1979 at the Greenbrier in White Sulphur Springs, W.Va., and brought home a 17-11 victory.
His first major title came in the 1959 U.S. Open by one stroke over Bob Rosburg at Winged Foot, and also won the 1970 Masters in a playoff over Gene Littler, his friend from San Diego.
However, his most famous victory came in the 1966 U.S. Open on the Lake Course at the Olympic Club in San Francisco, where he came from seven strokes on the back nine in the final round to tie Palmer and then won an 18-hole playoff the next day.
Casper, elected to the World Golf Hall of Fame in 1978, is survived by his wife of 62 years, Shirley, who was at his bedside when he died, and their 11 children, six of whom were adopted.