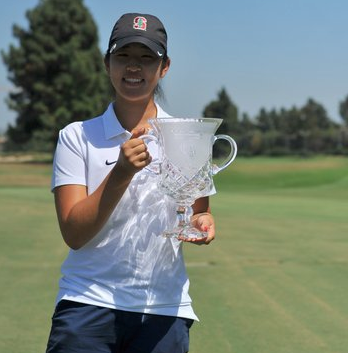 Andrea Lee of Hermosa Beach was the only player to break par in all three rounds while winning the inaugural Southern California Women's Amateur Championship by three strokes over Robynn Ree of Redondo Beach on the North Course at Los Angeles Country Club.
Lee, a senior at Mira Costa High who has committed to Stanford, posted a score of 68-69-69–206, 7-under-par, while Ree finished at 71-71-67–209.
"It's great to have an event like this for women in Southern California," said Lee, who reached the quarterfinals of the U.S. Girls Junior Amateur Championship before losing only a few days earlier. "There are so many great competitors in the area so to be able to compete against each other, at a site like this, in a tournament like this, is great.
"I'm definitely tired. But I feel really good about where my game is. I have one tournament left this summer, the (U.S.) Women's Amateur, so now I'm just focused on preparing for that."
Lee, who will turn 18 later this month, is No. 2 in Golfweek's national girls' rankings.
Danielle Lee of La Mirada was third at 72-71-73–216, while Karah Stanford of Escondido shot 73-73-73–219 to tie for fourth with Rong Ji of Rancho Santa Fe, who finished at 69-74-76–219.
Aliea Clark of Carlsbad was sixth at 70-76-75–221, followed by T.J. Kliebphipat of Panorama City at 74-77-71–222, Raegan Bremer of Anaheim at 71-78-74–223, Amy Matsuoka of Newport Beach at 75-76-73–224, and Kassidy Teare of Vista at 77-73-75–225.
The top 10 finishers received exemptions into next year's event on Aug. 1-2 at Rancho Santa Fe Golf Club.
For complete results please visit www.ghintpp.com/scga/TPPOnlineScoring/ResultsStroke.aspx?id=1164