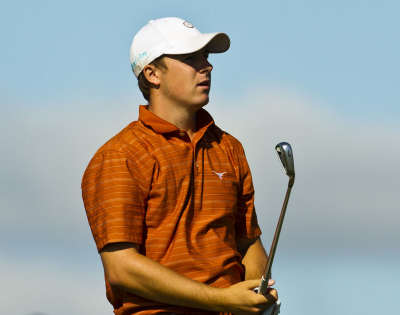 The NCAA Men's Golf Championship match play quarterfinals took place Friday at Riviera Country Club in Pacific Palisades with eight teams still in contention for the title. By day's end, it had been narrowed to four.
The biggest shock of the day was seventh seed Oregon taking down UCLA 3-2. Despite a convincing 5 & 3 win from UCLA's world No. 1 amateur Patrick Cantlay over Jonathan Woo, Oregon's top three players were able to take care of business and secure the Ducks a spot in the semifinals. Eugene Wong finished 1 up over Anton Arboleda, Daniel Miernicki topped Pedro Figueiredo 2 up, and Andrew Vijarro beat Alex Kim 3 & 2.
Pontus Widegren won his match 2 & 1 over Robbie Ziegler to give UCLA its second victory of the day, but in the end the Bruins could not hold off the charging Ducks. Oregon still has its work cut out, as they get ready to face off against the no. 1 ranked Texas Longhorns in the semifinals.
Texas managed a clean sweep over Washington 5-0. The Longhorns were either winning or tied for 80 of the 82 total holes played between the two schools.
Jordan Spieth defeated Ty Chambers 4 & 3, Dylan Frittelli beat Cheng-Tsung Pan 2 & 1, Julio Vegas topped Chris Williams 2 & 1, Toni Hakula took care of Charlie Hughes 3 & 2, and Cody Gribble held off Trevor Simsby to win 2 up.
California knocked off in-state rival San Diego State 3-2. San Diego State went up 2-0 after early victories from J.J. Spaun over Max Homa (4 & 3) and Colin Featherstone over Brandon Hagy (2 & 1). That, however, was about the time that momentum began to swing in favor of the Golden Bears. Pace Johnson never trailed en route to beating Matt Hoffenberg 4 & 3 and Michael Kim was in control for the majority of his victory over Tom Berry 3 & 1.
Joel Stalter (Cal) and Alex Kang (SDSU) were all squared up heading into the 16th hole of the fifth and final matchup. Stalter took holes 16 and 17 by one stroke each and finished off Kang, along with the Aztecs, 2 & 1. California will meet top-seeded Alabama in the semifinals.
Alabama defeated Kent state handily, winning three of five matches and squaring a fourth. Justin Thomas beat Kevin Miller 6 & 5, Cory Whitsett took out Kyle Kmiecik 5 & 4 and Scott Strohmeyer withheld a late charge by Taylor Pendrith to win 2 & 1 for the Crimson Tide.
Hunter Hamrick of Alabama squared with Mackenzie Hughes of Kent State, while Corey Conners was the lone victorious Golden Eagle, knocking off Bobby Wyatt 4 & 2.
Live scoring of the event is available at calgolfnews.com.