By Jim Dover
About a year ago, James Hahn was mostly unknown and grinding out the West Coast swing when he captured his first PGA Tour event at the Northern Trust Open. The next week, he followed up that maiden win with another life-changing moment: the birth of his first child.
"It was really a great two weeks," Hahn said in an exclusive interview with California Golf News days before he was set to fly to the winners-only Hyundai Tournament of Champions in Kapaula, Hawaii – the spoils of his Northern Trust victory.
Though new fatherhood and a come-from-behind PGA tour victory amount to a rare one-two punch, Hahn now is ready to set his sights on his next goal: a repeat win.
"I don't want to be a flash in the pan and just win one tournament and never be heard of again," he said.
That's not likely to be a huge issue for Hahn. The amiable 34-year-old UC Berkeley graduate got off to a strong start to the 2016 season with a top 10 finish at the CIMB Classic Kuala Lumpur. He added an equipment endorsement with the high-profile Parsons Xtreme Golf (PXG) by well-known GoDaddy businessman Bob Parsons.
We spoke with Hahn about the upcoming season, his intense desire to win again and the new perspective that fatherhood has brought.
How do you like fatherhood and will you be the traveling Hahns?
So far it's been smooth because of my wife. She really allows me do what I need to do to be successful. I have enough time to practice and work out and do the things I need to do to prepare. My priorities have switched a bit. Now my workouts are not as important as spending 30 to 40 minutes more with my daughter. The little things that I used to juggle now seem not as important as spending time with my family. Packing for tournaments just got a little more stressful, though.
Some players overcompensate trying to get that second win with either changing their swing or added pressure. How do you guard against that?
I feel like my golf swing has taken me this far and I feel comfortable about my ability. However, there are improvements that I can make, either with equipment or some aspects to my swing. There are always those stories about players changing their swing and going into a slump for four years. However there are plenty of examples of a player changing his swing with a dramatic improvement. If I make a change with anything about my golf game it's 100 percent commitment without looking back.
Are you excited to go back to Riviera and defend? How often do you dream of a back-to-back victory?
I was just thinking about that yesterday, because I have won two times on the Canadian Tour and one time on the Web.com tour and never been able to defend because I graduated to the next tour. It's going to be exciting and really don't know what to expect. I want to be competitive and it would be nice to come back with another trophy. I have a lot of good memories and I can't wait to see what photo they put up on the wall next to the other winners.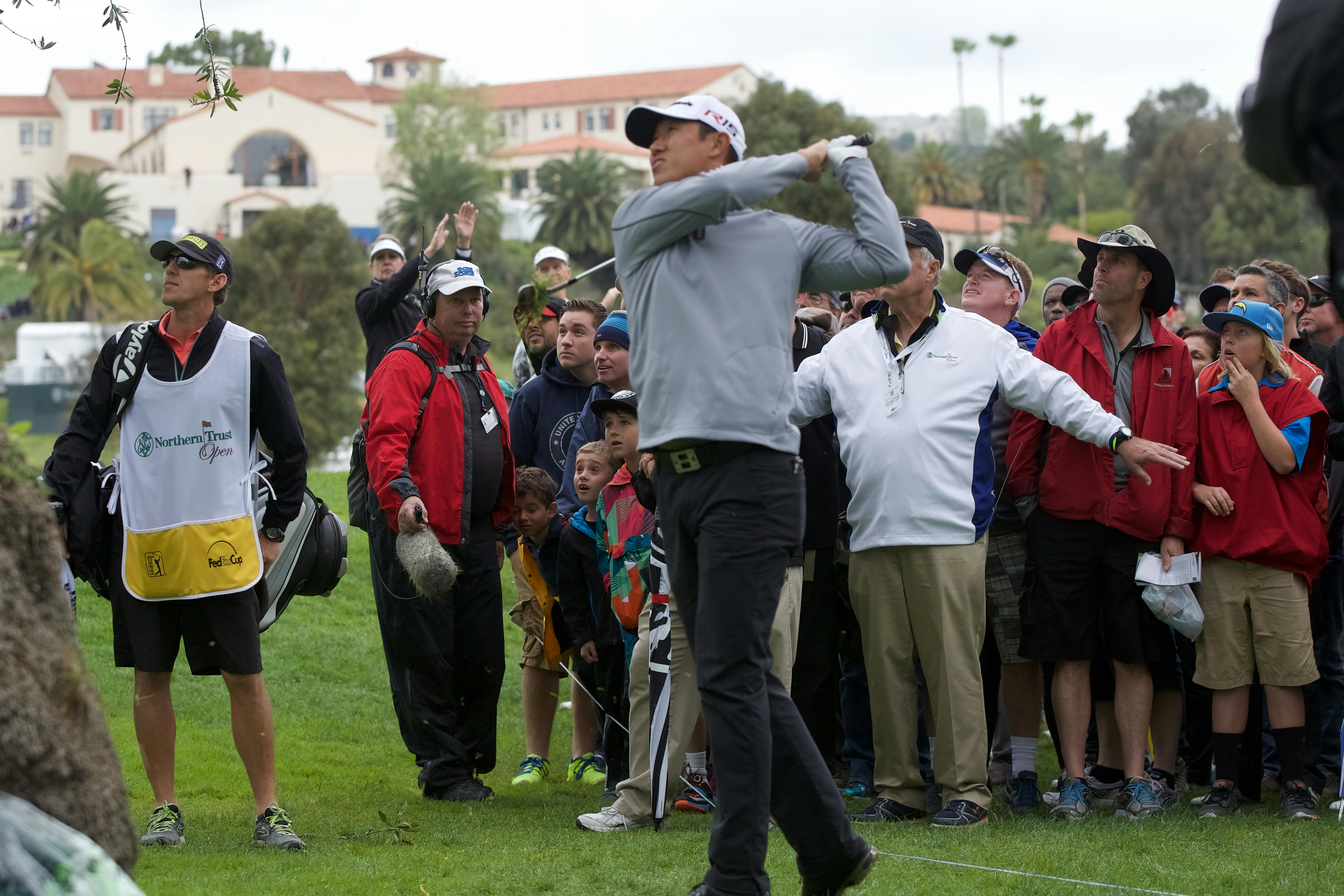 I have to admit I don't think there were very many fantasy pickers or anyone in the media that picked you to win? What clicked for you that week?
I think it had to with what was going on in my life that week. I was playing the West Coast swing and that was my sixth straight golf tournament. I was planning on taking the entire Florida swing off because my wife was pregnant. So we needed to make as much money as we could on the West Coast swing and this was my last chance. I was in a pretty calm place because I was about to take a month off in the middle of the season which I had never done. It's funny how golf works when you're calm and not pressing. You realize there are bigger things than a golf tournament and suddenly you play free. The next week my daughter was born.
The birdie putt you made in the playoff was stellar. So many players lip out that putt or barely miss. The fact that it went in really changed your life in so many ways. Is it scary that you're playing a game that is decided by inches?
To be honest my goals are a little higher than just one tournament and playing in the Masters. There was no doubt in my mind that I was going to win a golf tournament whether it was last year this year or so on. You can always play those scenarios. Imagine if Jordon Spieth doesn't hole-out a bunker shot at the John Deere (2013). If that shot holes out he doesn't go to the Open Championship, then to the Presidents Cup, then to the Fed Ex Cup playoffs and it just keeps going. It's amazing how golf is a momentum sport and I feel like I have to keep riding this wave and never look back at "what if" scenarios.
You must be excited to play in the Kapalua field at the Hyundai Tournament of Champions.
I've asked a few players about playing this tournament and they mainly tell me just to enjoy it. They also say it's really brutal with steep hills, a tough walk and the wind blows hard. As a first-timer I really want to do everything that week and really enjoy myself. I'm just looking forward to going there as a tournament winner.
Those are also great tournaments to get your money stats and World Rankings up. The money is obviously great, but it's really the experience that will be worth more in the long run.
You've already played twice this year with one top 10. That must give you some confidence.
Something just clicked at the end of this year where golf was just more fun. With a family that is so supportive, especially with everything that has happened this year, just puts me in a real positive space. It makes golf really fun. It's just great to get those competitive juices back again. It's very addicting. It really pushes me.
What are you working on in your swing, anything specific?
I practice a bunch at TPC Scottsdale and there are other Pros that are there as well…Kevin Chappel, Matt Jones, Pat Perez and sometimes I ask what they're working on and you can always learn from other good players like that. There are a few minor things I'm doing with my swing and I also have some equipment changes (PXG Clubs). It should be interesting to see if all of those changes transfer to the new season.
Do you have any specific goals for 2016?
My goals are simple and this year my goal is to win again. I need to win another tournament and it really takes care of so many things whether it's playing the Masters again, finances, better exemptions. Other than winning I really want to be more selfish with my family time. I want to practice more efficiently and use my time more effectively to spend with my family. If I practice for five hours and two of those are non-productive, I want to change that to practice three productive hours and get home to my family.
You have a great personality. Your current narrative is ex-shoe salesman and your Gangnam-style dance. Do you think about how you're portrayed in the media or with fans?
I can't change my experiences and I definitely own up to that aspect of my biography, but the funny thing about the Gangnam style dance is that was almost four years ago and I only did it one time. I'm OK with it but moving forward I think if I can win I think I can change that narrative. I do like showing that a guy who still has to make ends meet by selling shoes can make it on the PGA Tour. I think that gives a lot of players hope that they can do it too.
You still are probably considered one of the younger players, but you've been at this awhile now. How do you keep it exciting and stay motivated?
There are so many experiences I've had up to this point, but I think what I've learned is it's one thing to taste success but it's another thing to keep that success and not take a step backwards. The motivation is not to revert to the situation I had when I wasn't on the PGA Tour and not able to provide for my family, help others and give back to the community in Alameda, California. Golf is something that I want to play and be competitive in into my fifties.