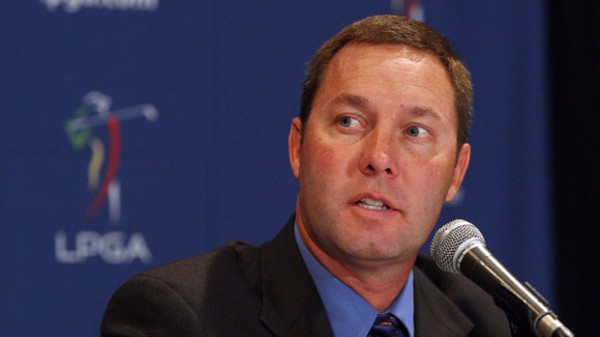 Commissioner Mike Whan, who has turned around the fortunes of the LPGA Tour, has agreed to a six-year contract extension through 2020.
Mike Trager, chairman of the tour's board of directors, announced the deal in a letter to players and staff.
"I was honored to be asked," Whan, who has led the LPGA Tour to prosperity in the last five years, sad at Mission Hills Country Club in Rancho Mirage, where the ANA Inspiration will be start on Thursday.
"I always say in board meetings, 'I'm proud to be part of this crazy family. "Because that is what it is. It's kind of a crazy traveling family. I feel like I'm part of the family, and I feel like we've got a long way to go."
The 50-year-old Whan took on the job in January 2010, five months after Carolyn Bivens resigned after disgruntled players wrote a letter to the board of directors calling for her to quit.
Under Whan's leadership, the LPGA Tour has grown from 23 events and $40 million in total purses in 2010 to 33 events and more than $60 million in purses this season.
"I've said many times I don't want to be remembered as the team that brought us from 23 to 33 events," Whan said. "That seems incredibly underwhelming and unfulfilling. It just seems there is a lot more we can do. A lot more we have done."
Whan was president and chief operating officer of Mission-Itech Hockey before coming to the LPGA Tour. He also had sports jobs at Taylormade-Adidas Golf and Wilson Sporting Goods.