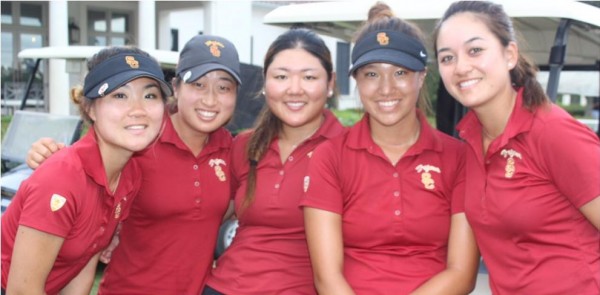 USC won stroke-play qualifying by five strokes over Duke and headed into match play as the top-seeded team in the NCAA Women's Championships at Concession Golf Club in Bradenton, Fla.
The Trojans finished with a score of 297-303-298-294–1192, followed by Duke at 293-309-292-303–1197, Baylor at 297-307-306-288–1198 and Stanford at 293-323-296–287–1199.
"It obviously means a lot to win stroke play, because I feel that defines our team, how deep we are and how talented we are," USC Coach Andrea Gaston said. "I'm really proud of them. All we said this week was that they had to stay focused and patient and they did.  Getting the draw we did with tee times, they really had to have the stamina to get to bed and back up to battle again on such a difficult layout. You just had to draw on every ounce of energy and bring it out to this course and do the best you could do. I've been at 18 NCAA championships and this was one of most difficult.
"Now we start over. "Hopefully, our girls can get refreshed and clean the slate. It's important for them to almost forget about the past few days and start over. Now we don't have to worry as much about the scores and hopefully that will allow them to free up a bit. With this demanding course, you have the tendency to tighten up and the course can get very narrow, and the greens are difficult. Hopefully they'll get out there and play aggressive. I like our lineup from top to bottom."
Arizona was fifth at 300-311-294-300–1205, while Tennessee totaled 301-309-300-302–1212 to tie for sixth with Texas Tech, while came in at 319-294-307-292–1212, and Washington was eighth 301-316-297-300-300–1214.
USC will play Washington in the quarterfinals of match play, which will determine the national championship. Duke will face Texas Tech, Baylor will meet Tennessee and Stanford will take on Arizona.
UC Davis finished 11th at 305-304-306-305–1220 and UCLA was 15th at 319-318-293-303–1233.
Emma Talley of Alabama sank a six-foot birdie putt on her final hole to win the NCAA individual title by one stroke over Gaby Lopez of Arkansas and Leona Maguire of Duke.
Talley, who became the fifth player to win the U.S. Women's Amateur Championship and the NCAA title, shot 70-73-73-69–285, while Lopez finished at 70-76-74-66–286 and Maguire totaled 71-74-73-68–286.
Mariah Stackhouse of Stanford was sixth at 68-78-75-70–291, Lauren Kim of Stanford tied for seventh at 71-80-72-69–292, Gabriella Then of USC tied for 10th at 75-74-73-73–295 and 2013 champion Annie Park of USC tied for 16th at 70-76-75-76–297.
Bronte Law of UCLA tied for 18th at 79-74-71-75–299, Karen Chung of USC tied for
21st at 77-79-73-71–300 and Kyung Kim of USC tied for 32nd at 75-77-77-74–303.
Paige Lee led UC Davis in a tie for 34th at 73-79-75-77–304.