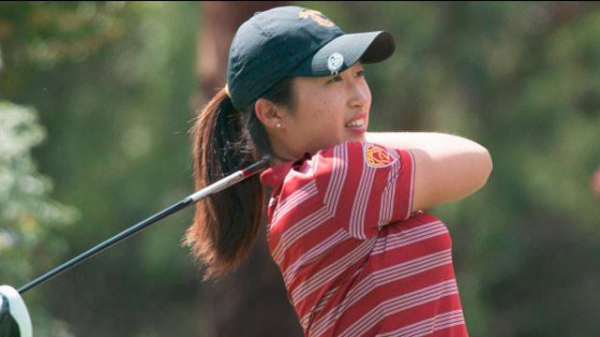 Top-ranked USC bounced back after its eight-match winning streak was snapped a week earlier to win the Bruin-Wave Invitational by 13 strokes over Pepperdine, and sophomore Kyung Kim of the Trojans claimed the individual title at El Caballero Country Club in Tarzana.
The Women of Troy posted a score of 296-277-290–863, 1-under-par, to capture their sixth victory in seven starts this year, one off the school record seven titles they claimed last year en route to winning the NCAA Championship.
"I'm really proud of the team for coming back this week and dominating at this course," USC Coach Andrea Gaston said. "It's one of the most difficult courses we'll play all year. We had little time to prepare, and had to practice between rainstorms, but they got it done.
"I was also excited to see Kyung hang in there down the stretch and get the individual win, along with Doris (Chen) and Annie Park) tying for second."
The Waves finished second at 291-290-295–876, followed by second-ranked UCLA at 292-286-308–886, Arizona at 299-295-305–899, Oklahoma State at 294-297-312–903, Washington at 229-301-311–911 and Cal at 301-303-309–313.
Long Beach State finished 11th at 308-311-317–936, San Diego State was 13th at 314-308-316–938, and Cal State Northridge wound up 14th at 322-314-315–951.
Kim, from Chandler, Ariz., collected her second victory this season and the third of her college career by carding a score of 70-70-73–213, 3-under-par, to beat Chen and Park by one stroke.
"I'm very excited for my team to come back and win this week," said Kim, who won the 2012 U.S. Women's Amateur Public Links Championship. "This was a test for me to play well on such a demanding course. I'm happy that I was able to stay patient and play well throughout 54 holes."
Chen, a junior from Bradenton, Fla., finished at 72-67-75–214, while Park, a sophomore from Levittown, N.Y., came in at 77-68-69–214.
Marissa Chow of Pepperdine shot 72-70-74–216 and tied for fourth with Alison Lee of UCLA, who totaled 70-70-76–216, and Grace Na of Pepperdine, who wound up at 73-72-71–216.
Hannah Suh of Cal tied for eighth at 71-72-75–218 and Somin Lee of Pepperdine tied for 10th at 72-72-77–221.