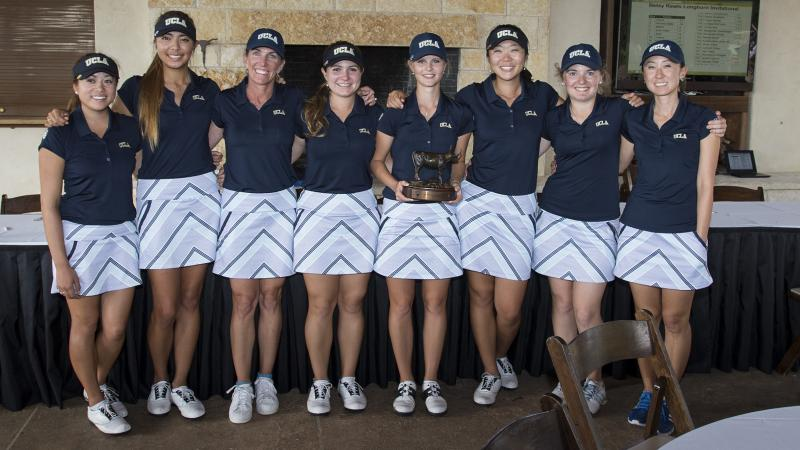 Second-ranked UCLA placed five players in the top 17 and ended archrival and top-ranked USC's eight-match winning streak by six strokes in the Allstate Sugar Bowl Intercollegiate at English Turn Golf and Country Club in New Orleans.
The Bruins, who won for the third time this season but the first since the Betsy Rawls Invitational in October, posted a score of 285-277-281–843, while the Trojans wound up at 285-281-283–849.
"We putted quite well the last two rounds, starting out yesterday afternoon making some putts," said Coach Carrie Forsyth, who claimed her 52nd victory with the Bruins.
"Our team usually hits it pretty well and we hit it pretty close. The thing is whether or not we can make our putts. We were able to do that the last two days and that was a big part of (winning) today."
Florida was third at 283-289-286–858, followed by Denver at 296-285-285–866, while Alabama finished at 289-288-291–868 to tie for fifth with Clemson, which came in at 295-284-289–868.
Marta Sanz of Auburn carded six birdies in the final round and claimed the individual title at 71-69-68–208, 4-under-par, with Tonje Daffinrud of Denver one shot back in second at 70-67-72–209.
Alison Lee, a freshman from Valencia, led UCLA in a tie for third at 72-68-70–210, but got plenty of help from her teammates, as junior Erynne Lee tied for sixth at 71-66-74–211, sophomore Louise Ridderstrom tied for 11th at 70-73-70–213, senior Ani Gulugian tied for 14th at 73-70-71–214 and freshman Bronte Law tied for 17th at 72-74-70–216.
For USC, sophomore Kyung Kung shot 71-72-69–212 and finished in a tie for eighth that included sophomore teammate Annie Park, who totaled 73-69-70–212, senior Sophia Popov tied for 11th at 67-74-72–213, and senior Rachel Morris tied for 17th at 71-75-70–216.