You know the place must be special when golfers from a state known for its spectacular golf courses and weather head to another state to play golf because of the weather, the scenery and the incredible golf courses. But such is the case for Arizona, as even those from sunny California flock to places like Tucson to tee it up in what has truly become a golfer's paradise.
There are several things that draw Californians and golfers from around the world to Arizona's second largest city: the climate, the beauty of the desert and golf courses that are second to none. Some of those courses reside on what is known as the Wildcat Trail golf courses, and they include tracks such as Arizona National, The Golf Club at Vistoso, Forty Niner Country Club, San Ignacio Golf Club and Canoa Hills Golf Club.
And let's not forget the resorts, many of which are some of the best in the world. Here's a quick look at some of Tucson's finest retreats for golfers and non-golfers alike.
THE RITZ-CARLTON RESORT, DOVE MOUNTAIN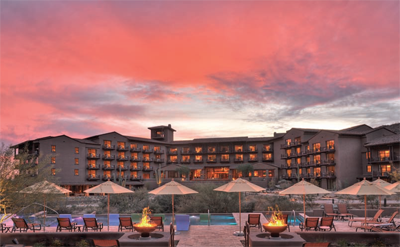 The new Ritz-Carlton Resort, Dove Mountain is an inspiring high-desert destination where guests can explore an invigorating playground that reaches out through a sprawling Saguaro forest, and also enjoy a variety of pleasures offered in a relaxed resort atmosphere.
Located northwest of Tucson and overlooking the scenic town of Marana, Dove Mountain embodies the authentic Arizona experience. Guests can embrace their inner adventurer amidst a blend of history, culture and natural beauty of the Sonoran Desert, while service the Ritz-Carlton's way.
The resort features a 27-hole Jack Nicklaus Signature golf course that is home to the Accenture World Match Play Championships. And after that round of golf guests can head to the secluded Spa Dove Mountain, which accentuates organic desert botanicals to invigorate the body.
The Ritz-Carlton, Dove Mountain has 250 guest rooms and an adjacent cluster of secluded, multi-bedroom casitas designed for families and friends. Nestled in the foothills of the Tortolita Mountains, the resort is surrounded by thousands of majestic Saguaro cacti and diverse wildlife.
The nearby Tucson community is a blend of Southwestern history, culture and topography that provides eclectic combinations of Native American culture, as well as the Arizona's Old West heritage. Home of the University of Arizona, the city also offers an avant-garde art scene that includes the symphony, ballet, opera, theater, museums and galleries.
The new Ritz-Carlton Resort, Dove Mountain is an inspiring high desert destination where guests can explore a playground that reaches out through a sprawling Saguaro forest and also enjoy a variety of pleasures offered in a relaxed resort atmosphere.
Among those pleasures are 27 holes of challenging golf that blend nicely into the High Sonoran Desert's mountainside terrain (the course elevation varies between 2300 and 3000 feet). The large greens feature dramatic movement throughout each nine with the course winding its way along desert washes with plenty of native plants and animal life – as well as majestic, centuries-old Saguaro Cacti. Although the fairways are generous, there are numerous carries off the tees, with five sets of tees designed to provide the right experience for any level golfer.
Dove Mountain also features a 45,000-square-foot clubhouse complex that is a luxury retreat in an authentic Arizona setting.
An exclusive getaway for the traveler desiring something unique, the Ritz-Carlton, Dove Mountain and its Nicklaus golf course is a destination to be put on any golfer's wish list.
Resort Information: 502/572-3500
www.ritzcarlton.com/dovemountain
JW MARRIOTT STARR PASS TUCSON RESORT & SPA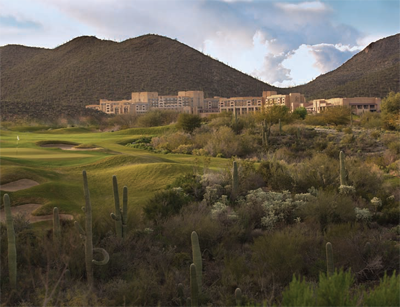 Drawing on the beauty of its location, the Marriott Starr Pass Tucson features elements of the lush Arizona desert and far-reaching landscape throughout its design. Each of the resort's 575 spacious guestrooms and 35 suites feature a private patio or balcony coupled with magnificent Tucson views.
And then there's the golf: The Starr Pass Tucson Golf Club, where desert golf takes on a new meaning. As if a 27-hole Arnold Palmer Signature Golf Facility with a double-loaded driving range, a 20,000-square-foot clubhouse and top-quality golf shop wasn't enough inspiration, golfers at Starr Pass will be awed by the backdrop of natural mountain ranges.
Starr Pass Tucson Golf Club also offers great teaching facilities and practice areas with putting and chipping greens, and a double-loaded driving range. The Golf Shop offers the latest in top-quality equipment, rentals, apparel and products.
Resort Information: 520/792-3500
www.jwmarriottstarrpass.com

OMNI TUSCON NATIONAL RESORT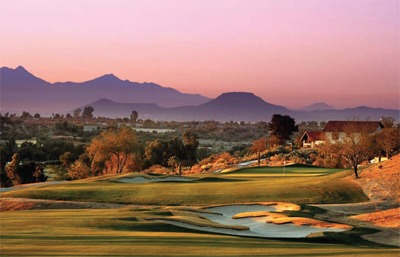 The Omni Tucson National Resort has it all – from its picturesque setting in the foothills of Tucson's Santa Catalina Mountains to the lush fairways of its 36-hole championship and desert-style golf courses.  Recently selected by Golf Digest as Best Places to Play and one of the "75 Best Golf Resorts in North America," this 650-acre desert resort with 128 guestrooms is one of Tucson's finest.
Golfers may recognize the golf courses at the Omni Tucson Resort, and for good reason – the resort has hosted PGA tour events where legends like Nicklaus, Trevino and Palmer have teed it up. And the addition of the Sonoran Course, designed by Tom Lehman, has created a truly dynamic golf experience to the Omni.
As host course for the PGA Tour's Chrysler Classic of Tucson and the Southern Arizona Open, the Omni Tucson National Golf Course takes center stage. Its traditional-style fairways cap a bluff overlooking the beauty of the Santa Catalina Mountains, and the PGA pros rank the 18th hole as one of the most challenging finishing holes on the tour.
And then there's the new desert-style target course, the Sonoran Course. This Lehman-designed layout offers a combination of native desert vegetation with strategic fairway bunkering. Players can approach each hole in a variety of ways, keeping the course challenging and unique with each new round.
Resort Information: 520/297-2271
ww.omnihotels.com/FindAHotel/TucsonNationalGolfResortAndSpa

And More Golf…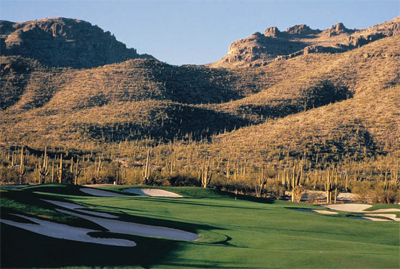 Among Tucson's premiere golf courses is Arizona National Golf Club, formerly known as The Raven Golf Club at Sabino Springs. Designed by Robert Trent Jones, Jr. in 1995, the golf course is nestled in the foothills of the stunning Santa Catalina Mountains adjacent to the Coronado National Forest. The golf course follows the rugged natural flow of the land across shady, mesquite-lined arroyos and skirts craggy rock outcroppings. Along the way, Arizona National Golf Club's diverse 6785-yard layout will challenge you with a little bit of everything.  Arizona National is also the home course of the University of Arizona Wildcats Men's and Women's Golf Teams, and Golf Magazine named Arizona National Golf Club one of the "Top 100 Golf Courses You Can Play in the United States."
www.arizonanationalgolfclub.com.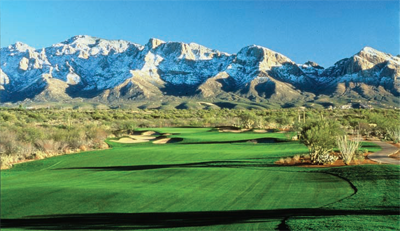 The Golf Club at Vistoso is another gem in the beautiful Tucson desert. The Golf Club at Vistoso is a Tom Weiskopf-designed 18-hole course that is semi-private. Vistoso is Spanish for "colorful views," and this course is equipped with dramatic scenery and impeccable conditions. Every hole on this stunning course is unique and memorable and offers both high risk and high rewards to those who play it. This beautiful desert course is one of the best properties that Tucson has to offer, and it has been given a 4.5 star rating from Golf Digest while being rated as the Best Public Course in Tucson.
www.vistosogolf.com.
Other courses on the Wildcat Trail are the Forty Niner Country Club, a William Francis Bell-designed classic; the San Ignacio Golf Club, a 6704-yard Arthur Hill-designed course; and the Canoa Hills Golf Club, a challenging 6610-yard Dave Bennett design that takes full advantage of its natural setting.
Remember one thing: Tucson, Arizona offers up some 315 days of sunshine a year, so there's plenty of time to explore all the resorts and golf courses the area has to offer.