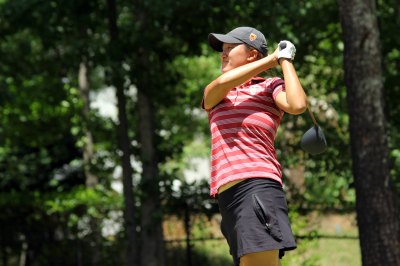 By Jim Dover
The No. 1-ranked USC Trojans won their third national team title in convincing and record-setting style, while freshman Annie Park claimed USC's fourth individual women's crown at the NCAA Women's Golf Championship May 21-24.
The victory at the University of Georgia Golf Club in Athens, Ga., was the opposite of so many recent disappointments for USC, which lost an NCAA title last year by one stroke to Alabama and by the same margin in 2010 to Purdue. This year, the Trojans enjoyed a comfortable margin throughout the final day, though it was not without some nerves.
"It was still a nail-biting round," said 17-year head coach Andrea Gaston. "When you've got the wind blowing it's not in our control, but these girls know what they're doing."
USC won by 21 shots, finishing 19 under par, with an NCAA finals record score of 1133. The Trojans were the only team to finish under par, with runner up Duke ending at two-over. Freshman Park – who only joined the Trojans this spring as an early high school graduate – finished 10 under in the individual competition, six strokes ahead of Duke's Lindsay Duncan.
"The result was very unexpected," Park said. "I was just trying to play my best each round and each shot. It turned out to be good and it feels great."
USC's Kyung Kim and junior Sophia Popov tied for sixth at one-over 289. Doris Chen of the Trojans tied for 15th at four-over 292 and Rachel Morris tied for 17th at five-over 293.
The four-day tournament was a success for many west coast schools competing at the 6,372 yard par-72 University of Georgia course. UCLA finished fourth, with Arizona St. fifth and Arizona ninth. Stanford finished tied for 13th, with surprise first round leader San Jose State finishing 19th.
USC began to pull away in the second round, opening a 12-shot lead. Four players shot under par, led by Park's 5-under 67 and Kim's 3-under 69. As a team, USC broke the NCAA record for a low round (276) in the NCAA Championships, beating Arizona St.'s previous record from 1998 by one shot. In the third round, USC stretched their lead to 17 strokes despite a difficult round that at one point had the Trojans 5-over for the day. However, Park grinded her way to a 2-under 70 that also gave her the individual lead by two strokes and the Trojans finished the day as a team at 3-under.
UCLA's Erynne Lee finished tied for fourth in the individual competition, and Arizona St.'s Noemi Jimenez tied for 10th.