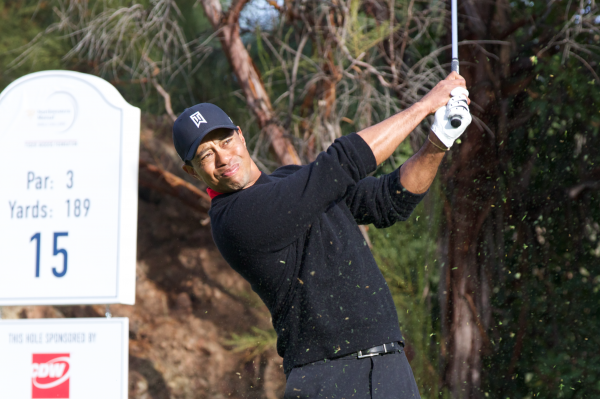 Tiger Woods' plane was spotted at Augusta Regional Airport, indicating that the 14-time major champion might be playing a practice round at Augusta National, the strongest hint yet that he might return next week for the Masters.
Woods has not played on the PGA Tour since withdrawing during the first round of the Farmers Insurance Open at Torrey Pines in February because of back spasms, and said he would not return until he believes his game is competitive for tournament golf.
The Augusta Chronicle reported that a plane with the tail number of Woods' Gulfstream G5 was parked at the terminal for private aircraft at the local airport.
Mark Steinberg, Woods' agent, confirmed later that his client did, indeed play a practice round at Augusta. No further details were available.
This came a few days after Notah Begay, an analyst for the Golf Channel who played on the Stanford golf team with his close friend Woods, said it was "50-50" that Tiger would play in the first major of the year.
"I think Tiger Woods is going to play the Masters," Tim Rosaforte of Golf World and the Golf Channel said Monday night. "I also think you'll see him take a trip to Augusta National this week where he can practice in solitude without a camera on him.
"I base this not only on Notah Begay's 50-50 prediction that got so much traction, but by some of the scores he's been posting and the improvement he's shown over the past two weeks up at Medalist Golf Club (in Hobe Sound, Fla.).
"Friends in Palm Beach are also saying, 'Tiger's got the edge back.'"
On Monday, Woods fell out of the top 100 in the World Golf Rankings for the first time since 1996.