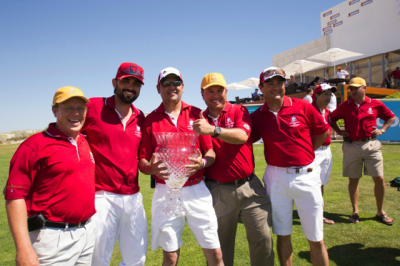 PUERTO PEÑASCO, Sonora, Mex. — For the Second time in the history of Mexican sports, an international golf tournament took place between Mexico and the United States under a Ryder Cup format at Peninsula de Cortes Golf Course at the Mayan Palace in Puerto Peñasco, Sonora, Mexico May 17-20, 2012.
The U.S. Team, captained by Scottsdale's Vito Berlingeri, who was also the tournament director along with Andrew Gilchrist of the Peninsula De Cortes Golf Course and this years Team Mexico Captain, Team Mexico prevailed over Team USA Team 44-36, in a dramatic final day Single Match format. The competition was about more than golf. "For the second year in a row the event exceeded our expectations," Berlingeri said. "All of the matches were very close and all of the amateurs played their hearts out. "Team Mexico having lost last year had something to prove." said Gilchrist, "We came out on the first round in four ball matches wanting to prove that we are good golfers." Mexico won the overall matches in terms of points, but the most important thing was that golf brought the two countries together and so many new friendships were formed. There were a lot of emotional moments.
The objective of the Uniting Nations Cup was to promote friendship, commercial and cultural relations between the two countries. It succeeded because of the people involved. "We utilized golf as an ambassador," Berlingeri said. "What developed was way beyond our expectations. Golf brought the two countries together.  Once again many friendships were rekindled and new ones made.
The event was the brainchild of Andrew Gilchrist, the tournament host and director of golf at Peninsula De Cortes Golf Course, and Vito Berlingeri. Special thanks to Ed Gowan and Lorraine Thies of the Arizona Golf Association for stepping up and partnering with this great event, they made it all possible. "For the second year in a row," Berlingeri said, "the Uniting Nations Cup has promoted goodwill between the two countries." "This event is growing every year as we utilize the game of golf to continue to strengthen our relationships," he said. "We expect it to be bigger and better in 2013" As meetings are taking place for including 10 PGA & PGAM professionals for 2013 on a invitational basis.
Next years event is scheduled for May 15-19, 2013, for information on the UNC event please visit azgolf.org for updates.
Website for host facility: www.mayanpalace.com.mx; Arizona Golf Association: http://www.azgolf.org
To view pictures of the event go to www.rockypoint360.com.