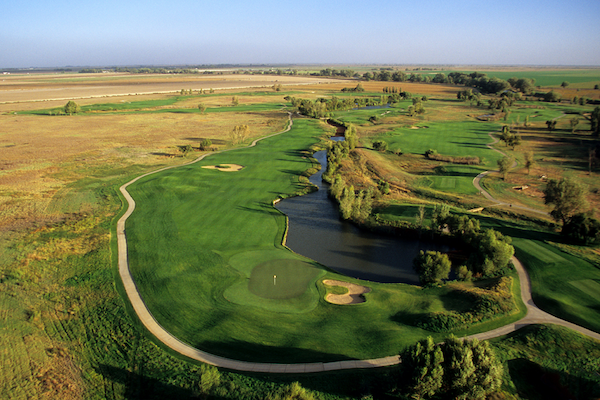 The golf at beautiful Stevinson Ranch Golf Club continues after clubhouse blaze.
Out on the course at Stevinson Ranch Golf Club, there's absolutely no sign of the fire that destroyed the facility's clubhouse on July 25.
Now, almost nine months later, play continues as normal on the immaculate greens and fairways, and there's still a place to get a burger and a beer. But, despite the excellent conditions, traffic has slowed at Stevinson Ranch since the blaze that caused more than $1 million in damage.
"It's kind of surprising that we've slowed down," said George Kelley, founder and owner of Stevinson Ranch. "The course is in tremendous shape and players are still having a great golf experience here."
Ranked the No. 5 public course overall in the U.S. by the Golf World Readers Choice poll, Stevinson Ranch's Savannah Course utilizes the natural landscape of the San Joaquin Valley in Stevinson, Calif. to provide a lush, fertile layout that is both playable and challenging for all skill levels. The area's climate and soil make Stevinson Ranch a year-round golf destination.
Stevinson Ranch is currently offering special deals to bring players back to the course; among those are what Kelley calls five "deeply discounted" tee times available daily via the club's website, www.stevinsonranch.com. The club's 22-cottage stay and play and meeting facility is also in full operation, featuring pool and BBQ facilities to make it the perfect setting for golf getaways and corporate outings.
"We're working with a company on some great stay and play offers, which people can get information on by registering their email on our website," Kelley said. "We can keep players up to date on everything that's going on, including these specials we're putting together."
For the time being, the only thing missing at Stevinson Ranch is a full service clubhouse, but Kelley and his partners already addressed the food and beverage needs of players and put plans in motion to give guests all they need.
"We've already got a place set up to cook burgers and pour soda and beers, and within a month, we'll have the temporary structures ready with a full bar, pro shop, big screen TV, an outdoor deck … everything," Kelley said. "It's not the old clubhouse, but it's going to be a great temporary solution while we rebuild."
Also in the works is an update and remodel of Stevinson Ranch's 15,000 square foot open air pavilion, which will have a bar and kitchen added in spring of 2014. The rebuilt clubhouse is 18-24 months away, Kelley says.
Kelley will be blogging regularly in his "Kelley's Corner" section of the Stevinson Ranch website to provide updates on improvements and construction, and to remind players that the golf course is in full operation.
Stevinson Ranch is conveniently located from several major population areas in Central and Northern California — about 30 minutes from the Modesto and Merced areas, about an hour from Stockton and Tracy, and 90 minutes from Sacramento. The San Francisco Bay area, San Jose, Carmel/Monterey and Oakland areas are all typically under a two hour drive from Stevinson Ranch.
"We're hoping people will come out and support us during this difficult time," Kelley said. "But when they come out, they'll enjoy themselves tremendously and get to see the Phoenix rising here at Stevinson Ranch."