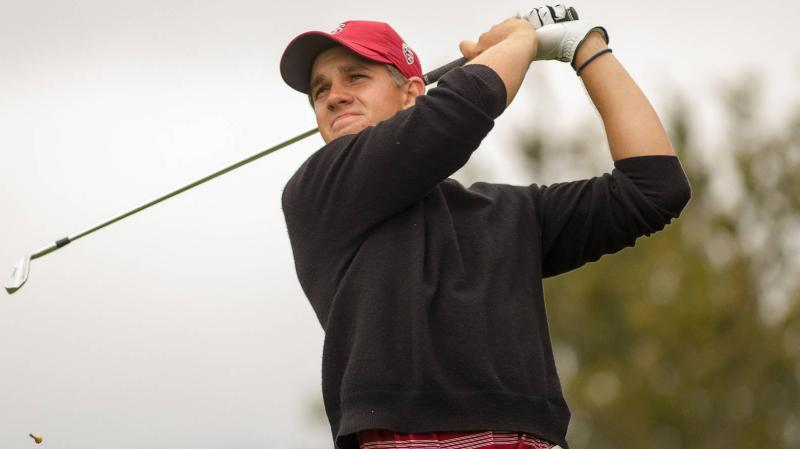 Patrick Rodgers claimed his seventh individual title and led Stanford to a two-stroke victory over Washington in the Prestige at PGA West on the Greg Norman Course in La Quinta.
The Cardinal posted a score of 269-280-282–831, 21-under-par, to win for the second time this season.
"I'm really excited for the team to pick up our second win of the season, and hats off to Washington for a solid round to finish the tournament," said Conrad Ray, Stanford's Director of Men's Golf.
"Our guys held strong and finished well. We had contributions from all players in the lineup and it was neat to see Patrick Rodgers win another individual title. We're looking forward to working on a few loose ends to get ready for our next event."
Washington finished second at 286-277-270–833, followed by UCLA at 282-286-273–841 and LSU at 286-281-279–846.
Arizona State tied for fifth at 290-290-272–852, Oregon was seventh at 285-281-287–853, San Diego State was eighth at 280-288-286–854, USC finished ninth at 288-286-281–855, UC Davis wound up 10th at 291-293-279–863 and Pepperdine came in 11th at 306-279-285–870.
Rodgers, a junior from Avon, Ind., tied Joel Kribel for second on Stanford's all-time victory list, trailing only Tiger Woods, who won 11 times. Rogers recorded a score of 65-68-71–204, 9-under-par.
Max Rottluff of Arizona State was second at 69-69-67–205, followed by Gerrit Chambers of Washington, who wound up at 74-66-66–206.
Cameron Wilson of Stanford shot 68-70-69–207 and tied for fourth with Trevor Simsby of Washington, who totaled 72-71-64–207, and Curtis Thompson of LSU, who came in at 68-71-68–207.
Jonathan Gerrick of UCLA posted a score of 69-72-68–209 and tied for seventh with Jim Liu of Stanford, who wound up at 74-67-68–209, Corey Pereira of Washington, who finished at 69-70-70–209, and Benjamin Taylor of LSU, who shot 74-68-67–209.