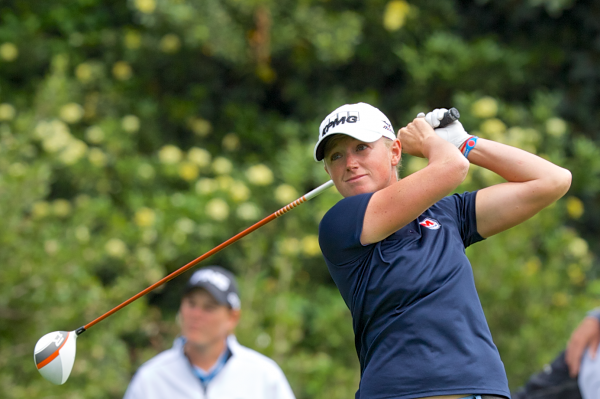 Stacy Lewis carded a sizzling 8-under-par 63 to take a one-shot lead over Cristina Kim of San Jose into the final round of the ShopRite LPGA Classic in windy conditions on the Bay Course at Stockton Seaview Hotel and Golf Course in Galloway, N.J.
Lewis, No.2 in the Rolex Women's World Golf Rankings who can take the top spot with a victory, birdied three of the last four holes after having a run of four birdies in five holes through No. 7.
"My alignment was kind of messed up the last few rounds, and kind of started to figure it out throughout the day (Friday), and it definitely felt a lot better today," said Lewis, who captured the North Texas LPGA Shootout earlier this year for her ninth LPGA Tour victory. "I hit a ball a lot more solid, didn't have to make as many par putts, and it was just a lot easier overall.
"I think if you look at a lot of my wins and a lot of the courses I played well on is when it's windy, and when it's hard. I enjoy that. I like when you kind of have to work shots into the wind or do you hit more club and work it into the wind, or hit less club and let it ride the wind. I like doing that, like being creative. It really just suits my game."
Kim, seeking her third LPGA Tour victory but the first since the 2005 Tournament of Champions, made a single bogey at No. 16 and followed her opening 64 with a 67.
Jennifer Johnson of Carlsbad, who tied the course record with a 62 in round one, birdied the last hole for a 70 and was two shots back in solo third.
Anna Nordqvist of Sweden, who has won twice this season on the LPGA Tour, recorded a bogey-free 65 and was four strokes behind in a tie for fourth with Gerina Piller, who posted a second straight 67.
Haeji Kang of South Korea was solo sixth after a 67, while top-ranked Inbee Park made three bogeys in her last five holes to finish with a 70 and was six shots back in a tie for seventh with Haru Nomura of Japan, who had a 73.