Carlsbad's Sheraton Resort & Spa and The Crossings golf course are a breathtaking combination
After establishing their place at the nexus of golf culture in southern California in only six years, the secret is out about a powerful twosome: Sheraton Carlsbad Resort & Spa and The Crossings at Carlsbad golf course.
The ultra-hospitable atmosphere experienced on the scenic bluff shared by the upscale resort and the acclaimed 18-hole municipal golf course is one of the many reasons players, couples and families are buzzing about this gem of a weekend getaway – not to mention the sweeping coastal views.  Whether it's a stay-and-play trip to enjoy The Crossings, or a luxurious spa retreat at Sheraton Carlsbad, the side-by-side properties offer breathtaking recreation and relaxation options.
The Crossings is San Diego's newest course, designed by Greg Nash and consistently winning acclaim as one of southern California's most atmospheric and playable public courses. It gets extra kudos for its panorama clubhouse, which boasts views of the ocean just a mile away. The state-of-the-art, full service course, owned by the City of Carlsbad and managed by KemperSports, retains much of its natural surroundings, including coastal sage and other flora that covers the rolling bluffs. Fairways are kept cool by an ever-present ocean breeze, and are connected by a handful of bridges that were built to work the course into its natural uneven landscape, as environmental preservation is key here. The signature hole is No. 7, a par-5 (below) where the soothing notes of a cascading waterfall can be heard from the multi-tiered green.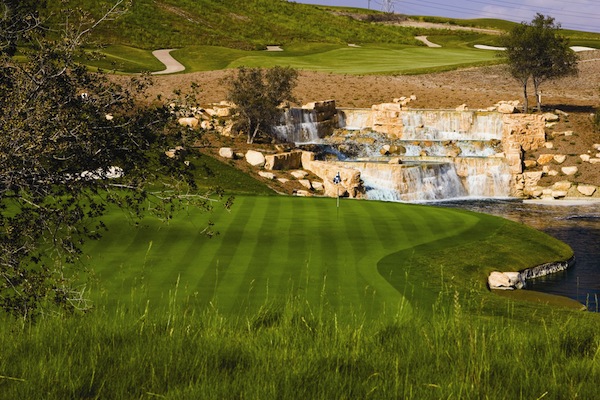 "When we say, 'enjoy the views; experience the golf,' we're referring to a rewarding player-friendly experience, from the minute you wake up to the time you finish your day and the sun is setting over the Pacific,"  explains The Crossings at Carlsbad General Manager Gary Glaser. "It's a course that will both challenge you and take your breath away."
Off the course, the total resort experience on this seaside bluff owes itself to the adjacent lushly landscaped Sheraton Carlsbad Resort & Spa, which opened less than a year after The Crossings and offers visitors an impressive synergy with the course. The upscale resort, which is owned and operated by Grand Pacific Resorts, is popular with golf warriors, business travelers, families visiting Legoland, and couples looking for an ideal California retreat. A laid-back swimming pool scene, coastal inspired cuisine, ocean-view happy hour, round-the-clock access to a fitness center and refreshing marine botanical spa treatments are all ways guests relax in these sumptuous surroundings. "Being in the heart of California's golf culture, with TaylorMade, Callaway and Cobra headquartered nearby, we couldn't be more delighted to share our beautiful natural setting with such a heralded course as The Crossings," says Sheraton Carlsbad General Manager Chris Draper. "As the course continues to become known as one of the best pubic courses in the region, we take great joy in providing guests an unforgettable and seamless experience just steps from our main lobby."
Sheraton Carlsbad amenities are clean and modern. Sophisticated guestrooms and suites feature contemporary warm tones and textures, outdoor balconies, and floor-to-ceiling windows, for the ultimate in relaxation. A golfer's day in Carlsbad can begin with a hearty breakfast at Sheraton's TWENTY/20 followed by a 30-second golf cart ride to the course. After enjoying an ocean view from 11 of 18 holes, those who have worked up an appetite for relaxation and snacks will find their bliss at the Sheraton's new resort pool, The Cove, where lagoon-style pools are shaded by palm trees.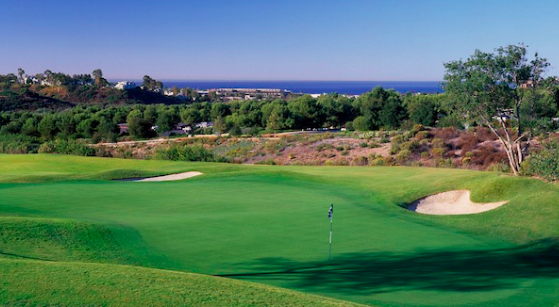 Southern California coastal golfing is no secret, but the variety of amenities and natural surroundings in Carlsbad are likely to leave you wondering how it took you so long to discover this seaside retreat. Here, the low-key, natural experience is nurtured, and everything else is clean and carefree. The Sheraton offers a Stay and Play package, which includes accommodations and a tee time. Carlsbad, an easy destination from Los Angeles, Riverside, Orange County, and San Diego counties, is California at its best.
Reserve your room at 800.444.3515, or visit www.SheratonCarlsbad.com.
Book your tee time at 760.444.1800, or visit www.TheCrossingsatCarlsbad.com.