SANTA BARBARA, Calif. – He has a prolific resume, including two SCGA Amateur Championships and a USGA Mid-Am Championship, but when Kevin Marsh claimed the 101st California Amateur Championship Saturday afternoon in his hometown of Santa Barbara, it quickly climbed towards the top of his list of memorable moments.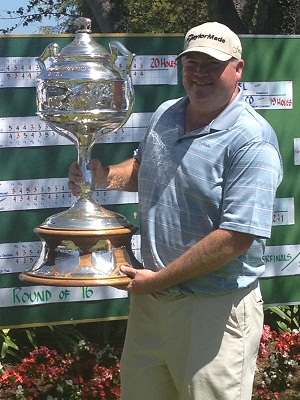 "I've been lucky enough to win a lot of golf tournaments, but this one is right up there as good as any of them," said Marsh, as he addressed a crowd of more than 100 people during the award ceremony.
Marsh defeated Ben Geyer of Arbuckle, Calif., 4-and-3 in the 36-hole final of the six-day tournament, winning his first state title. Marsh blazed the La Cumbre Country Club course with eight birdies and one eagle in 33 holes, while staging a putting clinic for the gallery of almost 200 locals, who were dedicated to cheering on their hometown hero.
Marsh and Geyer battled it out through the first 18 holes, with Marsh flirting between a one- and two-stroke advantage for most of the initial round. Marsh extended that lead to 4 up through 25 holes, but Geyer, who had pulled out four come-from-behind victories already this week, cut the lead in half after the 28th hole. On the 31st hole of the match, however, with the advantage back to 3 up, Marsh drained a 40-foot breaking putt to put the match out of Geyer's reach. Two holes later, it was over.
"Kevin capitalized when he needed to," said Geyer. "It was a great learning experience. Obviously coming into today anything but a win would be disappointing, but Kevin played really well, and it was a great week."
– Courtesy Southern California Golf Association