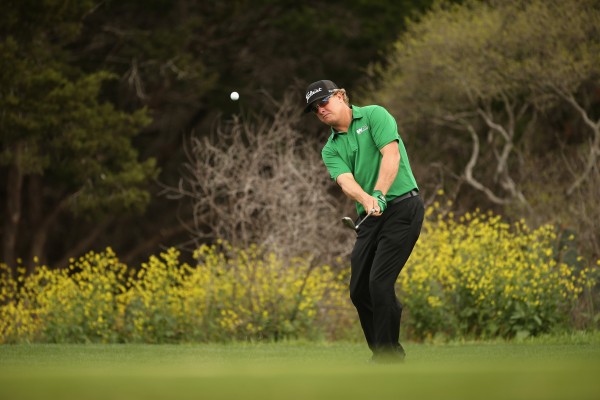 An early season victory on the PGA Tour has Charley Hoffman ready for a breakout year

The PGA Tour's wrap-around season format gives many players the opportunity to capitalize on early chances, including Charley Hoffman. Hoffman traveled to Mexico for the OHL Classic at Mayakoba, the fifth official money event on the Tour's 2014-2015 schedule, for a combination family vacation and an opportunity to audition new caddies after letting go longtime caddie and friend Miguel Rivera.
Hoffman made the most of his trip south of the border, ending a four-year victory drought on Tour by capturing the OHL Classic, his third Tour title. "It's really nice to get a leg up on some of the elite players that don't necessarily play these events," said Hoffman in an exclusive interview with California Golf + Travel. With the victory, the 38-year old Las Vegas resident is among the leaders in the 2015 FedEx Cup standings, playing with house money, and poised to have a big season. In his conversation with California Golf+Travel, Hoffman discussed his good fortune in qualifying for the Hyundai Tournament of Champions, and his desire to become "one of the best players in the world."
Nice early win at the OHL Classic at Mayakoba. Does that alter your goals for the season?
Well, long story short, you try to win every tournament you enter, but it's nice to get a jump. I'm sitting in in the top ten already in FedEx points and I get to head over to Maui and pick up some easier points. A month ago I wasn't thinking like this, and now my schedule has changed.
Your Sunday finish was filled with birdies and what only can be considered a great bogey on 18 after a bad break when your tee shot rolled up against a tree and you had to play back out to the fairway left-handed on your second shot. What were your nerves like during the round?
I wouldn't say I was nervous. I knew I was swinging well and making putts. I get more nervous when I'm trying to make a cut or something like that. My bogey on the last hole was the result of being a little bit unlucky with my lie. Obviously, I was happy to win the golf tournament and if it had to come with a bogey, I'm fine with that.
When you go through a drought of four years without a win, is it frustrating or is it just more evidence of how hard it is to win on the PGA Tour?
I think when you're a younger player on Tour, you are a bit fearless. You don't realize just how hard it is to win. When I won a playoff to win a tournament (2010 Deutsche Bank Championship), the expectations did get a little greater for me, but if you look back at my stats from year to year, I really got better throughout the years. I am also pretty aggressive and if I get in the lead after three rounds by making a bunch of birdies, I'm still going to be aggressive on Sunday to try and win. Sometimes that can hurt you, but my strength is being aggressive.

Do you mind taking us through your decision to part ways with your caddie Miguel Rivera?
It was a tough decision. He knows that I appreciate everything that he's done for me and we had great success for 10 years. I really didn't have a reason for letting him go other than I wanted to go in a different direction to see where I can go with my game. I don't know if a caddie can take my game from a top-70 player to a top-20 player, but I want to find out. I don't want to look back at my career and wonder how I would feel if I stayed (with the same caddie) without making a change. The best news is we'll always be friends.
Have you settled on a new caddie for the rest of the year?
Two guys actually passed on the job due to conflicts, and I had to scramble a bit and asked Brett Waldman, who was working for David Toms. David said it was okay (for Waldman to caddie for Hoffman), and we obviously had a great week in Mexico, so we'll see how we do for the rest of the year.
Part of that decision to change caddies was to take your game to the next level. What do you feel your next level can be?
I think I can be one of the best players in the world if I get everything together. I think every aspect is there; I just have to really believe I can do it. You really have to believe in yourself and obviously put the work in. I want to start being competitive in major championships and the trick is you have to qualify for all four majors to give yourself the best chance.
Part of your comfort level comes with traveling with your family whenever you can. That seems like it would be more difficult for a Tour player; why do you think it works for you?
Well, we'll start with having a great partner. My wife really does the bulk of the work with the kids and handles them going into a different location every week. If you want to travel with your kids, you have to have a real dedicated family and that's exactly what I have. My wife gives me the ability to play golf and travel with the kids. But we don't know any different, because since day one they've been with us. I think the tough part is coming up, when they start going to school and can't travel with us.
A big part of your success also includes your charity involvement and the Charley Hoffman Foundation. You have some big things happening at the Waste Management Phoenix Open and Farmers Insurance Open.
The foundation started about eight years ago, and it all started with giving back to the San Diego community, but when we started to think about it, we realized we could expand it. We live in Las Vegas, so that was a natural fit for an additional pro-am event. Our two (Foundation) tournaments in October benefit kids in Las Vegas and then the one coming up for the Farmers Insurance Open benefits kids who live in the San Diego area. We also do a ton of work with the Waste Management tournament since they're a big sponsor of mine.
You have a real passion for junior golf and I'm sure you've seen different levels of interest throughout the years. What do you feel is the current state of junior golf?
I think junior golf follows the same line as the current state of golf, which is lacking a bit. I know when we promote golf to juniors, we try to keep the cost down and partner with the First Tee to get young kids interested. The bottom line is that golf is expensive and takes a long time to play. Kids today may not have the patience for that because they're used to immediate returns with games and movies, and golf may suffer with the younger generation. That's why it's our job to keep the costs down and make the game more interesting.
Is there a connection with juniors to the younger players on the PGA Tour?
Yeah, we have Rickie Fowler and Jordan Spieth. The young guys are fun to watch and it's like every generation. You had Arnie and Jack and Tiger and Phil. The young golfers will keep the interest level up and take the torch with the programs we have in place and hopefully grow the sport for generations to come.
There is a group of PGA Tour players in Las Vegas, but so many players move to Florida. Do you think there is an advantage to living in Florida when it comes to being successful on Tour?
There's a tax advantage in both areas, that's for sure. However, speaking directly to Florida, if you associate yourself with a world-class player, it certainly is going to help you. If you can move to Florida and play with Keegan Bradley, Luke Donald, Rickie Fowler and all those other guys, it can really improve your game. However, we play so much that when those guys finally get home, they're on the couch more than playing golf.
What do you think your chances are in Hawaii at the Tournament of Champions?
Well, I think it helps that they allow the fall season winners, or what's now the wrap-around season winners, to compete in Maui. I've taken a little bit of time off since my win in Mexico, but I've got a pretty solid workout schedule even when I don't swing the clubs. It doesn't rival a football player's workout, but it promotes a solid base for my swing and keeps me ready to compete.
Well, as long as you refer to it as a vacation, you should be in pretty good shape.
Exactly, that's how I'm going to approach every event this year. You have to be in a good frame of mind to play well, that's for sure.