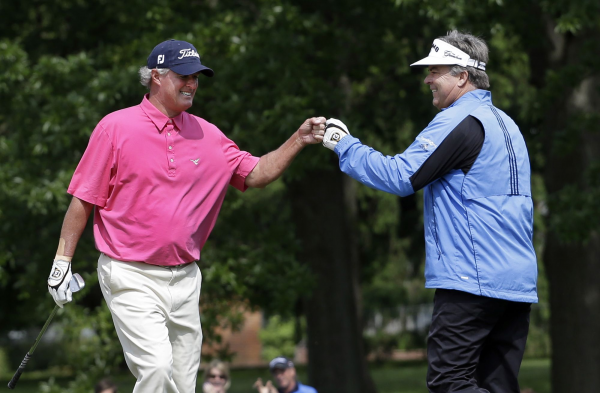 Russ Cochran and Kenny Perry teamed for a 10-under-par 61 to tie for the first-round lead in the Champions Division with Fred Funk and Jeff Sluman in the Big Cedar Lodge Legends of Golf at Top of the Rock Golf Course in Ridgedale, Mo.
Cochran and Perry carded an eagle on the eighth hole and eight birdies, including three in a row to finish their round.
Funk and Sluman scattered 10 birdies across their scorecard, as both pairs played bogey-free golf.
Billy Andrade and Tommy Armour III finished at 62 to tie for third with Jay Haas and Peter Jacobsen, while Bernhard Langer and Tom Lehman shared fourth with Corey Pavin and Duffy Waldorf, both of UCLA, at 63.
Bruce Fleisher and Larry Nelson posted a 9-under-par 62 to take a four-stroke lead over Jim Thorpe and Jim Colbert in the Legends Division.
Butch Baird and Al Geiberger were tied for third with Allen Doyle and Hubert Green at 67.
In the par-3 portion of the Legends Division, Jack Nicklaus and Gary Player finished at 1-over-par 55 and were tied with Lee Trevino and Dave Hill, and Graham Marsh and John Bland.