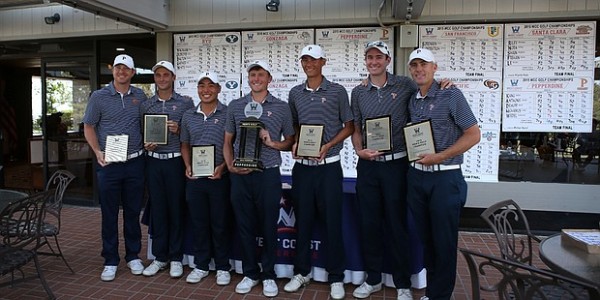 Pepperdine captured its first West Coast Conference Men's Championship since 2010 and Cody McManus brought home the individual title for the Waves at Saticoy Country Club in Somis.
The Waves, who had to win the title to advance to the NCAA regionals, rallied from seventh place after the first round to claim their 18th WCC title with a score of 313-288-309–910, with Pacific second at 309-288-316–913.
"We've been talking about having to win conference for a while," said Coach Michael Beard, who played on four WCC championship teams for the Waves and earned his as coach. "It made it a little more attainable in their own minds having it at Saticoy, where we play a lot. But to do it in these windy conditions, which we're not really used to, is pretty special.
"We've needed to get a winning mentality back in the program. I'm so happy for these guys; they've been through a lot. It's great to see these guys believe they can do it and then actually go out and do it."
St. Mary's was third at 310-296-311–917, followed by San Francisco at 303-298-322–923, Brigham Young at 309-301-315–925 and San Diego at 307-297-326–930.
Gonzaga finished seventh at 314-301-322–937, followed by Loyola Marymount at 318-309-317–944, and Santa Clara at 310-318-326–954.
McManus, a sophomore from Phoenix, claimed his first college title at 75-71-74–220, winning by one stroke over Byron Meth of Pacific, who finished at 74-70-77–221.
Connor Campbell of Loyola Marymount was third at 71-77-75–223, and Jobim Carlos of San Francisco shot 74-72-81–227 to tie for fourth with Perry Cohen of St. Mary's, who totaled 76-76-75–227, and Seb Crookall-Nixon of San Francisco, who came in at 75-77-75–227.
Grant Forrest of San Diego carded a score of 75-75-78–228 to tie for seventh with Jonathan De Los Reyes of St. Mary's, who totaled 76-73–79–228, and Frederick Wedel of Pepperdine, who came in at 78-71-79–228.
Kevin DeHuff of Pepperdine shot 78-74-77–229 to tie for 10th with Drew Bender of Pacific, who finished at 78-71-80–229, and Sean Walsh of Gonzaga, who wound up at 76-76-77–229.
Hayden Shieh led Santa Clara in a tie for 16th at 80-76-77–233.