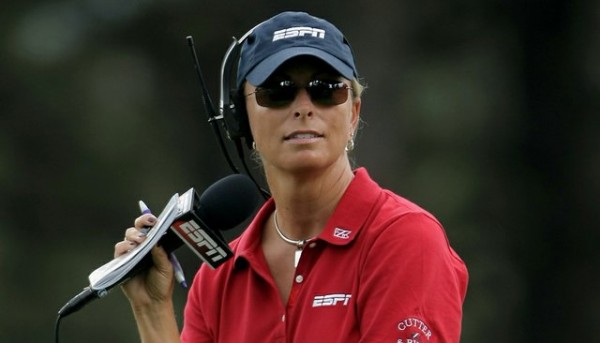 CBS Sports announced that Dottie Pepper will replace David Feherty as an on-course reporter for its telecasts of PGA Tour events.
Feherty and CBS could not reach an agreement on a new deal and he joined NBC.
"There's no replacing Feherty," Pepper said of the popular and unorthodox Irishman. "Here's what I told the guys when I went to CBS to meet with them. 'I am not funny. But I will work really hard.' So there you go.
" … A microphone doesn't know if you're male or female."
CBS Sports chairman Sean McManus claimed she was the network's first choice.
Pepper, who won 17 times on the LPGA Tour including two majors, was a respected analyst at NBC Sports from 2004 until 2012, when she stepped away to reduce her travel schedule because she joined the board of directors at the PGA of America. That term expires next month.
Recently, she had been working for ESPN, which at the time the had opening rounds of the Masters, U.S. Open and all of the Open Championship. The U.S. Open went to Fox Sports, and the Open went to NBC starting in 2017. NBC and ESPN announced Monday that deal would start in 2016.
That essentially made Pepper available.
"Once it became evident that we weren't going to do our deal with Feherty, Dottie was the first and only analyst we considered for the job," McManus said. "Everyone we asked about Dottie, including the folks at ESPN, just raved about her work ethic.
"We didn't hire Dottie because she's a woman. We had been considering for a long time adding a woman to our crew, and this turned out to be perfect."
Pepper, the first woman on the CBS Sports golf team, will make her debut with CBS for its weekend coverage of the Farmers Insurance Open at Torrey Pines on Jan. 30.