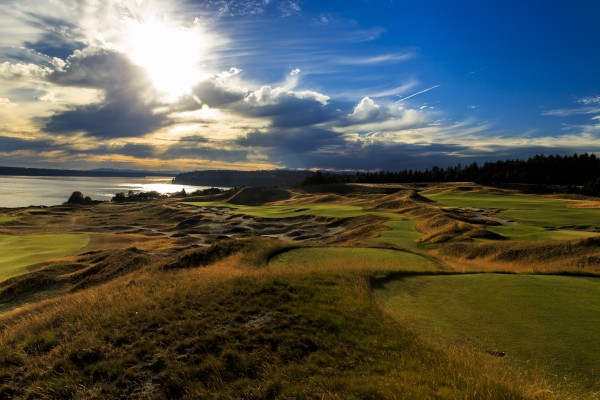 By Wil Barnes
The Left Coast gets the big show this summer of 2015 when our friends in the Great Northwest and University Place, Washington just outside of Tacoma play host to the 115th US Open contested at Chambers Bay Golf Links. This true links course hosted the 2010 US Amateur in 2010 to earn the berth. Peter Uehlien, the son of Titleist / Aushnet CEO Wally won. It was a weird place, a big place, and a strange place with a railway running by. Reminds me of the Old Prestwick in Scotland, which hosted 12 of the first 15 Open Championships in Scotland in the late 1800's. It is a fabulous design, one of Robert Trent Jones II best in my opinion and he has many. Again it presents what the USGA has realized, recognized and embraced as fabulous TV viewing, Prime Time on the East Coast! You got the Barbie all fired up, the sun has set and you're sitting in Buffalo or on the Chesapeake Bay watching live golf and you just cracked open another bottle of 1980 Jordan cab.
The 2008 US Open at Torrey Pines, won by a one-legged Tiger Woods, his last major win, worked out magically for the USGA and Mike Davis who was the tournament director for the second time and had a different agenda than his predecessors. I was lucky to catch up with him on the Monday after the 18-hole playoff where Tiger defeated Rocco Mediate and he could not hide his smile. Davis was aware of the overnight ratings for the weekend rounds and they were huge. When I told Mike that this was one amazing weekend he simply smiled and said, "thank you. We look forward to returning here and to Pebble Beach in two years time." That was held in 2010 and now the USGA brings its grandest event to the Left Coast again and first time ever for the Great Northwest June 15-21. Where marijuana is legal to buy! The first ever Cannabis Open!
Aaron Oberholser said that when he arrived at Chambers Bay, his immediate thought was," this place is huge." He is talking about the 250 acres of land that was sand and mineral mind on the coast of Peugeot Sound and RT Jones II was awarded the opportunity to create a masterpiece. The world will see if he did well where he confidently exudes, "I am Michelangelo." He's never seemed so pompous and that is hard to believe.
There is a lone tree on the course, one! It's not as popular as the Lone Cypress in Monterey but it will gain esteem this week as a rival. It is far more links style both in design and soil mix, one of the few places in America where the resemblance of true British Isles golf exists. It's a rarity and new for the USGA who contests the national championship. Only Hazeltine CC in Minnesota, which will host the 2016 Ryder Cup and who hosted the 1970 US Open was as young a course chosen to host the annual examination. Designed by the senior Mr. Jones, RT's father, a legend, was ridiculed by players because it wasn't the traditional, respected country club where Dave Hill called it a sheep pasture, has remained a staple in major golf so all should be well.
Who will win? Who knows? It's a British Links style course so someone from there, McIlroy, Rose, McDowell, or another of European descent should win this puppy. Is it Sergio's finally? Whoa, when Phil won the Open in 2013 he admitted that was the one tournament he didn't think he would win. Well, he did and we all know that the career Grand Slam and winning the national championship, which he has finished second six times is his coffin closer, is the story.
So who wins? It's anybody's guess obviously but if I were a betting man I'd bet on the guy from northern Ireland, Rory McIlroy who has a passion like no other at this present time and his love for golf courses like this make him the favorite.
Can an outsider win? Sure! The US Open is often referred to as an "examination," the toughest test in golf. It appears as though this lovely sand and gravel pit on the shores of Peugeot Sound are about to astonish the world while it treats he best golfers like little red headed stepchildren. We should all just sit back and enjoy the 115th US Open. Would it be marvelous if Phil were able to pull it off finally? Of course! A Father's Day miracle! It's the Great Northwest remember so things are different here. Yet something tells me that Justin Rose will win his second US Open because he did the right thing and walked the course last weekend with the guy, Robert Trent Jones II who designed the marvelous 18 holes, asking question after question as to why this is set up like this and that. I'm just saying. It's a Rose.