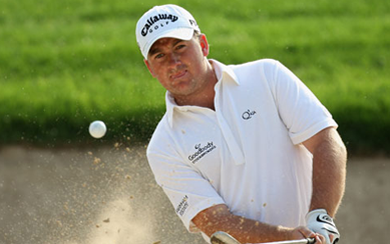 By Tom LaMarre
Tiger Woods did everything but win for the first time in his comeback.
Graeme McDowell of Northern Ireland capped a brilliant year by burying three consecutive putts, the last on the first playoff hole, to overcome Woods and capture the Chevron World Challenge at Sherwood Country Club in Thousand Oaks.
"It was pretty amazing," said McDowell, who claimed the U.S. Open at Pebble Beach and scored the winning point for the Europeans in the Ryder Cup. "They're the kind of putts that you make them and you can't really believe it afterwards.
"I mean, they were the stuff of dreams. 2010 has been the stuff of dreams. It's been that kind of year. Not quite sure why."
Woods, who could not hold a four-stroke lead entering the final round for the first time in his career, actually was two strokes behind the Irishman with five holes to play after carding a double-bogey seven on the 13th hole.
However, McDowell fell back into a tie by making bogeys on the 14th and 17th holes, although the latter was pretty remarkable after he was forced to take a drop from an unplayable lie. He pitched onto the green and made the first of those three putts from about eight feet.
"Graeme did what he needed to do to win and I didn't," Woods said of their head-to-head duel down the stretch.
On the final hole of regulation, Woods stuck his approach to within three feet and appeared poised to win the Chevron, which benefit the Tiger Woods Foundation, for the fifth time.
However, McDowell holed his birdie putt from 20 feet, and after Woods tapped in his, they went back to the tee on No. 18 for the playoff. Woods again seemed to have the advantage, but McDowell sank his 25-foot birdie putt and when the tournament host missed from about 15 feet, it was over.
"Those are probably two of the greatest putts I've made," said McDowell, who shared the 2010 European Tour Player of the Year award with Martin Kaymer of Germany, the PGA champion. "Holed a couple of nice putts this year, but they were certainly up there.
"To play the weekend alongside Tiger, you know, it's a pretty special feeling to go out there four back and do the job. He was a little cold on the greens today, and I got off to a good start and gave myself the opportunities."
McDowell, who finished second in the tournament a year earlier as a last-minute replacement when Woods did not play following his SUV accident in the early hours after Thanksgiving, posted a score of 66-69-68-69–272, 16-under par.
Woods wound up at 65-66-68-73–272.
"It was a great week, even though I didn't win," said Woods, whose last victory came in the 2009 JB Were Masters in Australia. "I'm proud of today even though I lost, because I putted awful of starting out. I missed three short putts, which I don't do.
"I hit some good shots this week and I played really well for most of the week. The middle part of the round today was an exception, but, boy, I thought I did some good things this week."
Paul Casey of England was third at 73-65-69-69–276, and Rory McIlroy of Northern Ireland shot 66-70-73-68–277 to tie for fourth with Hunter Mahan of Orange and Oklahoma State, who finished at 72-67-70-69–278.
Defending champion Jim Furyk was 11th at 72-73-71-72–288, Nick Watney of Davis and Fresno State finished 13th at 72-67-71-80–290 and Anthony Kim of La Quinta and the University of Oklahoma, still struggling to find his way after returning from thumb surgery, tied for 16th at 79-66-74-73–292.
While basking in the glow of his great season, McDowell had a message he wanted to get across.
"I'm in the camp that says golf needs Tiger Woods back," said the Irishman, who will play full-time on the PGA Tour in 2011. "Obviously, I was trying to go out there and do my job today, but he'll be back winning tournaments very soon."
Something that didn't happen even once in 2010.