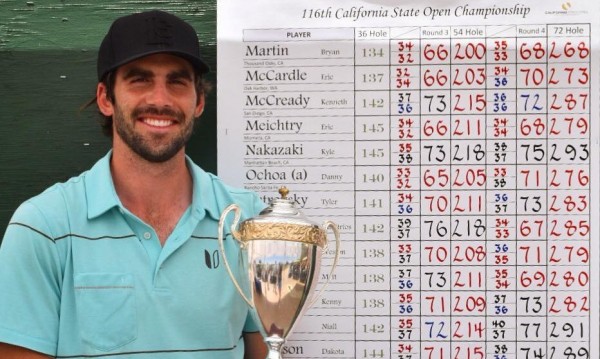 Bryan Martin of Thousand Oaks claimed the 116th California State Open by one stroke over Xander Schaufelle of San Diego on the Champions Course at Morongo Golf Club in Tukwet Canyon in Beaumont.
Martin, who plays on the PGA Tour Latin America, held at least a share of the lead after every round and following two bogeys in the first six holes on Saturday carded four birdies in eight holes through No. 16 to grab the lead on his way to a closing 4-under-par 68.
"Everybody's goal is to win your State Open, so it's great," said Martin, who played at San Diego State. "Being a California kid, I've played in this several times and I was low amateur one year.
"This is my off-season (from the Latin America Tour), so I wanted to stay ready for tournament play and it's always nice to get a win."
Schauffele, the California Amateur champion who recently finished his senior season at San Diego State, pushed Martin all the way to the finish with a 65 and had a chance to post a score and possibly force a playoff, but made his only bogey at the 18th hole.
Amateur Richard Kim of Los Angeles posted a 68 that included only one bogey and wound up five shots back in a tie for third with Eric McCardle of Oak Harbor, Wash., who had a 70.
Colin Featherstone carded eight birdies and an eagle in a round of 64 and finished six shots behind in a tie for fifth with Josh Anderson of Murrieta, who closed with a 73.
Tyler Weworski was seventh after a 70, followed by amateur Danny Ochoa of Rancho Santa Fe, who totaled 71.
Paul Imondi of Tustin shot 71 and tied for ninth with Geoff Gonzalez of La Quinta, who finished at 70, and Berry Henson of Rancho Mirage, who wound up at 72.
Defending champion Chris Gilman of Yorba Linda tied for 24th after a 72.