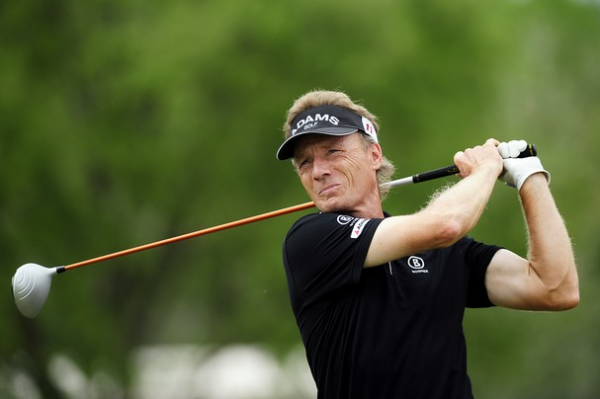 Bernhard Langer of Germany birdied the last six holes to shoot 6-under-par 66 and tie Bart Bryant for the lead after the first round of the Insperity Championship at the Woodlands Country Club in Woodlands, Texas.
Langer, who has won the tournament twice, made his lone front nine birdie at No. 7 and bounced back from his only bogey of the day on the 12th hole with his run at the finish, which tied the tournament record for consecutive birdies set by Dan Forsman in 2009.
"You want to keep going," said Langer, who claimed his 19th Champions Tour victory in the season-opening Mitsubishi Electric Championship at Hualalai. "I was sad the day was over. I would've liked to try a few more holes to make a few more birdies."
Bryant, who won the Dick's Sporting Goods Open last year for his only victory on the senior circuit, started on the back nine and made his only bogey at No. 11 before rattling off three consecutive birdies and seven in all the rest of the way.
Defending champion Esteban Toledo of Mexico, a long-time resident of Irvine, made his only bogey of the day at No. 5 and was one shot back in solo third at 67.
Jeff Maggert, who won his Champions Tour debut in the Mississippi Gulf Resort Classic in March, chipped in for eagle on the first hole en route to a 68 and was tied for fourth with Fred Funk, who bounced back from his only bogey at No. 2 with five birdies, and Joe Daley, who holed out from the fairway for an eagle on the seventh hole.
Fred Couples, who won the tournament in 2010, birdied five straight holes through No. 17 to open with a 69 and was in a seven-way tie for seventh that included Mark O'Meara of Mission Viejo and Long Beach State, and Steve Pate of Ventura and UCLA.