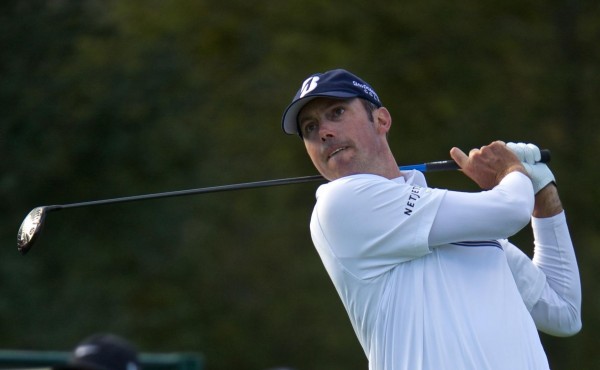 Matt Kuchar always enjoys the RBC Heritage, which he will play this week for the 12th time.
It was even more fun last year, when he holed a bunker shot on the final hole to close with a 7-under-par 64 and win the tournament by one stroke over Luke Donald on the Harbour Town Golf Links at Hilton Head, S.C.
The tournament will start when Kuchar, wearing the Tartan jacket that goes to the winner, hits the ceremonial tee shot into Calibogue Sound accompanied by the blast from a vintage cannon.
"It makes it hit home what you've done," Kuchar said of defending his seventh PGA Tour title. "On the day you sink the winning putt, it's great getting the trophy and everything, but when you come back and see your name up in the clubhouse as a past champion, you kind of realize that you've become a part of the tournament's history. …
"It's been a course that I've enjoyed since day one. It rated extremely high on the tournaments that I wanted to put my name on their list of champions. I had a couple nice showings, and last year to come through and win it on Sunday was just such a thrill."
The victory at Harbour Town was a bit of redemption for Kuchar, who seemed headed for victory a few weeks earlier in the Shell Houston Open, but he closed with an even-par 72 and lost in a playoff to Matt Jones of Australia, who chipped in to beat him.
It appeared Kuchar would have to save par from a greenside bunker on the final hole of the Heritage to get into a playoff with Donald, but he had other ideas.
"I looked (at the scoreboard) when I walked up to the green; I was tied with Luke Donald," said Kuchar, who despite his love of Harbour Town has only two other top-10 finishes there. "I knew where I stood. Still felt pretty happy with my chance to get up and down and my chance to make a shot.
"I knew it was at least an easy par. Bunker game is good. No problem. I actually thought I could make a bunker shot, hit it close, it would be nice to make that one. Hit the shot that I wanted to.
"I went up and took a good read, knew it would release and break right to left. Played it just right of the hole. Watched it roll. I heard the crowd go crazy when the thing disappeared. I went crazy myself. It was just an incredible feeling."
Hilton Head is a place many golfers on the PGA Tour enjoy visiting with their families the week after the Masters to decompress after the pressure of the first major of the year.
Kuchar and his wife, Sybi, who played on the tennis team when they were at Georgia Tech, figure to hit the courts, and there are plenty of activities for the kids.
"Yeah, we love it," Kuchar said. "We have some good friends of ours from Atlanta who have a home out toward South Beach, so we stay with them, really enjoy spending the week with them. We just feel like it's a home away from home for us. The kids come and play on the beach, play in the pool. You see families riding bikes. You see families doing a bunch of activities together. …
"You have a couple of days to unwind after a major, and then Thursday starts and then you've got a chance to play another PGA Tour event. Not just a PGA Tour event, but the RBC Heritage classic at Harbour Town. It's a fantastic venue, fantastic tournament. It's pretty easy to get excited for this."
Kuchar normally is a top-10 machine, with 60 such finishes since 2008 to lead the PGA Tour during that stretch, but he does not have his usual quota this season.
He wound up in the top 10 only twice, but he has seven finishes in the top 25 in 11 starts and said last week he feels good with the big summer events still to come.
"I'm really excited about my game," Kuchar said before teeing off in the Par 3 Contest at Augusta. "I'm playing some pretty good golf right now. I'm pretty pleased with the way things are rounding into shape at the present time.
"I'm pretty pleased. Certainly always trying to tighten things up. Right now I'm pleased with the state of my game."
Kuchar didn't come close to the Green Jacket, tying for 46th, but another Tartan jacket just might suit him.
–Story courtesy of The Sports Xchange, TSX Golf Editor Tom LaMarre