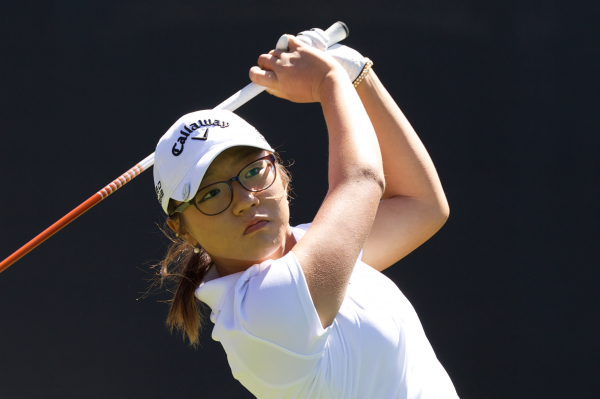 Lydia Ko of New Zealand became the youngest golfer to reach No. 1 in the world on Saturday, even though she blew a four-stroke lead in the final round of the Coates Golf Championship and tied for second behind Na Yeon Choi of South Korea at Golden Ocala Golf and Equestrian Club in Ocala, Fla.
Ko handled it with the poise of a veteran.
"It's going to be good," said Ko, who is four years younger than Tiger Woods when he became No. 1 in the men's game. "I was here to focus on the tournament itself, but I guess I got a great outcome at the end of the day, too."
The 17-year-old Ko, who will be No. 1 when the latest Rolex Women's Golf Rankings are released Monday, held a one-stroke lead on the 17th hole, where she hit her tee shot into a fairway bunker.
Her second shot with a fairway wood glanced off a tree and into the woods, leading to a double-bogey 6.
Choi, the 2012 U.S. Women's Open champion, took advantage by getting up-and-down for a clutch par at No. 17 to take a one-stroke lead while playing alongside Ko. She won with a routine par on the final hole to close out a 4-under-par 68.
"I was so nervous, especially on that putt at No. 17 because there was a spike mark in my line," said Choi, who claimed her eighth LPGA Tour victory but the first since the CME Group Titleholders in November of 2012.
"I've been waiting for this moment because it's been a long time since I won. I'm really happy now."
Ko, who has eight victories on professional tours including two when she was an amateur, birdied three of the first five holes in the final round before making her only bogey at No. 8 en route to a 71.
Jessica Korda posted a bogey-free 66, barely missing a 15-foot eagle putt on the final hole to would have caught Choi, and tied for second with Ko and Ha Na Jang of South Korea, who came in with a 70.
Amy Yang of South Korea closed with a 71 to finish six strokes back in fifth, followed another shot behind by Alison Walshe, who shot 66, and Brittany Lang, who was one more stroke back after a 70.