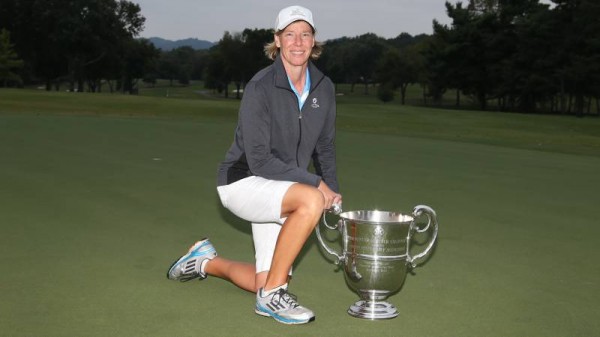 Karen Garcia was as cool as her hometown.
Garcia, a 53-year-old high school guidance counselor from Cool, Calif., sank a four-foot par putt on the final hole to claim a 1-up victory over Pamela Kuong of Wellesley Hills, Mass., in the U.S. Senior Women's Amateur Championship at Hillwood Country Club in Nashville, Tenn.
"I'm in shock," said Garcia, who earned a spot in the 2016 U.S. Women's Amateur Championship at Rolling Green Golf Club in Springfield, Pa. "To win a USGA event, to think of all the people before me that have their name on this trophy; I've played in five Mid-Ams and a State Team and never even come close."
The match was even going to the 16th hole, where Garcia hooked her tee shot into trouble and made a double bogey 6 to fall behind.
On the way to the 17th tee, Garcia gave herself a pep talk.
"I knew that I had an advantage length-wise," said Garcia of the 460-yard, par-5 hole. "So I felt like I still had a chance. I told my husband, 'Let's win the next two holes and we'll be fine.'"
Knowing that Garcia could probably reach the green in two, Kuong tried to do the same but hit her approach into the water, and the match was even again.
Garcia's length paid off again on the final hole, where her drive was nearly 60 yards ahead of Kuong, who eventually missed a 20-foot putt for par before Garcia knocked in the winner.
"To have stayed calm all week and stayed in the moment, as they say, was the biggest challenge," said Garcia, whose hometown (formerly known as Cave Valley) is about 40 miles northeast of Sacramento. "You've got to get out of your own way and have a good week."
In the semifinals, Garcia defeated Sue Cohn of Palm Beach Gardens, Fla., 1 up, and Kuong needed 21 holes to turn back Tama Caldabaugh of Ponte Vedra Beach, Fla.