Tiger came roaring back with a win at Sherwood. Look for more of the same in 2012.
The 2012 PGA Tour season kicks off this month with the West Coast Swing. Here are 6 bold predictions for the coming year
By Tom LaMarre
Golf's brilliant foursome of Tiger Woods, Phil Mickelson, Ernie Els and Vijay Singh have shown more than a little wear and tear the last few years after dominating the game for more than a decade, opening the door for a precocious younger generation to announce its arrival.
At the same time, the Europeans, led by top-ranked Luke Donald of England, Rory McIlroy of Northern Ireland, Lee Westwood of England and Martin Kaymer of Germany, have taken control at the top of the World Golf Rankings.
American golf supposedly was going into the dumper, but young guns including PGA champion Keegan Bradley, Webb Simpson, Rickie Fowler, Gary Woodland, Brendan Steele and Chris Kirk have shown that the future of the U.S. game is in good hands and will most likely continue to do so.
Even with Woods going winless in 2011 for the second consecutive year while battling injuries and swing changes, it was an exciting season on the PGA Tour, especially in the majors, which saw memorable victories by Charl Schwartzel of South Africa in the Masters, McIlroy in the U.S. Open, Darren Clarke of Northern Ireland in the Open Championship and Bradley in the PGA Championship.
That said, the 2012 season is shaping up to be even more intriguing. Here's a prognosticator's look at what's in store for the coming year:

TIGER WOODS WILL RETURN TO FORM
Tiger Woods will regain his standing among the best players in the game, and might again be the very best. There are so many outstanding golfers from around the globe these days that Woods might not be as dominant as he was from 2000-2009, but he remains the most compelling figure in the game. He still has a ways to go and must prove to everyone, including himself, that he really is all the way back, but he looked pretty close late last year. After finishing third in the Australian Open and playing well in the Presidents Cup, Woods won the Target World Challenge with a bit of vintage Tiger. Trailing Zach Johnson by one stroke in the event that benefits the Tiger Woods Foundation, he holed birdie putts on the last two holes to win for the first time since the JBWere Masters a little more than two years earlier. Sure, it was an unofficial victory, but the world ranking points moved him back into the top 25. Woods will add to his 71 PGA Tour titles this year and might even claim one of the four major titles he needs to equal Jack Nicklaus' record of 18. He hasn't won the Masters since 2005, but look out for him in April at Augusta, because he managed to tie for fourth in the first major of the season each of the last two years despite all his problems on and off the course.
WESTWOOD AND McILROY WILL CASH IN ON THE PGA TOUR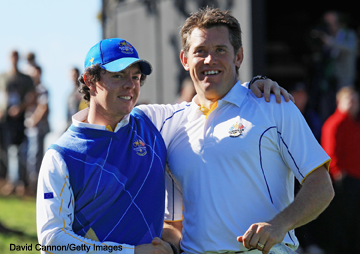 When Luke Donald captured the PGA Tour money title with $6,683,214, while Bill Haas claimed the FedEx Cup and the $10-million prize that goes with it, Rory McIlroy and Lee Westwood were paying attention. McIlroy and Westwood, who are right behind No. 1 Donald in the World Golf Rankings, blew off the PGA Tour and even the Players Championship in 2011, but both are coming back this year. "I sat there on my sofa and saw how big the events were [in the FedEx Cup playoffs]," said Westwood, whose only victories on the PGA Tour came in the 1998 Freeport-McDermott Classic and the 2010 St. Jude Classic. "They look like great courses they play. You need a fresh approach and change every now and again or else you can get stale. I just fancied it." McIlroy, whose PGA Tour victories have come in the 2010 Quail Hollow Championship and the 2011 U.S. Open at Congressional, said: "Luke Donald has proved … that you can play both tours and be very successful." All of that sounds good, but there are two basic reasons why McIlroy and Westwood are coming back: PGA Tour events offer more prize money and the stronger fields provide more world ranking points. And that is something both players are sure to capitalize on. As Ernie Els said last year, "The PGA Tour is still the best tour in the world and that's just the way it is."
THE OLD-TIMERS WILL WIN AGAIN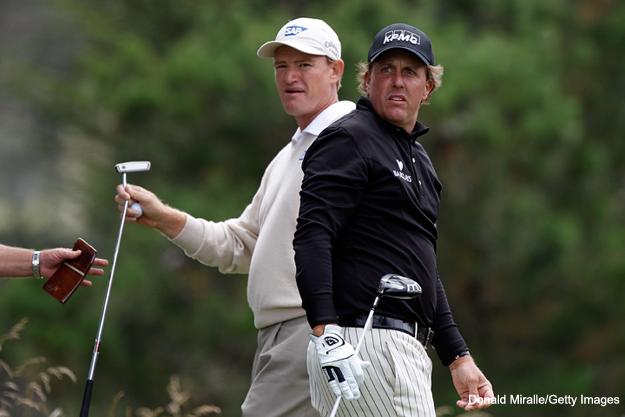 Those 40-somethings on the PGA Tour, including Phil Mickelson, Ernie Els, Vijay Singh, Jim Furyk and Steve Stricker aren't going away quietly even though they have struggled a bit with injuries and some sub-par play lately. Lefty had a season most players would take in a heartbeat, with a victory in the Shell Houston Open and runner-up finishes in the Farmers Insurance Open and the Open Championship among seven top-10 results. Mickelson has not talked about it, but his final-round scoring average last year was his highest, leading to some speculation that his psoriatic arthritis might be affecting his stamina. At the Presidents Cup, Mickelson played brilliantly and was 3-0 before taking Saturday afternoon off and then losing to Adam Scott in singles. Els, after winning four times around the world in 2010, didn't have a top-10 finish on the PGA Tour last year until he tied for fourth in the Frys.com in October. However, once his switch to the long putter becomes more natural, he should be back in contention on a regular basis. Singh, who claimed the last 34 PGA Tour victories when he won three titles in 2008, has battled injuries in recent years, but had three of his five top-10s late last year and his game seems to be coming back. Furyk, coming off a 2010 season in which he claimed three titles and the FedEx Cup in addition to being PGA Tour Player of the Year, had only four top-10 finishes last year. However, his game turned around late in the year, especially when he figured out his putting problems and went 5-0 while helping the U.S. retain the Presidents Cup. Stricker captured the Memorial and the John Deere Classic in the middle of the summer, but a neck injury shut him down for almost two months before the Presidents Cup, where he seemed healthy while posting a 2-2 record that included a victory over Y.E. Yang in singles. All are capable to returning to the winner's circle this season.
PLAYERS WILL CONTINUE TO THRIVE WITH THE LONG PUTTER
The long putter became more than just a novelty in 2011, when Keegan Bradley, Adam Scott, Webb Simpson, Brendan Steele, Ben Crane and Martin Laird claimed PGA Tour victories while yielding the long wand, and you can expect it to continue based on two very interesting factors. The first is that several players considered great putters at one time or another, including Mickelson, Els, Furyk and Retief Goosen, have dabbled with the long putter to one degree or another. Plus, younger players such as Bill Haas, Bradley, Simpson and Steele have had long putters in their bags for quite some time. The only thing that could change the trend would be the United States Golf Association and the Royal & Ancient Golf Club of St. Andrews putting the genie back in the bottle by outlawing the long putter, which has been legal since it first showed up about 30 years ago. " … If it were going to be banned, it should have happened 20-plus years ago," Mickelson said. "But now that it's been legal, I don't think you can make it retroactive. There have been guys that have been working with that putter for years, if not decades. I just don't believe that it should even be a consideration." Of course, as Lefty also pointed out, golf's powers-that-be have gone retroactive on groove technology and the paddle grip in recent years, so anything is possible.
WINNERS WILL COME OUT OF NOWHERE
Keegan Bradley came off the Nationwide Tour last year to win the HP Byron Nelson Championship, the PGA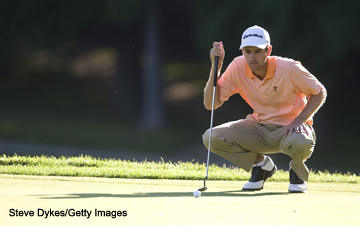 Championship and the PGA Grand Slam of Golf. And Gary Woodland came out of PGA Tour School and won the Transitions Championship in addition to teaming with Matt Kuchar to bring the World Cup back to the U.S. for the first time since 2000. As always, there are several newcomers to watch this year who could turn into instant stars on the PGA Tour. From the top 25 on the Nationwide Tour are leading money-winner J.J. Killeen from Texas Christian University, Canadian-born American Jason Kokrak, Jonas Blixt of Sweden, Danny Lee of South Korea and Billy Hurley III, who graduated from the U.S. Naval Academy and spent time on active duty in the Persian Gulf. Among those coming out of Q-School are medalist Brendon Todd, 20-year-old Seung-yul Noh of South Korea, 22-year-old Harris English of Georgia, Charlie Beljan of New Mexico, Mark Anderson of USC and the old man of the group, 38-year-old Tommy Biershenk. Of course, there are so many good golfers out there these days, that there are others who could seemingly come out of nowhere.
THE UNITED STATES WILL REGAIN THE RYDER CUP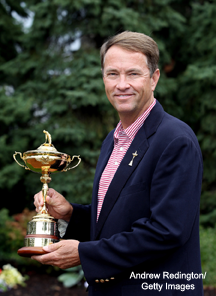 The Europeans have dominated the Ryder Cup to the tune of 8-4-1 since 1985, but the United States will regain the hardware in September at Medinah. Sure the Euros monopolize the top of the World Golf Rankings with Luke Donald, Rory McIlroy, Lee Westwood and Martin Kaymer, but a new generation of Americans will team with a trusty group of veterans to turn the tide this time. It almost happened two years ago at Celtic Manor in Wales, where a brilliant rally in singles fell barely short when Graeme McDowell beat Hunter Mahan. Fresh off their latest victory over the International team in the Presidents Cup, the Americans seem to be more comfortable in foursomes, or alternate shot, which often has been a problem for them in the Ryder Cup. Veterans Tiger Woods, Phil Mickelson, Jim Furyk, Steve Stricker and David Toms all stepped up at Royal Melbourne, and the U.S. has developed a younger group of solid team players including Mahan, Dustin Johnson, Bubba Watson, Matt Kuchar, Bill Haas and Nick Watney. Others capable of making the team include Keegan Bradley, Stewart Cink, Zach Johnson, Gary Woodland, Jason Dufner, Rickie Fowler, Brandt Snedeker and Anthony Kim. U.S. Captain Davis Love III certainly will be consulting with his pal, Fred Couples, who led the Americans to their last two victories in the Presidents Cup.