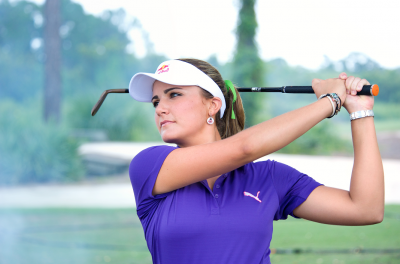 Lexi Thompson turned pro at 15 and won two tournaments at 16. What can we expect now that's she's 17? Southern California golf fans can see for themselves at two LPGA events this month.
By Jim Dover
The LPGA and Commissioner Michael Whan have been careful not to anoint Lexi Thompson as the face of the 2012 LPGA Tour. However, after the Sweet 16 star (who turned 17 in February) won twice in 2011 and was awarded full-time status for this season by Whan, it's inevitable that the teen sensation from Coral Springs, Florida, will grab a lion's share of the headlines.
"Lexi Thompson is a unique talent who has continued to grow, develop and mature both on and off the golf course since turning professional in 2010," Whan has been quoted as saying. (Translation: She just made my job a heck of a lot easier.)
Thompson, who turned pro at 15, has been playing golf since she was 5. She followed her two older brothers, Nicholas and Curtis, into the sport. Her career is a family affair: her father, Scott, serves as her caddie and oversees her home schooling. Her mother, Judy, who works full-time processing insurance claims at a dental office, provides emotional support. The youngest Thompson has described her mother as her best friend.
Southern Californians can get an up-close look at the rising star when Thompson tees it up at the Kia Classic in Carlsbad (March 22-25) and the Kraft Nabisco Championship in Rancho Mirage (March 29-April 1). She won't be hard to miss, unless you can't see over the crowds, of course. Thompson will be the one with a large following behind her and a bright future in front of her.
The LPGA gained five more stops this year, which is a positive sign for 2012. What are you most looking forward to during your first full year as a rookie?
I'm just looking forward to playing a lot more. I now get to play two or three events back to back and that's going to be nice. I get to travel the world and play in more events. I think it will be good for me.
The travel schedule for the LPGA is fairly intense, but it must be exciting as well for a young person. What countries or cities are you looking forward to seeing?
I'm going to Thailand for the first time, so I'm really looking forward to going there. Every country is a new experience for me. I'm also going to try and get my Mom to travel with me.
The first California stop on the LPGA is the Kia Classic and its return to La Costa with a redesign. Did you play that course before the redesign?
I have not played that course, so it will be the first time.
There are obvious advantages to playing a course you know, but how do you enter a golf tournament where you've never played before?
Once you get your practice rounds going you get used to it. And on a new course you might focus your practice sessions on the greens to see more of the breaks or contours. The first time you play a course you obviously have to be more aware, but it helps to be relaxed during the tournament.
Do you plan on using your father as caddy for the 2012 season, and have you discussed how long he'll stay on the bag?
We haven't really talked about it. It's been working out for the last year and we're just going to go with it for now.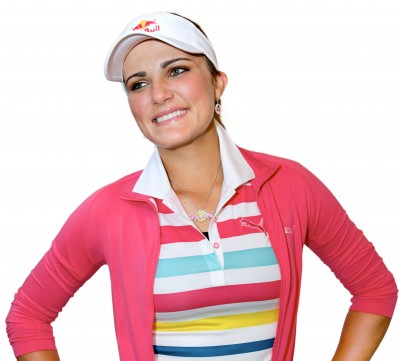 One of your routines with your father is lining up putts. I'm surprised more players don't take a similar approach, but can you describe your putting routine?
It changes from tournament to tournament. If I feel uncomfortable over a shot then I'll have him line me up, even over my driver or in the fairway. On the green if he can give me that confidence before I pull my club away, then I don't have to worry about it.
Outside of your family, do you have anyone that you ask for professional advice?
Instructor-wise I work with Jim McLean on my golf swing. Other than that, I've talked to Nancy Lopez about advice on and off the golf course.
It's no secret that you're one of the players that the LPGA is marketing for the 2012 season. What are your thoughts about being in that spotlight?
I don't mind it, but I'm just out there like every other player and I'm doing what I love. There are so many great players out there already, so the Tour is just continuing to improve. I'm just out there trying to be part of it.
Your current storyline is success at such a young age. We know you work hard, but there's natural talent as well. Do you ever think about that combination?
I do think about it, but just starting out at a young age with both my brothers around I think that golf was just in my blood. Growing up around it I think it was just meant to be. I've just been doing it my whole life, and trying to beat my brothers helped, too.
There will always be a group out there that will say you're too young to handle a professional lifestyle and you should wait before embarking on an LPGA career. What would you say to them?
I think my two wins should show that I'm ready. I'm just out there competing and doing the same thing as other LPGA players. I'm just doing what I love and competing, which I love to do. That's all I can say.
Your talent level and expectation for success is so high that you'll be a favorite to win every tournament you enter. Is that type of pressure too much or do you expect to win every time as well?
It's not any pressure at all. I always try to do my best in every tournament. That's all I can do. I put enough expectations on myself and my own goals.
Your win at the Navistar was not only record breaking (youngest winner since Paula Creamer) but immediately brought up the question of your future eligibility on the LPGA. How hard was that to block out during the final round?
Not really; maybe on the last hole. I was really just taking it one shot at a time and trying not to get ahead of myself. I was just staying in the moment.
In the end you won by a comfortable margin but were pushed a little by second-place finisher Tiffany Joh. Was that a good thing to feel the heat a little bit in the final round?
She definitely made a run for it there in the end making three or four birdies in a row. I felt like I was still playing good and was focused so I knew I was going to start making some birdies.
You followed that win with another two months later at the Dubai Ladies Masters. How did that accomplishment differ from your first win at the Navistar?
It felt a lot like the first win. It was an amazing moment. My Dad was there as well and it was just a great feeling. I've worked so hard my whole life and to have those wins come made a big difference.
What is a realistic goal for this year, or do you set personal goals for the year?
My goal overall is to continue to improve with my game. I go to every event looking to win. Obviously that isn't going to happen, but I just try to do my best and hopefully just improve my game.
Lexi Thompson: FYI
AGE: 17.
BIRTHPLACE AND RESIDENCE: Coral Springs, Florida.
TURNED PRO: 2010.
LPGA VICTORIES: Navistar Classic, 2011.
OTHER PROFESSIONAL VICTORIES: European LPGA Dubai Ladies Masters, 2011
NOTABLE: Set record in 2007 for the youngest qualifier to play in the Women's U.S. open at 12 years, 1 month and 1 day.
CAREER EARNINGS: $581,770 (as of mid-February).
MISCELLANEOUS: Two brothers also play competitive golf – Nicholas on the Nationwide Tour and Curtis at LSU.
TWITTER HANDLE: @Lexi.
FOLLOWERS: Over 13,000.