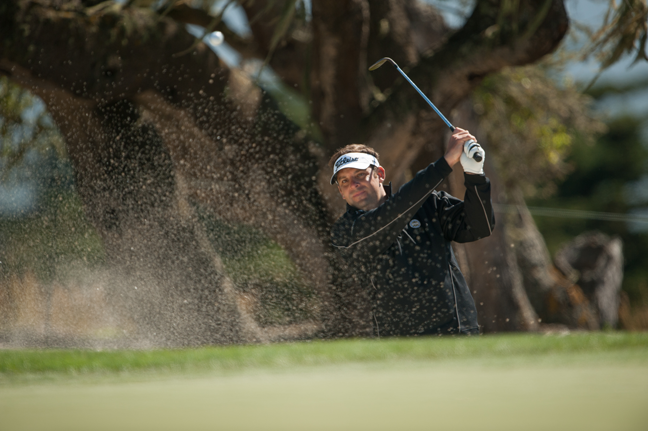 SEASIDE, Calif. – Matt Dobyns was at odds with himself about whether to compete in the 45th PGA Professional National Championship. There was an important Ladies Member-Guest event Tuesday at his home club. The first-year head professional did not want anyone to think he was skipping out.
Given a vote of confidence from Fresh Meadow Country Club in Lake Success, N.Y., the 34-year-old Dobyns has been on a tear in his debut in the showcase event for PGA Professionals. He made a stunning tour of Bayonet Golf Course Tuesday afternoon, combining a hole-in-one on the 14th hole with holing out from a bunker at 18 for an eagle and a 3-under-par 69. Those highlight-reel gems helped him build a 54-hole total of 11-under-par 205 and a six-stroke cushion in the Championship.
"I didn't have any goals coming here; I didn't have time," said Dobyns, whose most recent victory came in the 2011 Long Island Open. "I wasn't sure I was going to come until the day before. The Ladies Member-Guest event today is a big event for me since I've been employed. I have never been in front before – not this far in front – and not in front of this many good players."
Three-time PGA Professional National Champion Mike Small of Champaign, Ill., who finished with an even-par 72, was alone in second at 211 and like the rest of the field appeared to be looking uphill to Dobyns. Small had three-putted twice and came within two strokes of Dobyns midway through the round before slipping back.
"You can't play defense in golf. He played great, made great shots and deserved to have a good round," said Small, who owns seven top-10 finishes in eight previous appearances. "I know I have to hit the ball better. Matt's going to have to help us out a little bit, but he sure is playing well right now."
Kelly Mitchum of Southern Pines, N.C., was next at 212, after a 72, while Rod Perry of Port Orange, Fla., and Paul Scaletta of Jupiter, Fla., shared fourth at 214. Former National Champion Darrell Kestner of Glen Cove, N.Y., whom had been Dobyns' boss for three seasons, led a group of five players at 215 that included Frank Bensel of Jupiter, Fla.; Chad Proehl of Urbandale, Iowa; Kevin Shields of Pittsburgh, Pa.; and Corey Prugh of Spokane, Wash.
Dobyns paced himself through the front nine at Bayonet, making a bogey on the par-3 sixth hole before bouncing back with a birdie at 10. That set up his fireworks on the final four holes. He used a 7-iron on the 200-yard 14th for his eighth career ace and second in competition. The ball bounced off the right fringe and tracked to the hole. Though Dobyns went on to bogey the 15th, he remained a picture of calm.
"First of all an ace is not about skill, it's about luck," said Dobyns shrugging his shoulders. "I'm just trying to keep the ball on the green, and the ball bounces, and it goes into the hole. Sometime it looks like it's going to go in, and it doesn't, and this particular one did. I'm happy I made it, don't get me wrong.
"I didn't see it at all, and then I saw people waving their arms around and they said I won a (Club Car) golf cart. I don't know how I'm going to get that back to New York."
Dobyns saved another highlight moment for the 519-yard 18th hole, despite a tee shot that hugged the right first cut of fairway rough and with a cypress tree guarding the corner path to the green.
"I did not hit a great tee shot there, and it's a hole that if I do hit a good tee shot, I have a middle iron into the green," said Dobyns. "I hung it a little bit right. Rather than hold back, I tried to carve a 3-iron and somewhere near the green." His approach found a left-hand greenside bunker.
"I faced a bunker shot similar to that on the practice area, and I didn't feel too badly about it. I wasn't uncomfortable there. If the ball doesn't go in, it's about 10 feet past. But the ball hit the pin dead center and I'll take it."
Dobyns said that he believed that he could sleep comfortably on a six-stroke lead.
"Every round I've had the same prerogative," said Dobyns. "I am trying to make pars. It's not a golf course where you can go out and shoot 64. You try to start out and try to make pars. That's what I plan to do tomorrow. We'll see what happens, I feel comfortable out here, and I hope that I don't feel too uncomfortable tomorrow."
45th PGA Professional National Championship
Bayonet Black Horse Golf Courses, Seaside, Calif.
Third-Round Scores
Matt Dobyns, Lake Success, N.Y.    68-68-69—205
Mike Small, Champaign, Ill.    66-73-72—211
Kelly Mitchum, Southern Pines, N.C.    69-71-72—212
Rod Perry, Port Orange, Fla.    72-71-71—214
Paul Scaletta, Jupiter, Fla.    67-72-75—214
Chad Proehl, Urbandale, Iowa    72-72-71—215
Kevin Shields, Pittsburgh, Pa.    74-70-71—215
Frank Bensel, Jupiter, Fla.    68-75-72—215
Darrell Kestner, Glen Cove, N.Y.    69-73-73—215
Corey Prugh, Spokane, Wash.    70-72-73—215
Doug Wade, Dayton, Ohio    73-75-68—216
Mark Brown, Glen Head, N.Y.    71-73-72—216
Bill Murchison, Canton, Ga.    73-74-70—217
Stuart Deane, Arlington, Texas    72-74-71—217
Robert McClellan, Butler, Pa.    73-72-72—217
Mitch Lowe, San Francisco, Calif.    72-72-73—217
Jeff Coston, Blaine, Wash.    71-72-74—217
Brian Gaffney, Rumson, N.J.    68-75-74—217
Bob Sowards, Dublin, Ohio    70-71-76—217
Stuart Smith, Reno, Nev.    71-69-77—217
Scott Hebert, Traverse City, Mich.    73-74-71—218
Chip Sullivan, Troutville, Va.    73-73-72—218
Marty Jertson, Phoenix, Ariz.    78-68-72—218
Michael Hopper, Phoenix, Ariz.    75-71-72—218
Kyle Owen, Marietta, Ga.    73-72-73—218
Danny Balin, Rockville, Md.    72-72-74—218
Alan Morin, Royal Palm Beach, Fla.    69-73-76—218
Brian Cairns, Walled Lake, Mich.    71-69-78—218
Michael Frye, Sedona, Ariz.    75-73-71—219
Dean Larsson, Frisco, Texas    73-74-72—219
Frank Esposito, Florham Park, N.J.    72-74-73—219
Ron Philo, Stowe, Vt.    73-72-74—219
Craig Stevens, Dallas, Ga.    73-72-74—219
Chris Moody, Provo, Utah    69-76-74—219
Jim Estes, Germantown, Md.    68-72-79—219
Rick Witt, Madison, Wis.    72-76-72—220
Jeffrey Cranford, La Quinta, Calif.    78-69-73—220
David Paeglow, DeKalb, Ill.    78-69-73—220
David Hutsell, Lutherville, Md.    72-74-74—220
Burke Cromer, Columbia, S.C.    73-73-74—220
Greg Lee, Athens, Ga.    76-70-74—220
Mark Mielke, East Norwich, N.Y.    72-74-74—220
David Quinn, Marlton, N.J.    74-71-75—220
Jason Schmuhl, Windsor, Calif.    72-72-76—220
Greg Bisconti, South Salem, N.Y.    75-73-73—221
Sean Dougherty, Overland Park, Kan.    72-76-73—221
Trent Rommann, Wichita, Kan.    73-75-73—221
Tom Harding, South Lyon, Mich.    74-74-73—221
Lonny Alexander, New Braunfels, Texas    78-69-74—221
Frank Dully, Salem, Mass.    73-74-74—221
Steven Gotsche, Great Bend, Kan.    71-73-77—221
Jeff Olson, Powell, Ohio    70-73-78—221
Casey Fowles, St. George, Utah    73-75-74—222
Brett Melton, Washington, Ind.    75-73-74—222
Kevin Hayashi, Hilo, Hawaii    77-71-74—222
Audie Johnson, Lebanon, Tenn.    75-72-75—222
Charles Frost, Pineville, N.C.    75-72-75—222
Tim Feenstra, Issaquah, Wash.    73-74-75—222
Scott Berliner, Delmar, N.Y.    72-73-77—222
Rick Lewallen, Kannapolis, N.C.    73-75-75—223
Dave Bahr, Cincinnati, Ohio    73-75-75—223
Ricky Arnett, Austin, Texas    75-73-75—223
John Seltzer, Ann Arbor, Mich.    73-75-75—223
Todd Camplin, Pinehurst, N.C.    73-74-76—223
Eric Dugas, Waikoloa, Hawaii    75-72-76—223
Troy Pare, Seekonk, Mass.    72-74-77—223
Brendon Post, Lincoln University, Pa.    71-75-77—223
JC Anderson, O'Fallon, Mo.    75-71-77—223
Rob Horak, Fairport, N.Y.    71-74-78—223
Luke Bennett, Bellingham, Wash.    76-72-76—224
Tim Straub, Huntersville, N.C.    77-71-76—224
Darin Fisher, Albia, Iowa    74-73-77—224
Ryan Kalista, Moodus, Conn.    76-72-77—225
Steve Hummel, Reno, Nev.    74-74-77—225
Jason Alexander, The Woodlands, Texas    72-75-78—225
Chris Black, Independence, Iowa    77-71-79—227
Charles Pasco, Beverly Hills, Mich.    70-77-84—231