Winemaker Nick de Luca believes it is the grapes, not the winemaker, that determines what ultimately ends up in your glass.
Dierberg and Star Lane have opened a new tasting room where one can sample wines from three distinctly different climates in a memorable setting. Bankers by trade, Jim and Mary Dierberg are not newcomers to the wine industry. They've owned one of the oldest wineries in America – Missouri's Hermannhof – since 1974. But after traveling through Napa and Bordeaux in search of the perfect soil and climate to grow their grapes, the Dierbergs discovered Happy Canyon on a business trip and knew they had found the open space and big sky that they had dreamed of.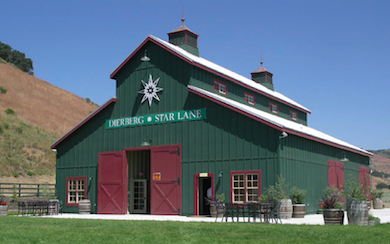 In 1996, they bought a vineyard in Santa Maria Valley properly suited for Chardonnay and Pinot Noir. In 2004, they added the Santa Rita Hills property and, fittingly, call these wines Dierberg. They have recently completed their dream winery on their Star Lane property – a climate-controlled multi-level structure that features high-ceiling caves and barrel rooms for perfect aging.
You may sample these wines at the tasting room located in the Western portion of Buelton just off of highway 246 at Drum Canyon Road. The new structure looks like a large barn and is equipped with a roomy tasting area and an outdoor seating area to take in the vineyard and distant mountain views. Also unique to this area, the tasting room is in a stand-alone location where the educated staff can walk you through your tasting with the same patience and attention to detail that these fine wines were made.
Location:Western Buelton
Address: 1280 Drum Canyon Rd. Lompoc, CA 93436
Phone: 805.736.0757
Website:www.dierbergvineyard.com
Hours:11 a.m.-5 p.m.
Daily Tasting Fee: $10
Dierberg Wines:
2005 Santa Maria Valley Chardonnay
2006 Santa Maria Valley Pinot Noir
2006 Santa Ynes Valley Syrah
Star Lane Wines:
2007 Star Lane Sauvignon Blanc
2006 Santa Ynez Valley Merlot
2005 Santa Ynez Valley "Astral" Cabernet Sauvignon
2005 Santa Ynez Valley Cabernet Sauvignon