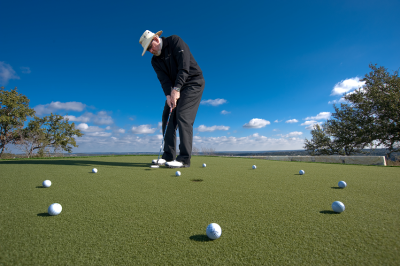 By Dave Pelz
A recent Pelz Golf Institute/PGA TOUR ShotLink joint research project revealed a major cause of poor scores among amateurs. It's a simple one, really: you three-putt way too often!
Data shows poor lagging of long putts, leaving them too far from the hole, is the key contributor to 3-putts. You may have other issues on the green as well, but improving your lag-putting skills will get you on the fast track to better scores.
PGA TOUR players are great lag putters. On average, the pros only three-putt 3 percent of the holes they play while high handicappers three-putt more than six times more often. Of course part of this problem is your first putt being played farther from the hole than a pro's. Better pitching and chipping would solve part of the issue, but you can improve your game significantly with more solid and consistent lag putting.
If you're a high handicapper, you probably take an average of eight more putts per round than a TOUR player. You often leave your first putts farther than 6-feet away from the hole, and while you don't putt all that much worse than professionals from inside 6-feet, from beyond this distance your "make percentage" goes down drastically. For this reason getting your first putts inside a six-foot circle around the hole is critical to helping turn 3-putts into 2 more often.
Drill It Home for Better Lags
In order to consistently roll your long putts into a makeable zone, try this drill: For four consecutive weeks, practice 50-foot lag putts with a friend for 30 minutes at least once each week. Putt only 50-footers in this drill, with closest to the hole winning each time. As you develop a good feel for 50-footers, this distance will become a kind of reference distance in your putting game, and lagging from other distances will become easier. All of your lag putts will stop closer to the hole and your number of three-putts per round will drop dramatically. So, too, will your scores.
Don't Neglect the Short Ones
I have a drill that can help you with your aim on short putts. You would be amazed at the number of golfers who think they're aiming correctly but don't see the correct line. The Short Putt Drill is simple. I have 12 balls around the green, all at three feet from the hole and, with this drill, I will see every kind of break that could happened around this hole position. You will putt them all as you move in a circle around the hole and you'll be amazed at how much you can learn from a "simple" three-foot putt.
You'll see Tour players like Phil Mickelson doing this drill all the time because it accomplishes multiple goals. It improves your speed control as you watch the balls roll to hole. Give yourself a chance to make them all but don't "blow them by." The more you putt, the more you'll learn. You will also get a good idea of how break works around greens and how green-reading and alignment affect every putt, even if the changes from putt to putt are small and subtle.
I like to put a Teacher Pointer on the end of my putter as I do this drill. Seeing clearly where my putter face is aimed helps me develop a better sense of how I'm set up and how I aim. The red line the Pointer creates tells the truth about where I'm aiming, so I know if I'm aimed correctly and putted the ball with a good stroke at a good speed and still missed, the issue is green-reading. I love going around the circle and seeing the amount of break increase and decrease. It's fun building confidence on the flat ones and being challenged by the bigger breakers.
Watch the video in the Worldwide Golf Shops digital magazine (www.worldwidegolfshops.com; click on the Digital Magazine link under the Home tab) to see my son and I compete in the Short Putt Drill. It's a fun way to use competition in your practice. The goal is to be "automatic" one short putts and raise your confidence on the greens. Do this drill as often as you can because putts from this range are incredibly common in a round of golf and the more you make, the better you'll score!