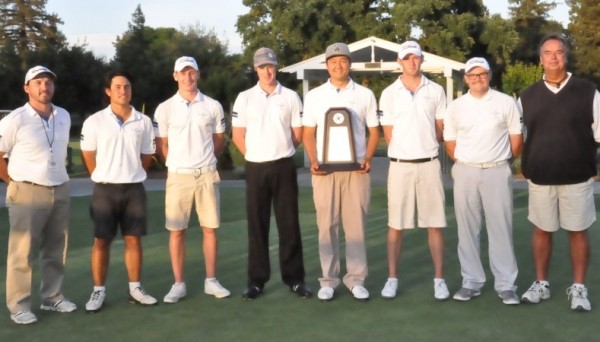 College of the Canyons captured the California Community College Athletic Association State Championship for the seventh time, winning by eight strokes over host Reedley College at Kings River Golf and Country Club in Kingsburg.
The Cougars, who lost the title by one stroke last year in a scorecard playoff, finished with a score of 363-370–733, while Reedley came in at 375-366–741.
"It was a fitting end to a great year," said Coach Gary Peterson, who wrapped up his 31st season at Canyons. "The team was very deep with 12-to-14 golfers averaging 76 or better. It's was especially rewarding to me as a long-time coach to achieve my seventh State title."
The Cougars also won state titles in 1993, 2000, 2002, 2006, 2008 and 2013. Canyons earlier claimed its sixth straight Western State Conference championship and second consecutive Southern California Championship.
Santa Rosa Junior College finished at 373-370–743 and tied for third with Riverside City College, which totaled 371-372–743, while Santa Barbara City College was fifth at 381-379–760, followed by College of the Desert at 385-378–763.
Folsom Lake College wound up at 386-382–768 and tied for seventh with Monterey Peninsula College, which totaled 387-381–768.
Jeremy Sanchez of Chabot College in Hayward claimed the individual title with a record score of 65-71–136, 8-under-par. Sanchez broke by one stroke the mark set by in 1999 by Denny Kim of Long Beach City College, who posted a score of 137 at Yolo Fliers Country Club in Woodland.
Chad Hambright of Riverside was second at 77-64–141, followed by Zack Sims of Santa Rosa at 72-71–143, while Gareth Evans of West Hills College in Lemoore shot 73-71–144 to tie for fourth with Raymon Tira of San Joaquin Delta College at 70-74–144.
Ben Hallam of Reedley totaled 75-70–145 to tie for sixth with Robby Melton of Riverside (69-76–145), Brett Patton of Santa Barbara (74-71–145), Eric Kim of Canyons (71-74–145) and Sam Sloman of Canyons  (74-71–145).
Rounding out the scoring for the State champion Cougars were Matt Murray in a tie for 14th at 71-75–146, Lewis Braden in a tie for 18th at 72-75–147, Noa Yap in a tie for 24th at 75-75–150, and Clay Chatterley in a tie for 49th at 81-78–159.