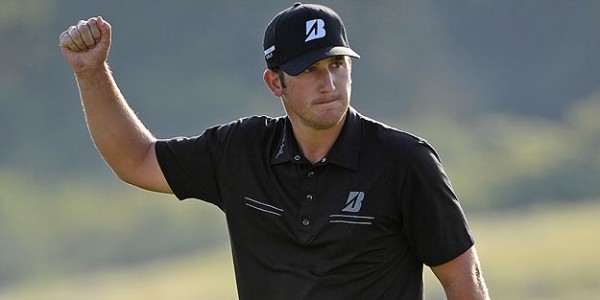 Kevin Chappell holed a 45-yard bunker shot for an eagle on the 15th hole en route to a 5-under-par 65 on the Seaside Course to take a one-stroke lead over Kevin Kisner and Freddie Jacobson of Sweden midway through the RSM Classic at Sea Island Resort in Sea Island, Ga.
Chappell, from Fresno and UCLA, carded four birdies in the first 10 holes before making his only bogey at No. 12 and taking the lead with his eagle, as he tries to win for the first time on the PGA Tour.
"I think this is the third year in a row I've been near the last group on the weekend," said Chappell, who has been in the hunt the last two years at Sea Island and tied for eighth last year. "For me, the sight lines work. The wind tends to blow out of one direction. There are a lot of things that are comforting to me and allow me to play well.
" … I've got a carry number for each wedge out of a bunker. My pitching wedge goes about 36, 38 yards. So I told myself (on the 15th hole) to hit it a littler harder than you want. And it came out perfect."
Kisner, who held the first-round lead with a 7-under 65 on the Plantation Course, followed that up with a 3-under 67 on the Seaside Course to tie for second with Jacobson, who birdied four his last seven holes in a 5-under 67 on the Plantation.
Kyle Stanley was two shots back in solo fourth after a 67 on the Seaside Course, while Jason Gore of Valencia and Pepperdine had a 69 on the Plantation and was another stroke behind in a tie for fifth with Alex Cjeka of Germany and Michael Kim of San Diego and Cal, who both totaled a 67 on the Plantation, and Hiroshi Iwata of Japan, who shot 67 on the Seaside Course.
Graeme McDowell of Northern Ireland, who won the OHL Classic at Mayakoba last week, posted a 68 on the Plantation and was four shots back in a tie for ninth with Ricky Barnes of Stockton, who had a 67 on the Seaside, Trey Mullinax, who finished at 70 on the Plantation, and Jim Herman, who came in at 69 on the Seaside.
Tournament host Davis Love III recorded a second 70 on the Plantation and was tied for 68th, while his son Dru, a 21-year-old junior at the University of Alabama, shot 76 and missed the cut by six strokes.