From the Sheraton and The Westin Carlsbad Resort and Spa, The Crossings at Carlsbad, and Beyond
By Suzy Evans
Located just a few miles from Carlsbad's white sandy beaches, the blooming Flower Fields at Carlsbad Ranch, and Carlsbad's beautiful lagoons, the Sheraton and The Westin Carlsbad Resort and Spa offers luxury accommodations, fine dining, outdoor pools with water slides, a spa and fitness center, and many popular attractions where you can enjoy golfing at The Crossings at Carlsbad, a relaxing day at the beach, shopping at the Carlsbad Premium Outlets, local wine tasting, miles of tranquil nature hiking trails, or a memorable family trip to Legoland.
Golf at The Crossings at Carlsbad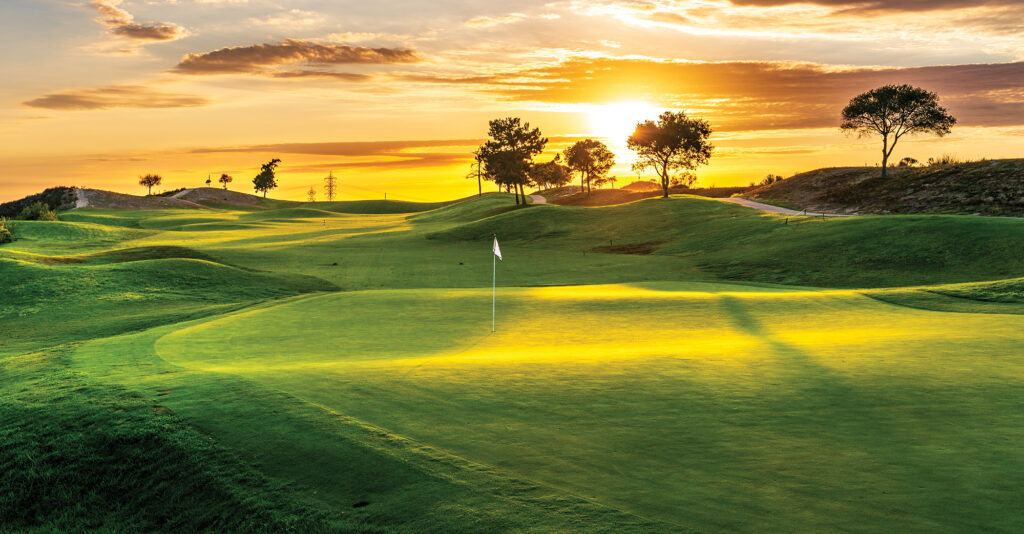 Located next to the Carlsbad luxury resorts, The Crossings at Carlsbad is a premier championship golf course offering a magnificent setting in a rustic canyon with spectacular coastal and canyon views. This 6,835-yard public course was designed by Greg Nash, a renowned golf course architect who designed more than 80 courses, and features stunning terrain that provides fun and fair challenges to golfers of all abilities.
Nestled amid a natural canyon habitat on more than 400 acres of Carlsbad's coastal terrain and named for its five bridges, or crossings, the 18-hole championship course is a perfect choice for a foursome or hosting a tournament, with its friendly personalized service, excellent course conditions, and extremely reasonable pricing that provides one of the most competitive values on the Southern California coast.
Score a Hole-in-One with the Escape! Golf Package
Hit the links at The Crossings at Carlsbad and enjoy one round of golf per night for one person; usage of a GPS-equipped golf cart, practice facility, and range balls; breakfast for up to two adults at the hotel restaurant; and a special discount at StretchLab Carlsbad.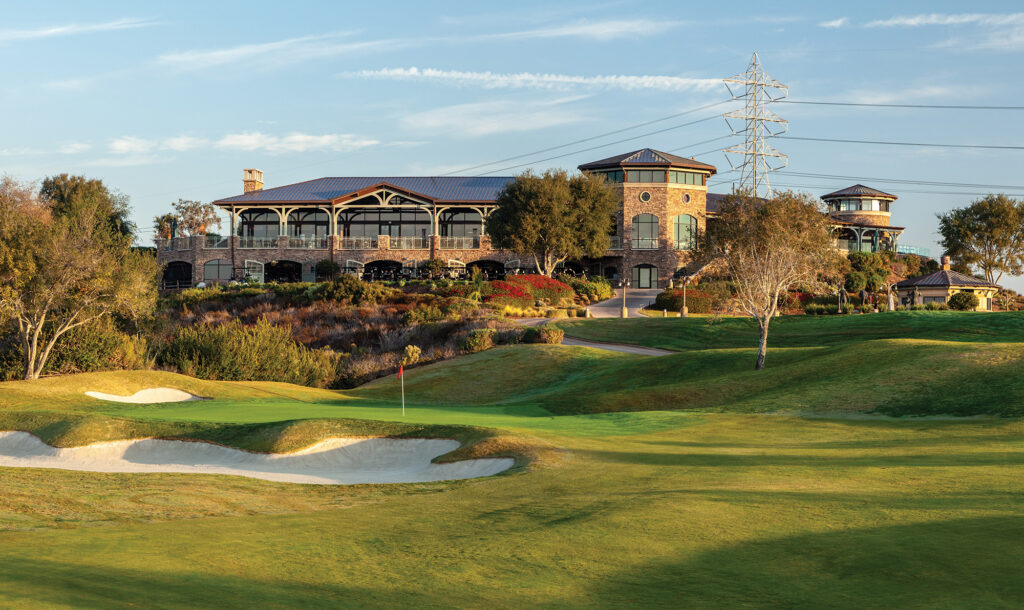 The Clubhouse at The Crossings
The beautiful castle-like stone 28,000 square foot clubhouse is perched on a hill and offers fantastic seasonal cuisine, a fireplace-lit dining room, full-service kitchen and bar, the Player's Lounge Bar with high-definition TVs, the Sunset Patio with fire pits, and a covered outdoor dining terrace with panoramic views.
If you're staying at the Sheraton or The Westin Carlsbad Resorts on a weekend or just visiting, a wonderful brunch is now served on Saturdays and Sundays at the Clubhouse, where you can relax and enjoy bottomless seaside Mimosas, Bloody Marys and John Daly's and a wide variety of brunch menu items at a reasonable price.
Dining — 20/Twenty and
7 Mile Kitchen
Located at the The Westin Carlsbad Resort, 20/Twenty offers refined coastal classic dishes imbued with a global perspective and modern flair. Serving up flavorful seasonal combinations, the cuisine embraces international influences and local harvests in every dish. Locally grown ingredients "shine in simply designed, thoughtfully crafted plates" inspired by the Southern California coastline and beyond.
For more casual dining at the Sheraton Carlsbad Resort, 7 Mile Kitchen offers fantastic cuisine including artisanal wood-fired pizzas that are handcrafted with house-made dough. Creative signature toppings locally sourced include fennel sausage with caramelized Maui onions, marinated shrimp with pesto, roasted wild mushrooms with a white truffle cream, and so much more!
Overlooking seven miles of the Carlsbad's white sandy beaches, this casually elegant restaurant also offers great sandwiches and gourmet burgers crafted to perfection and other delicious dishes that can be paired with a curated selection of San Diego's favorite brews.
Enjoy Carlsbad's Premier Gelato Bar
The resort sources its amazing gelato bar from North County's renowned EscoGelato. A San Diego County staple, EscoGelato makes decadent, creamy, and flavorful gelato fresh daily with the highest quality ingredients. The bar features both classic and a rotating seasonal variety plus signature flavors for 7 Mile Kitchen exclusively.
Ocean Pearl Spa—Relax, Revitalize and Rejuvenate!
With casually sophisticated California coastal elegance, the charming Ocean Pearl Spa in The Westin Carlsbad Resort and Spa incorporates marine-based botanicals and skincare products for body treatments that nourish, purify, and restore. Spa guests receive private lockers, plush robes, and spa sandals, as well as access to the eucalyptus steam room, showers and relaxation lounge. Guests also have complimentary access to the fitness center, heated pool, and soothing Jacuzzi.
Nearby Attractions
Carlsbad's pristine beaches are some of the most scenic in California. South Ponto Beach is great for families, North Ponto Beach is much narrower and popular with local surfers, and Terramar Beach (also called the Carlsbad Tide Pools) is a great spot to enjoy tide pooling.
In the spring, the spectacular Flower Fields at Carlsbad Ranch is one of San Diego's most popular attractions with vast flower fields blooming in bright vibrant colors between March and May.
You can also enjoy Carlsbad's lagoons including Batiquitos Lagoon, Buena Vista Lagoon, and Agua Hedionda Lagoon which are beautiful, peaceful spots to observe ducks, birds, deer, and other wildlife in their natural canyon habitat.
Visiting LEGOLAND in Carlsbad
Located right next to the Sheraton and The Westin Carlsbad Resorts, LEGOLAND is filled with more than sixty exciting rides, shows, and attractions offering a memorable experience geared to young families with children between the ages of 2 and 12, but kids and adults of all ages can have fun with games, snacks, rollercoasters, a Driving School where kids can drive little cars, amazing LEGO sculptures, and more!
Visiting LEGOLAND can be done in a day or half-day, but you might want to spend some time at the Sea Life Aquarium, a family-friendly interactive sea aquarium home to more than 5,000 sea creatures, including clownfish, octopus, sea horses, rays, and sharks, and be sure to bring bathing suits if you want to venture into the LEGOLAND Water Park. You might also want to consider multi-day passes if you're enjoying the resorts for a weekend or few days and the hotels have a quick and convenient private entrance to Legoland to beat the crowds!
The The Westin and Sheraton Carlsbad Resort and Spa and The Crossings at Carlsbad are just 30 miles north of the San Diego International Airport and a short, scenic drive from Orange County and Los Angeles.
For more information or to make hotel reservations, visit https://www.grandpacificcarlsbadresorts.com
To enjoy the Score a Hole-in-One with the Escape! Golf Package, call the resort at 760-827-2800.