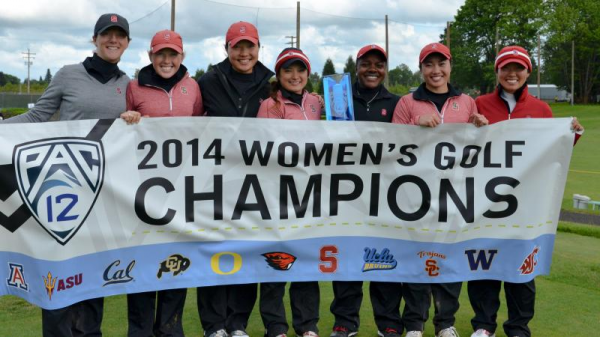 Alison Lee of UCLA won the individual title by three strokes over Lindsey Weaver of Arizona and Stanford beat top-ranked USC and Arizona by one shot in the Pacific 12 Conference Women's Championships at Trysting Tree Golf Club in chilly Corvallis, Ore.
Stanford, which also captured the Pac-12 men's title, finished with a score of 286-291-292–869, four-over-par, followed by Arizona at 287-287-296–870 and No. 1 USC at 294-284-292–970.
"I hadn't seen the scores so I had no idea where we stood," a surprised Coach Anne Walker of ninth-ranked Stanford said. "I thought we were third, maybe fourth, so it was shocking to say the least.
"We knew we had to play hard, and if it was to be our day, the putts would drop, and that's exactly what happened. It was an unbelievable day and an incredibly hard-fought battle."
UCLA, ranked No. 2, was fourth at 285-288-298–871, followed by Arizona State at 291-296, 296–883, Washington at 290-293-301–894 and Cal at 298-299-291–888.
Oregon was eighth at 300-299-298–897, followed by Oregon State at 300-296-302–898, Washington State at 302-298-313–913, and Colorado at 301-304-322–927.
Lee, a freshman from Valencia, posted a score of 70-72-69–211, and Weaver finished at 68-72-74–214, followed by Doris Chen of USC, who shot 74-70-71–215, and Noemi Jimenez of Arizona State, who came in at 73-70-73–146.
"Overall, for the tournament I feel like I played really well," said Lee, who collected her third college victory. "My game was really strong. I felt confident in my game and I was hitting a lot of good shots.
"I'm very happy that I was able to win, but I was very disappointed that our team couldn't win. It would have been nice."
Louis Ridderstrom of UCLA totaled 69-74-74–217 and tied for fifth with Monica Vaughn of Arizona State, who finished at 70-76-71–217.
Kyung Kung if USC carded a score of 76-69-73–218 and tied for seventh with Trojan teammate Annie Park, who came in at 70-71-77–218.
Casey Danielson of Stanford shot 74-73-72–219 and tied for ninth with Cardinal teammates Lauren Kim, who totaled 75-71-73–219 and Mariah Stackhouse, who finished at 71-75-73–219, and Erynne Lee of UCLA, who wound up at 69-71-69–219.