California Golf courses in Riverside County, Ventura County and Orange County, which had been closed down because of the Coronavirus pandemic, have been given permission to reopen with strict restrictions in place for golfers.
Riverside County's Department of Public Health issued an amended order opening all golf courses on Monday. The amended order the county said courses throughout the county, including the golf-rich Coachella Valley, can reopen.
"Effective immediately, the Health Officer for the County of Riverside and the County Executive Officer as Director of Emergency Services hereby order that all golf courses in the County of Riverside, whether public or private, may be opened for limited use, as outlined herein," the order states.
Some courses have remained closed, but among those open are Oak Quarry Golf Club (pictured) and Indian Hills Golf Club, both in Riverside. Golfers should call ahead to make sure the course they want to play has reopened.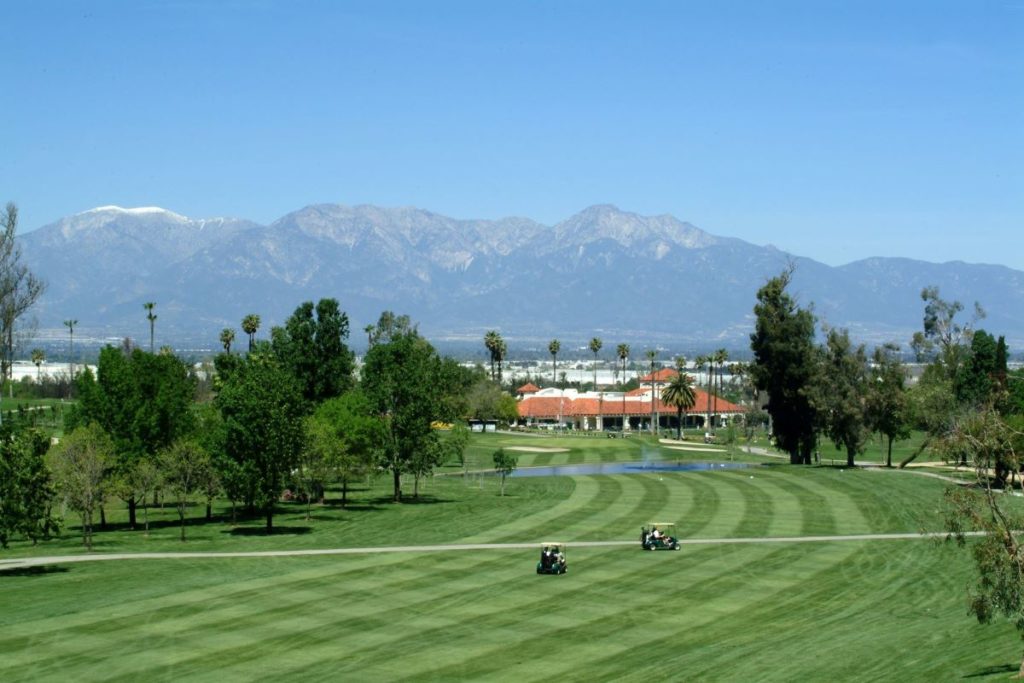 The closing of golf courses has been a point of contention between the county and the golfers and golf courses in the county, which wanted to limit large gatherings of people that can happen in golf course clubhouses, restaurants and bars.
Golfers have argued, apparently successfully, that the sport allows for social distancing and with proper limitations can be played safely. They also argued that the sport is a recreation such as hiking or walking and should be treated as such by the county.
In the new county order, golfers must wear face coverings at all times. In addition, food and beverage facilities at golf courses cannot provide in-clubhouse dining, only delivery and pick-up serve.
The order also insists that courses follow the "Park and Play: Making Your Course Social Distance Ready" program developed by the National Golf Courses Owners Association. That requires six feet of distance between players except for household members.
Ventura County released a statement saying that public and private golf courses can reopen with some restrictions, with no more than four golfers allowed to play in one group.
"We are positioned to focus on the road to reopening because our residents and businesses have sacrificed so much to comply with the Public Health Orders and slow the spread of the virus in our community," Ventura County CEO Mike Powers said in a statement.
"Our current situation is further strengthened by the work of our local hospitals to expand their capacity. These steps are critical because we know that, while the virus poses an unprecedented health threat, efforts to stem the virus come at a significant economic and health toll as we have seen with so many business closures and lost jobs."
As of Monday, Ventura Country had by far the fewest number of Covid-19 cases and deaths in Southern California, with 428 Coronavirus cases and 13 fatalities.
"Hopefully, it brings some sanity back to your life in a safe and orderly way," General Manager Keith Brown of Soule Park Golf Course in Ojai said.
Orange County supervisors voted in a meeting that was streamed live online that courses in the county can reopen.
In Sacramento County, golf courses have been open throughout the Coronavirus crisis.
"We just want to focus on social distancing," said Dr. Peter Beilenson, a non-golfer who is Sacramento County's health services director. "The whole point is social distancing. I went out on the golf course and saw social distancing. The putting green could have been a problem, but everyone was six feet apart. "The driving range the same."
Courses in the San Francisco Bay Area, which has been hit hard by Covid-19, remain closed. TPC Harding Park is scheduled to host the PGAChampionship in August and there have been reports the tournament might be moved if the course does not reopen soon.
Monterey County courses are under shutdown orders from government officials, including Pebble Beach, Spyglass Hill and the other famed courses on the Monterey Peninsula.
Los Angeles County and Santa Barbara County golf courses also are closed.
However, if California continues to flatten the curve of the Coronavirus, other courses can be expected to reopen in the coming days.