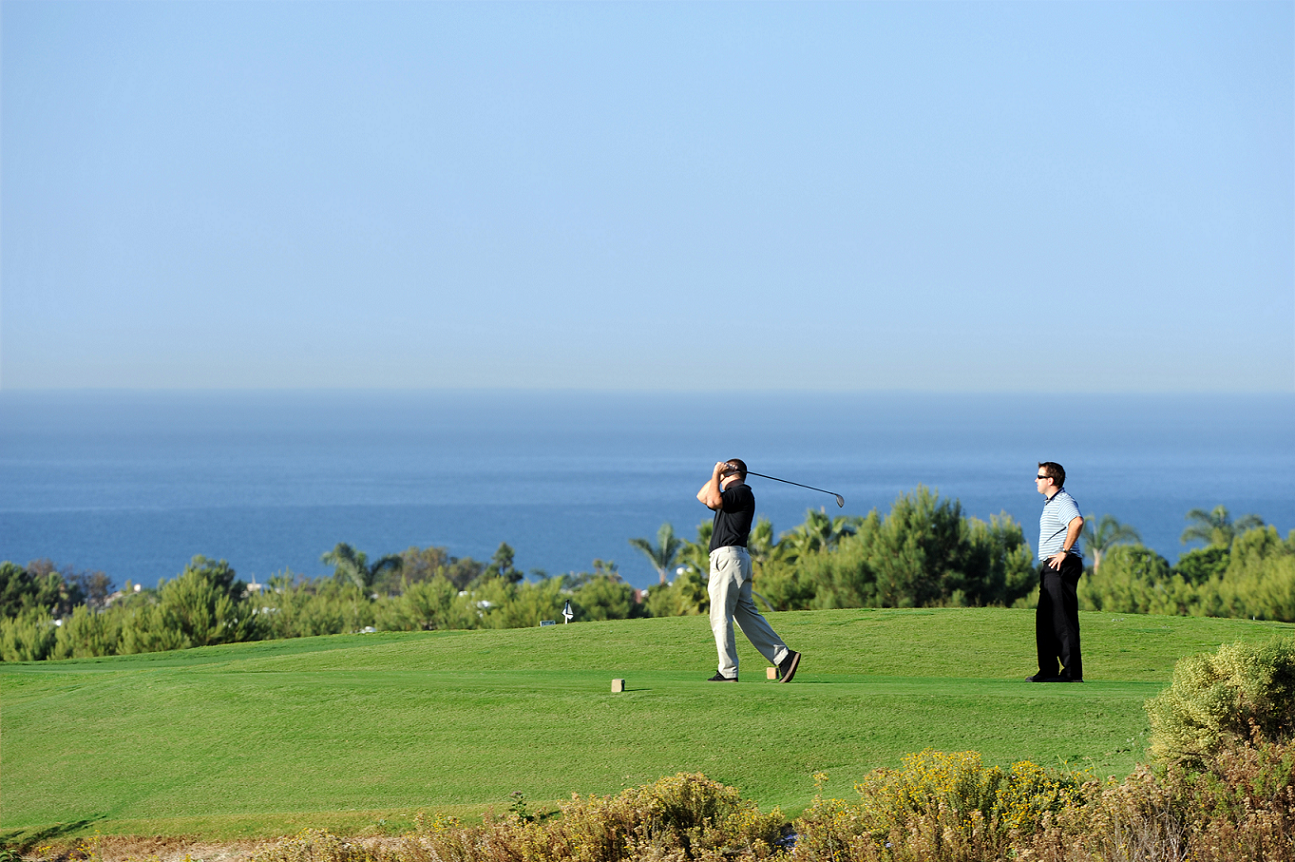 Southern California
May 21
The Hank Baskett Classic Golf Tournament
NFL free agent wide receiver Hank Baskett will hold his inaugural Hank Baskett Classic Golf Tournament at Trump National Golf Club in Rancho Palos Verdes on May 21 to raise funds for the Bonnie J. Addario Lung Cancer Foundation. Baskett, known best for his time with the Philadelphia Eagles, has called on many celebrities and professional athletes to attend, including Kevin Love, Alfonso Ribeiro, Jermaine Dye, Michael Strahan, Corey Dillon, David Justice, Marcellus Wiley, Kris Humphries, Danny Granger, Eric Allen and more. The shotgun start begins at 11:30 a.m. Visit hankbaskettclassic.org.
May 26-28
Palm Springs Desert Amateur
The Nicklaus Tournament Course at PGA West and the Mountain Course at La Quinta Resort, both in La Quinta, will host the 2012 Palm Springs Desert Amateur May 26-28. The event features $11,000 in prizes. Entry fee for the 36-hole individual stroke-play Net Division is $215 with an optional round Saturday on the Mountain Course available for an additional $65. Entry to the 54-hole individual gross stroke-play Championship Division is $245. The Championship Division will have a cut after 36 holes, with the top 40 percent of the field playing in the third round on Monday. Entries are due May 19 and include green fees, golf cart, range balls, a sleeve of Titleist Pro V1 golf balls, closest-to-the-pin prizes, optional side games and discounted practice rounds. Visit palmspringsdesertam.com or e-mail [email protected].
June 2
Tour Edge Demo Day
Tour Edge will hold a Demo Day event from 11 a.m. to 3 p.m. on June 2 at Calabasas Country Club in Calabasas. Tour Edge offers hundreds of dollars in savings at its Demo Day events, including up to $30 off on select irons, up to $20 off on select drivers and fairway woods, and up to $10 off on select hybrids. Visit touredge.com.
June 18
Cleveland Golf/Srixon Pro-Scratch Championship
Saticoy Country Club in Somis will host the Cleveland Golf/Srixon Pro-Scratch Championship on June 18. The four-ball 18-hole stroke-play competition has a 10 a.m. shotgun start and is open to SCPGA members and their amateur partners only. There also will be a bonus skins game sponsored by Cleveland Golf/Srixon for golfers using the ZStar Tour Yellow golf ball, which will be distributed to each participant at registration. Entry fee is $250 with an entry deadline of June 14. Visit scpga.com.
NORTHERN CALIFORNIA
May 14
NCPGA Pro/Super/GM/Official Invitational
The NCPGA Pro/Super/GM/Official Invitational will take place May 14 at the North Course at Rancho Murieta Country Club in Rancho Murieta. Entries to the four-player, select-a-drive, two-best-ball net event are due May 9 and cost $650 per team. The Invitational will also feature a barbeque lunch and awards dinner. NCPGA members or registered apprentices in good standing playing with their golf course's superintendent, general manager or any of their club's board of directors are eligible. Visit ncpga.com.
June 9
Cleveland Golf Demo Day
Cleveland Golf will hold a Demo Day event at San Juan Oaks Golf Club in Hollister from 10 a.m. to 4 p.m. on June 9. Golfers can test out new gear, such as the new Cleveland Classic Driver or Mashie irons, as well as participate in club fittings. Visit clevelandgolf.com.
June 13-15
14th Annual NCGA Senior Four-Ball Championship
The 14th Annual NCGA Senior Four-Ball Championship will be held June 13-15 at the Robert Trent Jones Jr.-designed Poppy Hills Golf Course in Pebble Beach. Entries for the two-person, 54-hole, four-ball stroke-play event are $340 per team and are due no later than May 25. Players must be at least 55 years of age by June 13, 2012 and have a handicap index of 9.4 or less on the date of registration. Last year, Jim Knoll and Jeff Burda won the championship after shooting rounds of 68-66-67 (201). Visit ncga.org.
June 24-27
PGA Professional National Championship
The 2012 PGA Professional National Championship, The PGA of America's top event for PGA professionals, will be played June 24-27 at the Bayonet and Black Horse Golf Courses, a challenging pair of venues in Seaside overlooking the Monterey Bay. The annual tournament, which has been contested in California 10 times previously, will return to the state for the first time since 1996. Last year, David Hutsell of Baltimore defeated Faber Jamerson and Scott Erdmann in a two-hole playoff to earn the Walter Hagen Cup. Visit pga.com.
July 2-3
83rd Annual NCGA Junior Championship
The NCGA will host its 83rd Annual NCGA Junior Championship at Spyglass Hill Golf Course in Pebble Beach July 2-3. The competition plays 54 holes for the boys and 36 holes for the girls. In 2011, Michael Grenz shot a 71-76-68 (215) to claim the boys division title, while Clare Sorensen posted a 79-72 (151) to take victory amongst the girls. Visit ncga.org.
ARIZONA
May 29-30
Northern Divisional Four-Ball
Oakcreek Country Club in Sedona will host the 2012 Northern Divisional Four-Ball tournament May 29-30. Entry is $335 per team (TPA members receive a $40 discount each) and includes 36 holes of four-ball stroke-play golf, cart, practice balls and prize fund. There will be a maximum of 50 two-player teams. AGA members 45 years or older by May 29, 2012 are eligible. Entry deadline is May 29. Visit azgolf.org.
June 5-7
Arizona Senior Open
The Arizona Senior Open will take place June 5-7 at the Prospector Course at Superstition Mountain Golf & Country Club in Superstition Mountain. The 54-hole individual stroke-play event, which features a cut after 36 holes, is open to all professionals and amateurs at least 50 years old by June 5, 2012. Amateurs must have a handicap index of 6.0 or less. The deadline for the $300 entry fee is May 31. Visit southwest.pga.com.
June 9-10
Southern Amateur
The 2012 Southern Amateur will be held at Lone Tree Golf Club in Chandler June 9-10. The field size for the 36-hole, individual stroke-play tournament will be 90 players. Shotgun start is at 7:30 a.m. for the first round and 7 a.m. for the second. Entry is $130 for TPA members and $150 for non-TPA members with an entry deadline of June 2. Visit azgolf.org.
NEVADA
May 17-18
Southern Nevada Senior Amateur
The Southern Nevada Senior Amateur will be held at Legacy Golf Club in Henderson May 17-18. Amateur players with a handicap index limit of 40 and age 50 and over as of May 17, 2012 are eligible. The 36-hole tournament will feature Senior Net, Senior Scratch, Super Senior Net and Super Senior Scratch contests. Entry fee is $150 for Tour members and $170 for non-Tour members, and is due by May 13. Visit snga.org.
June 1
2nd Annual Patty Sheehan & Friends Pro-Am
World Golf and LPGA Hall of Famer Patty Sheehan in partnership with The Legends Tour, the official senior tour of the LPGA, will host the 2nd Annual Patty Sheehan & Friends Pro-Am at Hidden Valley Country Club in Reno on June 1. The Pro-Am will feature 20 LPGA legends and will benefit the Patty Sheehan Foundation, supporting women and children charities in northern Nevada. Cost for a Pro-Am foursome is $4,000 and includes golf with an LPGA Legends player, cart, range balls, gift bag, breakfast, lunch, awards, pairings party, team photo and more. Visit pattysheehanandfriends.org.
June 23
Callaway Golf Demo Day
Incline Village Golf Resort in Incline Village will host a Callaway Golf Demo Day event from 10 a.m. to 3 p.m. on June 23. The event allows golfers to work with a trained Callaway Specialist to help maximize distance, fine tune ball flight and improve accuracy through getting properly fit for their new RAZR line of products. Visit callawaygolf.com.
June 23-24
Northern Nevada State Amateur
Sierra Sage Golf Course in Reno will host the 2012 Northern Nevada Amateur June 23-24. The entry fee for the individual stoke-play event is $100 and has a deadline of June 11. The tournament is open to all active NNGA members and will feature two divisions, scratch and net. Visit nnga.org.