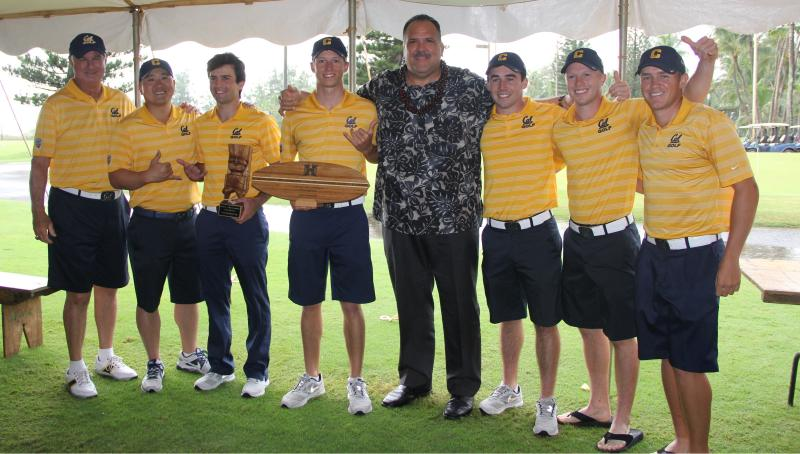 Cal's Golden Bears won for the fifth time in seven events this season, beating BYU and Texas A&M by nine strokes in the rain-shortened John A. Burns Intercollegiate at Wailua Golf Course in Lihue, Kauai, Hawaii.
The Bears, showing that they remain a force in college golf even though Michael Kim left for the pros in January, became the first team to win four consecutive titles in the tournament's 38-year history.
"We are certainly disappointed we were not able to finish the final round of play," coach Steve Desimone said. "But overall it was a good team win. Texas A&M, BYU and New Mexico are all really good teams. So it's nice to come out of this with a win."
Cal, ranked second in the nation behind Alabama by Golfweek, posted a score of 278-282–560, 16-under-par.
BYU wound up at 287-282–569, with Texas A&M coming in at 286-283–569.
New Mexico was fourth at 288-289–577 and Arizona totaled 285-295–580 to tie for fourth with Texas-El Paso, which came in at 292-288–580.
Washington State finished seventh at 291-291–582, while Long Beach State shot 292-292–584 to tie for eighth with Nevada Las Vegas, which totaled 293-291–584, and Pacific was 10th at 293-293–586.
St. Mary's totaled 296-301–597 to tie for 14th and Fresno State wound up 16th at 296-304–600.
Justin Keily of BYU claimed the individual title at 68-66–134, 10-under-par, earning his second college victory by four strokes over defending champion Joel Stalter of Cal, who finished at 67-71–138.
Erik Oja of Arizona was fourth at 64-75–139, while Michael Weaver of Cal shot 70-70–140 to tie for fourth with Joe Parkinson of BYU, who totaled 71-69–140, Rhyne Jones of Nevada, who wound up at 69-71–140, and Greg Yates of Texas A&M, who finished at 72-68–140.
Pace Johnson posted a score of 71-70–141 to tie for eighth with Cal teammate Keelan Kilpatrick, who came in a 70-71–141, and Michael Anderson of Washington State, who finished at 71-70–141.