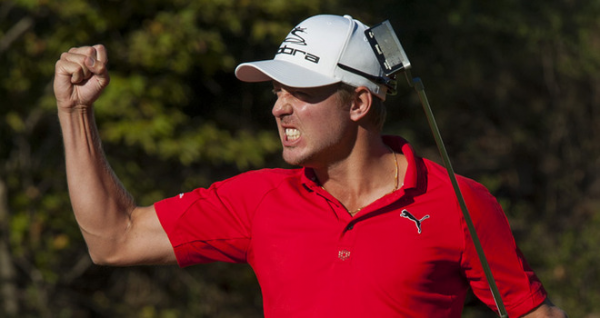 When the U.S. Open is played in June at Pinehurst No. 2, one of the favorites might be … Jonas Blixt?
The 29-year-old Swede didn't play his first major until he tied for 26th in the Open Championship last July at Muirfield. He followed that up by finishing fourth in the PGA Championship at Oak Hill before tying for second three weeks ago in the Masters — three strokes behind Bubba Watson.
"I'm pretty happy about my performance (in the Masters), and it's something to really build on," said Blixt, who is in the field this week for the Wells Fargo Championship.
"(Contending in a major causes) different feelings springing up in your body that you never felt before. I was happy I had the experience of the PGA last year and really being in contention. That really helped me."
The odds probably would still be on Henrik Stenson, No. 3 in the World Golf Rankings, becoming the first Swedish male to capture one of golf's major championships. However, Blixt is up to No. 33 and is proving he is a major player.
"I would love to be the first one," said Blixt, who is from Nassjo, Sweden, played at Florida State and lives in Ponte Vedra Beach, Fla., home of the PGA Tour and TPC Sawgrass. "I mean, doesn't matter if anyone else wins before me, but I would love to win a major. That's one of my lifelong dreams.
"I hope that curse kind of ends soon. I'm going to do as much as I can and work hard at it to end it, but no, it almost feels a little bit of a curse because we have so many good players coming through, and I think it would be huge for Swedish golf.
"I mean, it's a very small country. There's a lot of golfers from there. You set up your goals high, and that's a very high goal for both me and Henrik. To win one would be very, very special. But I would definitely, definitely really would love to win one for Sweden and for myself."
Like many Swedes, Blixt grew up wanting to be a hockey player. The fact that he wound up playing on the PGA Tour, claiming victories in the 2012 Frys.com Open and the 2013 Greenbrier Classic, is a credit to his father, Hans Ove Blixt.
"It's all my dad," said Blixt, whose only other pro victory came in the Lyckorna Scratch Championship at home in Sweden. "My dad loves the game. He's the biggest grinder I know. He always wants to compete. The more pressure you put on him, the better he plays.
"I never really had a role model in golf growing up. I was more interested in ice hockey. I wanted to be an ice hockey player. You know, you play a lot of golf in the summer there, and I never really got big enough or good enough to play ice hockey.
"I think golf is like the third-most popular sport over there. If you're a guy, you want to play hockey. It's like baseball over here. The tough guys play hockey, you know, the guys with no teeth. All the girls, they play hockey.
"Golf kind of suited me pretty well. Just kept on playing golf and tried to make a career out of it."
Blixt's play the last two years put him on the radar of Paul McGinley, the European captain for the Ryder Cup matches that will be played in September at Gleneagles Resort in Scotland.
The high finish in the Masters lifted Blixt into the top 20 in both the Euro Points list and the World Points list that help select the team.
"That would be a lifelong dream to appear on one of those teams," said Blixt, whose two PGA victories are only three behind the record for the most by a Swedish player, shared by Jesper Parnevik and Carl Pettersson. "I'm going to do everything I can, absolutely everything, to be on that team, but it's up to Paul McGinley to make the decisions on that.
"You know what I'm going to do, I'm going to try to play as good as I can in order so he doesn't have a choice but to pick me."
Based on his form the past year, that might be good enough.
–Story courtesy of The Sports Xchange, TSX Golf Editor Tom LaMarre