With dozens of great courses to choose from, a return trip to the Lake Tahoe region once again proves to be a breathtaking experience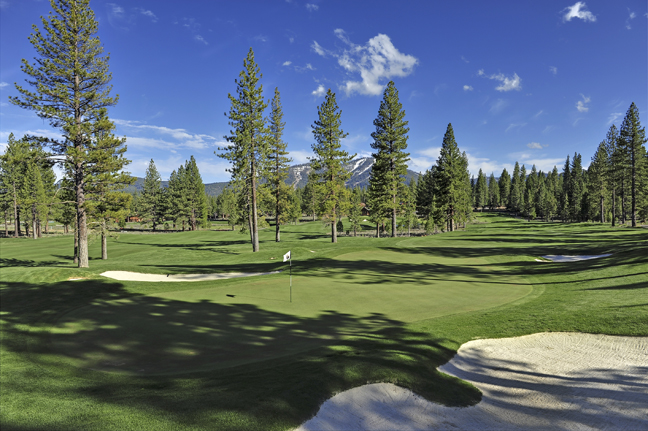 BY RANDY YOUNGMAN
Like the famed cliff swallows that return to San Juan Capistrano every spring from their winter home in Argentina, I feel compelled to return to the Lake Tahoe area every summer to tee it up in the shadows of the Sierra Nevada Mountains.
The swallows have to fly 6,000 miles to reach their destination; for me, Tahoe is only a one-hour flight from Southern California. There also are plenty of birdies to chase during my annual fairway research near the California-Nevada border. Advantage: golf writer.
But it's much more than a golf getaway; it's become an almost religious pilgrimage to The Lake, a prodigious deep-blue water hazard 72 miles in circumference that reflects the nearby snow-capped mountains and serves as a perpetual photo opportunity. In this slice of paradise, the sky is always blue, the air always seems crisp and clear, and the natural surroundings are always breathtaking.
Though better known for its casino hotels and wintertime ski resorts, Lake Tahoe also is the epicenter of a golf-vacation destination offering dozens of courses within an hour's drive.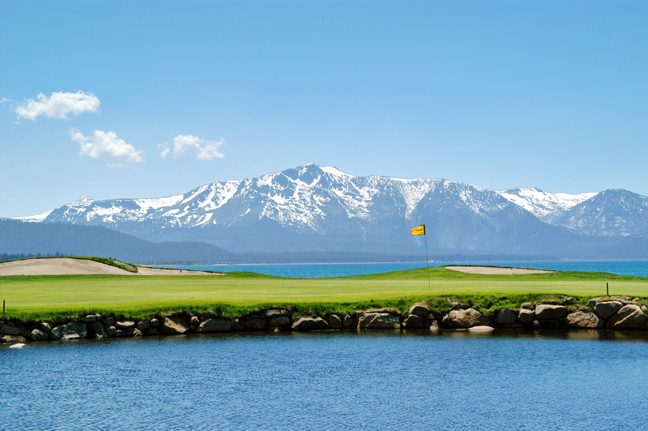 On the South Shore, there is Edgewood Tahoe Golf Course in Stateline, Nev., the George Fazio-designed crown jewel of Tahoe golf and the site of the annual American Century Championship, a nationally televised celebrity event that lures past and present superstars such as Michael Jordan, Charles Barkley, John Elway, Tony Romo and Greg Maddux.
Even if you hit a ball into Lake Tahoe, which looms just out of play on Nos. 17 and 18, it somehow doesn't seem as bad. My favorite holes are the par-4 eighth and par-5 16th, because you have to maneuver your tee shot around a towering Ponderosa pine tree in the middle of the fairway on each. You also can brag about playing in two states during the same round, because part of No. 9 is in California and part of it is in Nevada. And if you didn't get your fill of gambling on the course, the South Shore casino hotels are only a couple of blocks away.
On the North Shore, there is Incline Village Championship Course, as well as its sister executive course, the Mountain Course.
To the Northwest, there is the tiny town of Truckee, which boasts more than a handful of spectacular courses that you would never tire of playing, including Coyote Moon, The Golf Club at Gray's Crossing, Old Greenwood, Tahoe Donner and Schaffer's Mill. Beckoning a few miles outside Truckee are Northstar-at-Tahoe Resort and Resort at Squaw Creek in Squaw Valley, site of the 1960 Winter Olympics and where the Olympic torch still burns proudly today.
GOOD EATS: Favorite watering holes and restaurants in the Lake Tahoe area
To the East, there is Carson City, the capital city of Nevada that boasts "The Divine Nine" – nine area courses that I once sampled by playing two holes from each course in one day, including the Lakes and Resort courses at Genoa Lakes Golf Club and Dayton Valley Golf Club at Legado , site of annual PGA Tour qualifying events since 1995.
To the Northeast, Reno and Sparks are home of several outstanding public and private courses, including Montreux Golf & Country Club, site of the PGA Tour's Reno-Tahoe Open, and LakeRidge Golf Course, which keeps bringing me back to play the 237-yard, par-3 15th hole that features a 140-yard drop from mountain-ridge tee to island green. (Good luck picking the right club, which is the same challenge facing you while playing the 227-yard, par-3 13th at Coyote Moon thanks to its 200-foot drop from tee to green.)
And an hour west of Reno, in the Clio-Portola-Graeagle area, you can find four hidden gems: Whitehawk Ranch, The Dragon at Nakoma Resort, Grizzly Ranch and Plumas Pines.
I have visited the Lake Tahoe area and its environs every year since 1994 – sometimes twice a summer – and last month I played my 40th different course: Sommerset Golf & Country Club in Reno.
On my most recent trip, I played nine courses in six days on the annual Golf the High Sierra media tour, which tested my ball-striking, endurance and shot selection on the course and at the 19th hole, if you know what I mean. Were it not for a mid-week massage at the Hyatt Regency Lake Tahoe in Incline Village – hours before I shot my best round at Gray's Crossing, by the way – my back might not have made it to the end of my itinerary. (Best $150 I ever spent; thank you for taking out the knots, Katie.)
Though it's not as well known as popular golf destinations in Oregon, South Carolina, North Carolina and Florida, it says here that Reno-Tahoe golf measures up to all of them in terms of variety, quality and affordability. (For information on some area golf packages and stay-and-play deals, go to golfthehighsierra.com.)
Because of the economic downturn a few years ago, several golf courses that were built to be exclusively private clubs now offer public play, which is why you, too, can feel like a member for a day at Gray's Crossing, Schaffer's Mill and Grizzly Ranch, among others.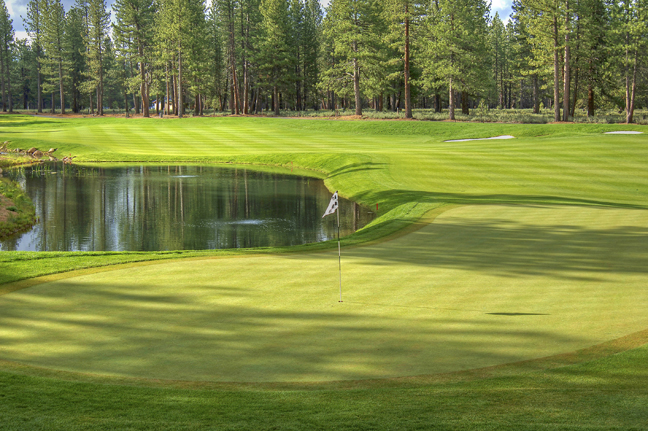 Old Greenwood, a Jack Nicklaus-designed masterpiece, and Gray's Crossing, a Peter Jacobsen-Jim Hardy design with tour-quality greens, both have been ranked on a number of "Best Golf Course" lists. Schaffer's Mill (formerly Timilick Tahoe) was No. 9 on Golfweek's Best New Private Course Nationwide in 2008. It also was the best new course I've played in years, with a handful of ultra-challenging and spectacularly designed holes.
Every year is a new adventure, whether I'm investigating a new course or renewing acquaintances with the lush green layouts that have become my favorites in Reno-Tahoe over the past 20 years.
This year, I enjoyed the unique challenges of playing Dayton Valley in winds gusting from 35 to 50 mph; battling Edgewood on a June day when the late-afternoon mercury dipped into the 40s; surviving Coyote Moon on a morning when there was a 45-minute frost delay; and enduring three-club winds at The Dragon, a breathtakingly beautiful course that was so difficult when it opened a decade ago that the course motto was "Send Me Your Heroes" and the course record for some time was 72 by a club pro who had seven birdies in that round.
(Fortunately, The Dragon's fairways and greens have been softened under new management, a number of bunkers and trees have been eliminated, some fairways have been widened, and the course is now as playable as it is visually striking. I can attest The Dragon is no longer breathing fire. It has been transformed from a play-once course to a must-play-again course.)
Yes, I said I enjoyed the aforementioned experiences, because I'm an admitted golf masochist. I have inherent biases favoring the longest, most difficult, most intimidating holes and courses. I love challenges, no matter how painful. Call me "The Marquis de Sod."
Like most avid golfers I also enjoy the "rush" of hitting a tee shot a long way. And that's another reason I love Tahoe golf – and why you probably will, too. It is the land of "ego golf," which is how some locals refer to playing at altitude – that is, at higher elevations than most of us are accustomed. (Not sure, however, whether that explains why somebody on the media tour found a little blue pill on the cart path at Edgewood.)
In Reno-Tahoe, you can tee it high and let it fly, because the ball travels farther in the rarified air, just as it does at Coors Field during Colorado Rockies games. Ever wanted to hit a pitching wedge from 150 yards or hit a driver out of sight? It is eminently possible in Tahoe.
Altitude at Tahoe-area golf courses ranges from 4,500 feet at Montreux in Reno to 6,300 feet at Edgewood in Stateline to about 7,000 feet at Tahoe Donner in Truckee. That's why the ball soars.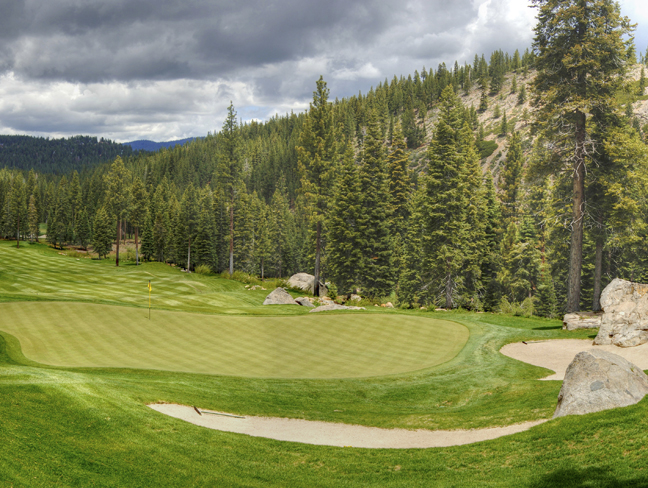 Studies by several golf organizations estimate a medium handicapper can expect an increase of 5 to 7 percent in distance on each shot, with low handicappers enjoying about a 10 percent power surge. If you're not sure of what to hit, my rule-of-thumb is to take one less club than usual.
Want to feel like Tiger Woods or Bubba Watson for a day? Go to Tahoe. Until last month, my longest drive was 342 yards on the 562-yard par-5 seventh hole at Northstar-at-Tahoe – but now my personal best is 351 yards on the 531-yard, par-5 ninth hole at Sommerset Country Club in Reno. (OK, the hole also was playing dramatically downwind. Details, details.)
Another aspect of Lake Tahoe-area golf that should appeal to any golfer is pace of play. My threesome played Silver Oak in Carson City in 3:20. My foursome at Dayton Valley played a tournament "scramble" in just less than 3-and-a-half hours. I also enjoyed 4-hour rounds at Coyote Moon, Gray's Crossing and The Dragon.
All of which is why I keep going back, year after year, just like the swallows that return to Capistrano. We're all creatures of rewarding habits.
FYI
Edgewood Tahoe Golf Course
edgewoodtahoe.com
(888) 881-8659
Incline Village Championship Course
golfincline.com
(866) 925-4653
Coyote Moon Golf Course
coyotemoongolf.com
(530) 587-0886
The Golf Club at Gray's Crossing
Grayscrossinggolf.com
(866) 703-4653
Old Greenwood Golf Course
oldgreenwoodgolf.com
(866) 703-4653
Tahoe Donner Golf Course
tahoedonner.com/golf
(530) 587-9443
Schaffer's Mill Club
schaffersmill.com
(530) 582-6964
Golf Club at Genoa Lakes
genoalakes.com
(775) 782-6694
Dayton Valley Golf Club at Legado
daytonvalley.com
(775) 246-7888
Silver Oak Golf Course
silveroakgolf.com
(775) 841-7000
LakeRidge Golf Course
lakeridgegolf.com
(775) 825-2200
Whitehawk Ranch Golf Club
golfwhitehawk.com
(800) 332-4295
The Dragon at Nakoma Golf Resort
nakomaGolfResort.com
(877) 462-5992
Grizzly Ranch Club
grizzlyranch.com
(530) 832-4200
Plumas Pines Golf Resort
plumaspinesgolf.com
(530) 836-1420
For more info on Golf the High Sierra, call (888) 365-3761 or visit golfthehighsierra.com