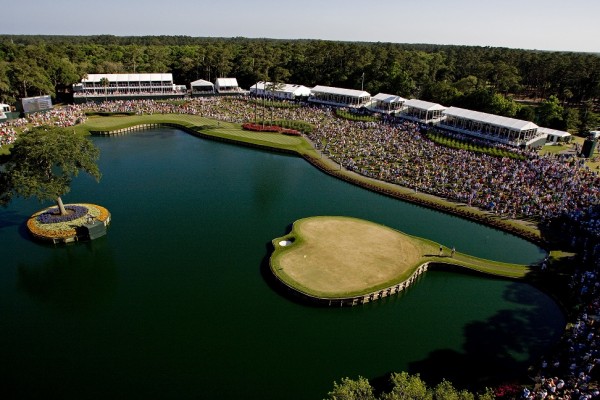 Pete Dye's Stadium Course at TPC Sawgrass has been an acquired taste for the best golfers in the world from the beginning.
That extends to Rory McIlroy and Tiger Woods, the current and former No. 1 players in the World Golf Rankings, who again will be tested by the dye-abolical layout this week in the Players Championship at Ponte Vedra, Fla.
"If you're not playing well, you're going to get exposed," said Woods, who won the tournament in 2001 and 2013, but might be tempting fate because he has played in only three tournaments this year because of his latest back injury.
Tiger has only four other top-10 finishes in his other 14 starts on the course.
Everybody remembers Jerry Pate jumping into the lake at the 18th hole, and taking Dye and then-PGA Tour Commissioner Deane Beman with him, after winning the first Players Championship contested on the Stadium Course in 1982.
"Pete Dye is a genius," Pate said. "Pete is an artist. He's one of the most influential architects of modern times, and this course is a testament to that fact."
However, the opinion of the new course among rank-and-file on the circuit was decidedly mixed.
"They ruined a perfectly good swamp," J.C. Snead said.
Johnny Miller called it, "Pete's Pain Palace."
"Anything that's new is open to criticism, and there were plenty of players criticizing that course when it opened," Fuzzy Zoeller said. "It was something nobody had seen before. Sure, some guys weren't going to like it."
So the some of the players in the world talked, and Dye and Beman listened to what they had to say.
Changes were made to make the course less severe.
"There were a lot of complaints when we first opened the course, and they were justified," Beman said. " … When the players played it two things were clear: If you hit it off the fairway, the ball would run into the woods, and the woods were very rough and thick. And the greens still had a lot of areas where you didn't have enough pin placements.
"When the players came in, we mapped out the changes we wanted to make. And we put together a committee with Jack Nicklaus and Ben Crenshaw and a number of other players. They made suggestions. We actually softened it more than they suggested."
Over the years since, the Stadium Course has helped the Players Championship grow in stature to the point that it ranks right behind the four major championships, earning the nickname, "The Fifth Major."
Woods, Fred Couples, Hal Sutton, Davis Love III and Steve Elkington of Australia all have won twice at Sawgrass, but nobody has owned the place, and it isn't anybody's updated version of "Hogan's Alley."
Which brings us back to McIlroy, who is coming off a victory in the WGC-Cadillac Match Play Championship at TPC Harding Park last week.
The best player in the world right now missed the cut in his first three appearances in the Players, skipped the tournament in 2011 and wasn't afraid to say he didn't like the place.
However, to Rory's credit he came back and has started to figure out the nuances of the Stadium Course, tying for eighth in 2013 and tying for sixth last year.
"It's just a course that you have to figure out, and it's taken me a while," McIlroy said. " … It's a tricky golf course. It's a golf course where you look at the field and you're like, 'Anyone can win.'
"It doesn't really suit any type of player. It's one of those courses where the player who plays well that week will win."
Make no mistake, the course still has its detractors.
And there is no question that the No. 1 villain is the 17th hole, a par 3 that measures only 137 yards, but to an island green that has doomed the chances of countless golfers to win the Players.
"A lot of players don't like it, but I think it's what makes this tournament," Adam Scott said.
Don't tell that to Ernie Els.
The Big Easy found it hard to take when he hit his tee shot into the water at No. 17 a few years ago en route to a triple bogey 6.
"I think they should just blow it up, seriously," a frustrated Els said.
That's not going happen because whether watching in person or on television, it often gives the fans what they have come to expect from the Stadium Course.
Either a great shot or another guy who crashes and burns.