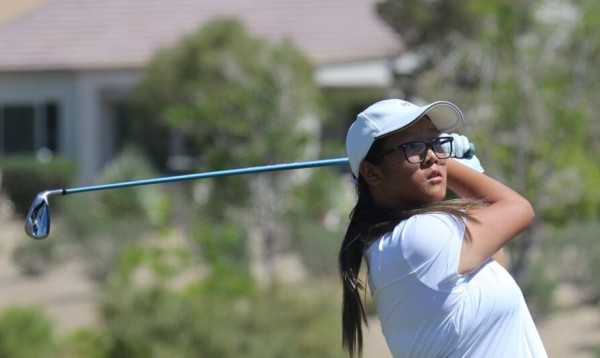 Kailie Vongsaga of Diamond Bar, Alisaundre Morallos of Lakewood and Yoonju Shin of Irvine were selected to the 2015 AJGA Junior All-Star Team, it was announced by the American Junior Golf Association.
The 14-year-old Vongsaga (pictured), a freshman at Diamond Bar high, captured the Junior All-Star at Aliante, the Junior All-Star at Longaberger and the Yang Foundation Junior at Wood Ranch, and is No. 32 in the Polo Golf Rankings.
Morallos, 16, junior at Woodrow Wilson Classical High, won the TaylorMade-adidas Golf Junior All-Star at Stonehenge and tied for third in both the Toyota Music City Junior and the L.A. Junior Open. She is No. 98 in the Polo Golf Rankings.
Shin, 14, a sophomore at Sage High, finished first in the TaylorMade-adidas Golf Junior All-Star at Traditions and second in the Junior All-Star at Forsgate. She is 73erd in the rankings.
Also on the Girls' team are Jayna Choi of Collierville, Tenn.; Caroline Curtis of Richmond, Va.;  Sadie Englemann of Austin, Texas; Abigail Heck and Rachel Heck, both of Memphis, Tenn.; Michaela Morard of Huntsville, Ala., and Erica Shepherd of Greenwood, Ind.
On the Boys' team are Canon Claycomb of Bowling Green, Ky.; Kyle Cox of Carrollton, Texas; Manuel Girona of Windermere, Fla.; Ryan Hall of Knoxville, Tenn.; Brandon Mancheno of Jacksonville, Fla.; Joseph Pagdin of Orlando, Fla.; Jansen Smith of San Angelo, Texas; Will Thomson of Pittsford, N.Y., Karl Vilips of Foxfire, N.C., and Brandon Yoon of Brambleton, Va.