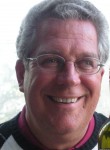 Unlike most of my vacations, my recent two-week expedition to the maritime provinces of Canada was not built around golf.
Cathy (my better half) and I had never been to Nova Scotia and Prince Edward Island – in eastern Canada several time zones away – so we arranged a custom-made tour to enjoy the historical sights and scenery in what is universally trumpeted as one of the most visually striking regions of the world.
Suffice to say, the views were as spectacular as advertised as we motored through Halifax, Nova Scotia's capital city, then along the world-famous Cabot Trail on Cape Breton Island, over to New Brunswick to document the world's highest tides at the Bay of Fundy and finally across the 8-mile-long Confederation Bridge to a golf resort on Prince Edward Island.
Along the way, we also explored the many ways to consume lobster: steamed lobster, cold lobster, lobster thermidor, steak and lobster, lobster benedict, lobster newburg, lobster rolls, lobster wraps, lobster cakes, lobster linguini, lobster salad sandwiches, lobster mac and cheese, lobster mashed potatoes and, of course, lobster bisque before drawing the line and resisting the McLobster sandwiches offered at the local fast-food eateries featuring golden arches.
When I said this vacation didn't revolve around golf doesn't mean I ignored the lush green courses beckoning as we drove by. To the contrary. In fact, I felt compelled to stop and play courses that weren't even on my itinerary, as well as stop and walk around a few others. It didn't take our tour guide, a Halifax resident named Greg MacDonald, very long to deduce that he should point out every golf course on our route.
Turns out, Nova Scotia and Prince Edward Island – the locals refer to the latter as PEI – are teeming with outstanding golf courses. Before my trip, the only thing I knew about PEI golf was that The Golf Channel reality series "Big Break" had filmed "Big Break: Prince Edward Island" at Mill River Golf Course on the island in 2009.
Subsequent online research revealed that PEI had several courses that had attracted big-name pros and competitions in recent years and that Cape Breton boasted Highlands Links, a course ranked the top public course in Canada by one publication and is regularly included on Golf Magazine's list of the "Top 100 Golf Courses in the World." Immediately, Highlands Links became a must-stop on our tour.
The highlights from my recent fairway research north of the border:
HIGHLANDS LINKS, Ingonish, N.S.: Located in the heart of Cape Breton Highlands National Park, a stone's throw from Keltic Lodge Resort and Spa, Highlands Links is an absolute gem worthy of all of its accolades. On the day I stopped, there were only 50-60 players on the course in late morning, according to the golf shop, which was stunning to me considering the greens fee was only $81. Breathtaking mountain views, ocean vistas, dramatic elevation changes – this Stanley Thompson layout has it all. Some have called this course Thompson's homage to golf's Scottish roots, if not the famed Old Course at St. Andrews.
BELL BAY GOLF CLUB, Baddeck, N.S.: Bell Bay is located in the scenic burg of Baddeck in Cape Breton, overlooking the Bras d'Or Lakes and not far from the Alexander Graham Bell Museum. Yes, Bell had a summer home in Baddeck, where the inventor conducted much of his scientific work, so it's not surprising the course and the bay it overlooks were named after him. BBGC earned Golf Digest's "Best New Course in Canada" in 1998 and still ranked among the country's best courses a decade later. Back nine is particularly scenic, especially the panoramic views from the elevated 18th teebox. Two weeks after I played it, it hosted the prestigious Nova Scotia Amateur Championship.
CABOT LINKS, Inverness, N.S.: The newest and most highly acclaimed course in Nova Scotia, Cabot Links had its 18-hole grand opening two days after my visit in late June. If I didn't know I was in Cape Breton, I would have guessed that I was at Bandon Dunes on the Oregon coast. It's a spectacular seaside links course reminiscent of those at Bandon, which is not accident, as GM Andrew Alkenbrack explained to me, because one of its developers is Mike Keiser, Bandon's owner-developer. Like at Bandon, Cabot Links is a walking-only course built right along the rugged coastline. The course opened 10 holes a year ago and now is an 18-hole masterpiece and a bargain at $130.
THE LINKS AT CROWBUSH COVE, Prince Edward Island: This was my favorite course on my vacation, as I got to unpack my bags a few days at the Rodd Crowbush Golf and Beach Resort, the island's only five-diamond resort, and attack the ultra-challenging course several times. Overlooking the north shore dunes of PEI, Crowbush Cove features undulating fairways and greens, water hazards galore, irritating pot bunkers to go with the ever-present and tricky winds off the ocean. The views are spectacular, too, which is why Fred Couples, John Daly, Mark O'Meara and Mike Weir played a televised skins game here in 1998 and a Legends of Golf event with Vijay Singh and Weir was contested here in 2007. Heck, Regis Philbin even filmed his TV show here once.
Also got a chance on PEI to visit Dundarave Golf Course and Brudennell River Golf Course, site of the 2000 Lorie Kane Island Challenge, Canada's first-ever women's skins game, as well as Green Gables Golf Club and Glasgow Hills Resort & Golf Club.
So many great courses, not enough time to play them all. Can't wait to go back.