By Brian McCallen
Seeking a diverse array of spectacular golf courses woven into a dazzling seaside landscape? Los Cabos is the destination for you.
Situated at the place where the Sea of Cortes meets the Pacific Ocean at the tip of the Baja Peninsula, Los Cabos boasts a mountain-desert-ocean environment unique in the western hemisphere. Only in Los Cabos do emerald green fairways drop from cactus-studded foothills to meet the deep blue sea. Only in Los Cabos can golfers tee it up on stunning layouts with ocean views built by design legends such as Jack Nicklaus, Tom Fazio, Greg Norman and Robert Trent Jones, Jr. And only in Cabo can players enjoy great golf and perfect weather: Blue skies, brilliant sunshine and cooling sea breezes prevail year-round.
With three courses on Golf Digest's "World's 100 Greatest Golf Courses" list and seven of the top 10 courses in Mexico, Los Cabos is the undisputed 'Golf Capital of Latin America.' Improved air connectivity from most major U.S. cities has put this safe, fun-filled getaway, which combines exotic appeal with the luxury of space, within easy reach.
In the span of 30 years, Los Cabos has transformed itself into an elite international golf destination. This former sleepy port of call now counts nearly 20 courses built in and around a 20-mile coastal corridor linking San Jose del Cabo, a quaint colonial town circa 1730; and Cabo San Lucas, a take-on-all-comers party capital and fishing mecca.
Led by 5-star beachfront resorts, stellar restaurants, sumptuous spas and a surfeit of land and sea adventures, Los Cabos has established itself as a hotspot for upscale travelers in search of an exceptional vacation experience.
Cabo, in sum, has what everyone wants. An ideal climate. Incomparable golf. Superb hotels. Excellent dining. Technicolor sunsets. Dawn-to-dusk nightlife. And the friendliest welcome in Mexico.
Here's a review of Cabo's leading resort and public-access courses.
RESORT / PUBLIC ACCESS
Cabo Del Sol Golf Club
Formerly known as the Desert Course, this stellar Tom Weiskopf-designed layout is situated within Cabo Del Sol, a premier 1,800-acre resort community. The well-strategized layout scales rugged desert terrain crisscrossed by canyon-like arroyos, with an ocean view from every hole. The original holes (one through 11, 17 and 18) offer an enticing blend of long and short holes as well as numerous risk-reward options. Broad fairways framed by granite rock outcrops, large, sculpted bunkers and a dense cactus forest characterize the design. The greens feature long slopes, subtle rolls and multiple tiers.
In 2021, Fry/Straka Global Golf Course Design was retained to build several new holes (Nos. 12 – 15) in dramatic mountain foothills north of the existing layout. The design duo will remodel pre-existing holes on the Desert Course to match the style of their new creations. Final completion of the $15-million course makeover is expected by 2024.
Provisional facilities, including a driving range, clubhouse and food & beverage truck, currently serve players. Complimentary Mexican fare and beverages are available midway through the round. www.cabodelsol.com/cabo-del-sol-course
Cabo Real Golf Club
Set within a 2,800-acre resort community with 3.2 miles of beachfront, Cabo Real, one of three Questro Golf venues (the others are Club Campestre and Puerto Los Cabos) is conveniently located in the center of the Tourist Corridor. The reversal of the club's nines several years ago dramatically improved the flow and enhanced the balance of an intriguing course designed by Robert Trent Jones, Jr.
The front nine, remodeled by Jones from a pre-existing layout, provides a scenic test with broad fairways that spill down to the Sea of Cortes. Cabo Real's longer back nine, marked by steeply pitched holes chiseled into rugged desert foothills, presents a very sturdy, target-style test. Free-form bunkers and elevated greens combine with ridgetop fairways to create a top-of-the-world feeling nearly 500 feet above the sea. Jones' artistry is evident throughout. Green complexes and containment mounds mimic the shapes of the richly hued mountain peaks that backdrop the fairways. www.questrogolf.com
Club Campestre San Jose
Tucked into rolling mountain foothills 15 minutes from Los Cabos International Airport and five minutes from the historic colonial city of San Jose del Cabo, the Nicklaus Design course at Club Campestre anchors a 550-acre master-planned community. Vast sandy waste areas, large-scale bunkers and sinuous arroyos that snake across the fairways call for sound course management on this challenging 6,996-yard, par-71 layout. Campestre's greens, among the most liberally contoured putting surfaces in Los Cabos, can be very challenging depending on pin placement. The signature hole is the risk-reward par-5 seventh, a double-dogleg that plays to a well-bunkered peninsula green that juts into a pond.
The club's longer, tougher back nine ascends to higher ground, circulating players around a rolling desert plateau high above the sea. Always in top condition, Club Campestre showcases the raw natural beauty of the Baja desert and represents excellent value. www.questrogolf.com
Puerto Los Cabos Golf Club
Situated on the outskirts of San Jose del Cabo, Puerto Los Cabos is a 27-hole facility with an 18-hole course by Jack Nicklaus; and a nine-hole layout by Greg Norman. (Norman will return in future to build a second nine). Until then, Puerto Los Cabos, a 2,000-acre master-planned resort community with a Ritz-Carlton, a JW Marriott and a Secrets hotel nearby, offers three 18-hole combinations to members, resort guests and daily-fee play.
While the club dates to 2007, Nicklaus unveiled his second nine, along with major revisions to the previous nine, in 2018. The new holes emulate the original design style: subtly contoured greens, large sculpted bunkers and dramatic elevation changes.
The Norman Course, a 3,590-yard, par-36 layout, is equally dramatic. Huge flashed-faced bunkers, inspired by Melbourne's Sandbelt courses prized by the Aussie designer, signpost the fairways and defend the greens.
Complimentary Mexican specialties and refreshments are served at a pair of on-course palapas. www.questrogolf.com
Palmilla Golf Club
The first Jack Nicklaus Signature course in Latin America, Palmilla's Mountain and Arroyo nines set the stage for top-shelf golf in Los Cabos when the core 18 opened in 1992. Chiseled into in a box-shaped canyon framed by stark brown peaks, Palmilla was the first course in the hemisphere to partake of the region's mountain, desert and ocean ecosystem.
Routed around cactus-covered hills, boulder-strewn arroyos and vast waste bunkers, the layout's five sets of tees provide admirable versatility. An upland spread featuring beautiful ocean views, Palmilla is framed by multi-armed cardon cacti—a cousin of the saguaro, only taller—as well as a low forest of desert trees and smaller cacti. Several holes calling for heroic carries over no man's land from the back tees, but broad terraced fairways, generous bail-out areas and open-entry greens accommodate players of lesser attainment.
The Ocean nine, added in 1997, features a 600-foot elevation change from the first tee to the sixth green, carrying players from the mountains to the sea. www.palmillagc.com
The Palmilla Golf Club is open to the public and affiliated with One&Only Palmilla, a legendary hideaway built in 1956 by the son of a former president of Mexico. The hotel was later transformed by South African entrepreneur Sol Kerzner into a world-class resort. This elite retreat, a favorite of Hollywood A-listers, extends onto a rocky promontory that juts into the azure-blue sea. The resort's beaches, each in a scalloped cove, are among the few in Los Cabos where the water is calm enough for swimming. This lushly landscaped resort reigns as the grand dame of Cabo's 5-star hotels.
Solmar Golf Links
Centerpiece of an 834-acre resort community set back from a long stretch of Pacific beach 20 minutes from downtown Cabo San Lucas, this Greg Norman-designed course, formerly known as Rancho San Lucas, opened in 2020.
Known for his 'least-disturbance' design approach, Norman tailored the course to the site's existing terrain, creating a low-profile layout with panoramic ocean views from every hole. Spanning three different ecosystems, the layout rambles through huge windswept dunes at the start, climbs through a thick cactus forest crossed by arroyos, and returns players to the beach and sea on the back nine. Even on a windy day, wide corridors and generous targets give players at all ability levels a fair chance.
Solmar Golf Links has a handful of holes on the beach, notably the par-3 third, which parallels the ocean; and the par-4 14th, a picturesque right-to-left dogleg that plays to a broad fairway framed by shouldering dunes, its target a huge raised green framed by the sea.
The club's two on-course comfort stations, each accessible twice, serve complimentary Mexican fare and refreshments. www.solmargolf.com
PRIVATE / RESORT ACCESS
Quivira Golf Club
Grafted onto a spectacular site at Land's End, Quivira, the sixth Jack Nicklaus-designed course in Los Cabos, is an aesthetic tour de force and a triumph of engineering. Marked by sheer cliffs, massive dunes and rolling foothills, this epic test has winding arroyos, acres of cactus, lots of rock…in sum, a little bit of everything Cabo has to offer.
The drive to the par-4 sixth hole zigzags up the side of a mountain and leads to a perch 275 feet above the sea. At under 300 yards from the forward tees, No. 6 can be driven, but it's 'hasta la vista' if you miss the cliff-hanging green. After swinging past an old lighthouse circa 1905, the layout weaves through the dunes, returns to the cliffs, heads inland and finishes at a short risk-reward par 4, its slim three-level green perched high above the sea. Arguably the most daring, eclectic course Nicklaus has ever built, Quivira presents an unforgettable test from any set of tees.
Complimentary Mexican specialties and refreshments are served at the club's four comfort stations, notably at the open-air Oasis. Quivira is accessible to guests of Pueblo Bonito Resorts, including the adults-only, all-inclusive Pueblo Bonito Pacifica Golf & Spa Resort located five minutes from the course. www.quiviraloscabos.com/golf
PRIVATE / LIMITED RESORT ACCESS
Chileno Bay Golf & Beach Club
Commanding a choice location within the Los Cabos corridor, Chileno Bay Golf & Beach Club is a 1,200-acre private resort community with protected beaches fronting a 2.5-mile stretch of coastline on the Sea of Cortes. Its showpiece is a magnificent Tom Fazio-designed golf course routed in desert foothills high above the Sea of Cortes. Graceful, flowing landforms intended to simulate rolling ocean waves characterize the design. Interlaced by sandy arroyos and framed throughout by colorful ornamentals, Chileno Bay, one of the best-conditioned courses in Cabo, presents an ocean view from every hole. Formal bunkers are filled with bright white sand imported from the U.S., with native tawny sand outlining the fairways.
Highlighted by a pair of "driveable" short par 4's at Nos. 8 and 11, the back nine builds to a crescendo at the testing par-4 18th, which stretches to 512 yards from the tips and tumbles downhill to an infinity-edge green.
Fun fact: The tiki-style bar stools at the comfort station on the incoming nine were salvaged from the former Hotel Cabo San Lucas, a Hollywood jet-set getaway in the 1960's.
Guests of Chileno Bay Resort & Residences, a 92-key beachfront hotel and villa resort managed by Auberge Resorts Collection, have exclusive access to the otherwise-private golf club. www.chilenobayclub.com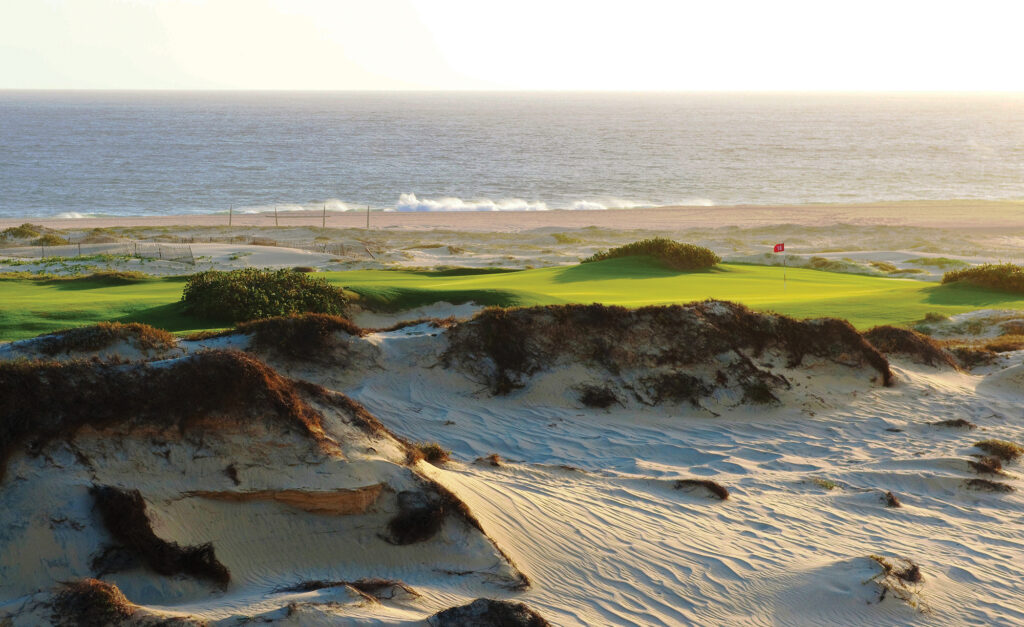 Diamante
Located 15 minutes north of downtown Cabo San Lucas and fronting the Pacific Ocean, Diamante is a 1,500-acre private resort community with 36 holes of golf and a 12-hole par-3 course.
The Dunes Course, ranked among the world's Top 100 courses by both Golf Digest and GOLF Magazine, is a splendid Davis Love III design carved into vast white sand hills set back from the ocean. This breezy, lay-of-the-land links, known for its large undulating greens, skirts enormous dunes and blowout bunkers on its journey to and from the sea. The par-5 18th hole, which calls for a lofted approach to a shelf-like green 50 feet above fairway level, is arguably the toughest finishing hole in Los Cabos.
Diamante's El Cardonal, featuring an "Old California" design motif, marked the architectural debut of Tiger Woods when it opened in 2014. Defined by flashed-faced bunkers, this multi-themed layout transitions from sand dunes to rolling foothills edged by desert vegetation and winding arroyos. With its wide fairways and open-entry greens, El Cardonal was designed to appeal to golfers at all skill levels. The course will host the World Wide Technology Championship, a PGA Tour event, this fall. Guests of the on-site Nobu Hotel and Hard Rock Hotel have limited access to Diamante's courses, subject to availability. www.diamantecabosanlucas.com/the-experience/golf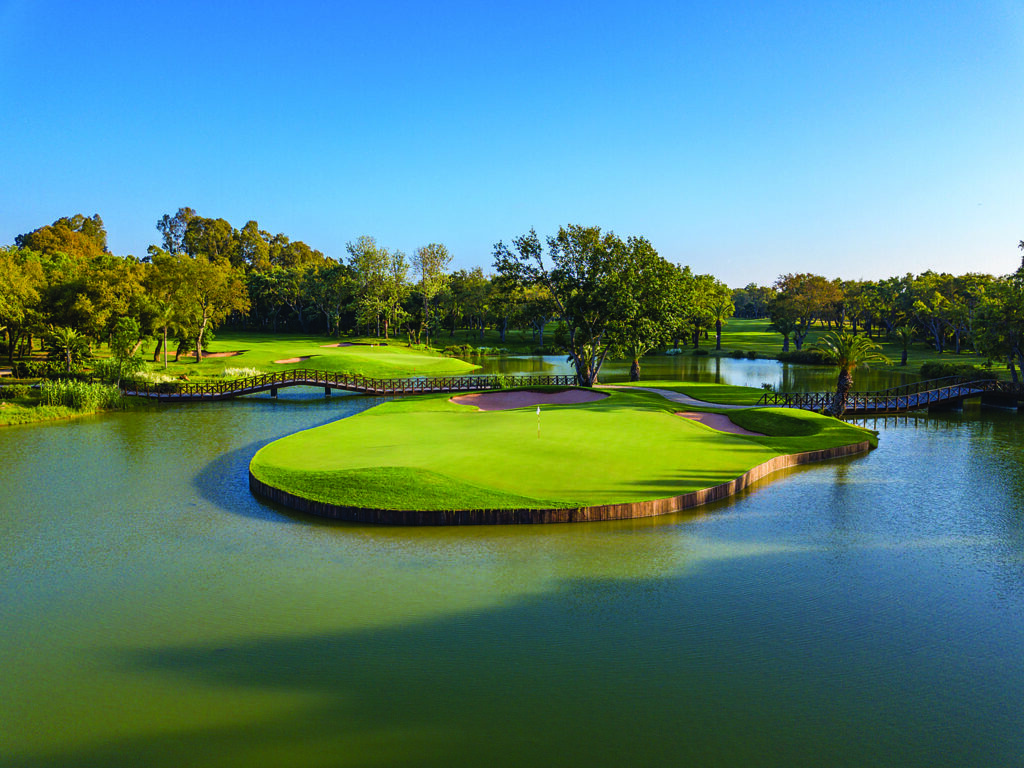 Twin Dolphin Golf Club
Occupying a broad sloping plateau bisected by three major arroyos high above Santa Maria Bay, Twin Dolphin's naturalistic layout, built by Hall of Famer Fred Couples and Todd Eckenrode of Origins Golf Design, features sweeping views of the Sea of Cortes from every hole. Framed by craggy mountain peaks, the course makes admirable use of the site's natural contours and rock outcrops. Known for its firm, fast conditions, the golf club, centerpiece of a 1,400-acre master-planned community, occupies the site and retains the name of the iconic Hotel Twin Dolphin, a local hospitality legend.
In addition to four sets of tees ranging from 7,156 to 5,011 yards, the club offers three additional sets of combination tees to provide maximum versatility. This unembellished layout has broad rolling fairways, open-entry greens, minimal forced carries and sharp elevation changes. To settle bets, there's a short par-3 "bye hole" that calls for a 95-yard pitch shot over an arroyo.
Players are privy to personalized service, a caddie program, two on-course "Red Door" comfort stations, and a state-of-the-art practice facility.
Twin Dolphin is a private club with exclusive access available to guests of Montage Los Cabos, a 122-room resort on Santa Maria Bay; and Montage Residences (52 two- and three-bedroom turnkey units). www.twindolphinloscabos.com