JW Marriott resorts embrace the spirit of Arizona
When JW Marriott looked at Arizona as a site for one of its world-class resorts, the luxury hotel brand saw location, location, location.
Three locations, to be exact … all perfectly suited to become resort homes for JW Marriott's signature blend of unparalleled service and amenities.
Arizona features JW Marriott's JW Camelback Inn Resort & Spa in Scottsdale, the JW Starr Pass Resort & Spa in Tucson, and the JW Desert Ridge Resort & Spa in Phoenix. The trio of properties is intertwined by the JW Marriott commitment to providing guests with a harmonious fusion of memorable recreational activities and relaxation.
"There are only about 40 JW Marriott resorts worldwide, so to have three in Arizona is a testament to those locations in the state," Area Vice President Steve Hart said. "A pillar of the JW Marriott brand is to assimilate the culture of the region into each resort, and our guest experience is enhanced by the way we embrace the Arizona settings at JW Camelback, JW Starr Pass, and JW Desert Ridge."
Rather than carving a tract of imported green sod and concrete out of the desert, JW Marriott blended the natural elements of the Arizona properties into the design of each resort. All three integrate native vegetation and terrain into the layout, giving visitors a seamless flow between structures and the surrounding land.
"Each of these resorts has so many unique aspects when you look around so that you realize you couldn't put it anywhere else because it fits so well with the surroundings," Hart said. "The designs enable our guests to enjoy the entire resort because everything belongs together."
Golf is a prime attraction at each of the Arizona JW Marriott resorts. During the fall and winter months, each resort offers the Unlimited Golf Package, enabling players to experience the highly acclaimed courses at the property of their choosing. At each resort, the Unlimited Golf Package includes breakfast each morning, unlimited golf per person, golf cart with GPS included daily (beginning at 3 p.m. on day of arrival), and unlimited use of practice facilities daily.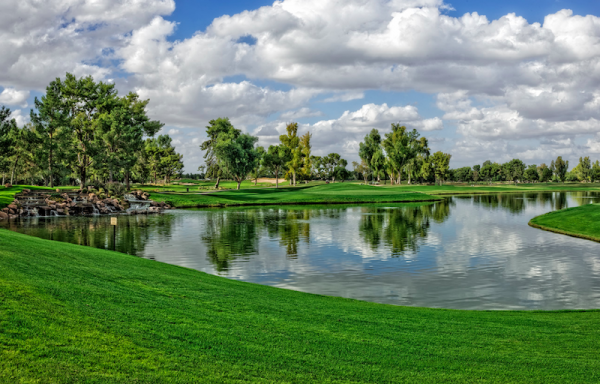 At JW Camelback Inn Resort & Spa, golfers have access to the historic Camelback Golf Club, home to one of Arizona's original resort golf facilities and two 18-hole championship courses, Padre and Ambiente. Padre, which was refurbished and reworked by Arthur Hills in 1999, is a par-72 that plays 6,903 yards. Padre (above) runs through gentle rolling terrain, but the spectacular scenery and views of Camelback Mountain shouldn't detract golfers from the task at end on this challenging layout. Natural hazards and several water hazards frequently come into play, and the course is heavily bunkered.
Ambiente, the resort's newest course, was designed by Jason Straka, who created an environmentally friendly test of golf that plays more than 7,200 yards at par-72. Ambiente was laid out on the former Indian Bend course, and Straka reduced turf area size and water capacity to make the course well suited for its desert location. As part of the $10 million transformation, more than 1,400 Acacia trees were added, and the formerly flat track now features numerous contours and slopes.
"In our climate and region, when you can reduce water consumption on a golf course, it's always beneficial," Rob Bartley, Director of Camelback Golf Club, said. "And the way Jason designed Ambiente to utilize the natural surroundings created a course that all players will enjoy."
At JW Starr Pass, players experience a traditional desert style of golf on the 27 holes offered at Starr Pass Golf Club (below), an Arnold Palmer Signature Golf facility. There are three nine-hole layouts, the Rattler Course, the Roadrunner Course, and the Coyote Course. The Roadrunner was designed by Arnold Palmer, and the Rattler and Coyote courses were designed by Bob Cupp and Craig Stadler.
Each course features rock outcroppings, cacti, arroyos, and stunning mountain scenery. In addition, Starr Pass Golf Club is a Certified Audubon Cooperative Sanctuary facility, a designation bestowed for the dedication of JW Starr Pass Resort & Spa in maintaining a high degree of environmental quality in areas including environmental planning, water conversation, and wildlife & habitat management.
"Our advice to players is 'the rocks and the cactus areas are for all the wildlife you'll see out on the course, the fairways are for you," said Todd Howard, Director of Starr Pass Golf Club. "At any of the three courses, there are a lot of risk-reward shots, so you can make your round as challenging as you'd like."
The JW Desert Ridge Resort & Spa in Phoenix offers two 18-hole courses at Wildfire Golf Club, the Palmer Signature Course, designed by Arnold Palmer, and the Faldo Championship Course, designed by Nick Faldo. Each incorporates elements of the surrounding Sonoran Desert into their respective layouts, with the McDowell mountains serving as a backdrop.
The Palmer Signature Course plays up to 7,145 yards, providing a very scenic desert experience. The expansive fairways allow the player to remain in play even on an errant shot. The flashed bunkering on Palmer is superb, and the putting greens carry plenty of undulation, like many Arnold Palmer designs.
The Faldo Championship Course, which plays up to 6,846 yards, sits on a 174-acre site and offers a slight variation from the typical desert-theme courses. It features generous fairways, large greens and multiple tee boxes. The surrounding mountains and century-old saguaro cacti as well as 108 sand bunkers, reminiscent of the Australian sand belt courses, provide a spectacular setting for the golf course and golfing guests.
While many come to the JW Marriott Arizona resorts for the world-class golf, others come for the world-class recreation and relaxation beyond the fairways and greens. Each of the three resorts offers extensive spa services, including massage, facials, manicure/pedicure, and much more. At JW Desert Ridge, Revive Spa offers a diverse menu of spa experiences that incorporate beautiful, tranquil settings and indigenous flora and fauna into signature treatments.
JW Starr Pass features Starr Canyon River, a complimentary collection of outdoor water features available to resort guests. Lazily drift along the Starr Canyon River, brave the Monsoon Falls Water Slide, lounge by the Reflection Pools or play in the Dancing Springs. The hiking trails and bike paths at JW Starr Pass are also a top family attraction.
At JW Camelback, the restoration of the hotel's original lobby, built in 1936, is a highlight of the seven year, $70 million improvement project at the resort by JW Marriott. Original adobe bricks from the lobby were rebuilt during the restoration, and the project created additional open spaces in the public areas.
Guests enjoy an array of first class dining experience at all three resorts. Each golf facility features a full service restaurant at the golf clubhouse, such as the Meritage Steakhouse at JW Desert Ridge's Wildfire Golf Club, enabling players to enjoy more than a hot dog and soda while at the golf course. On the resort grounds, dining options include Rita's Kitchen and R Bar at JW Camelback, Stonegrill at JW Desert Ridge, and Primo at JW Starr Pass.
"The three pillars of JW Marriott are wellness, culinary, and culture," Hart said. "At our three Arizona resorts, our guests have access to the best of each, plus perfect weather, and the fantastic service that comes with staying at a JW Marriott resort."