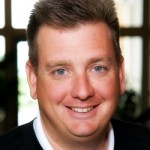 Focus on what you can control and don't let what you can't control you!
In order to play at a high level you have to stay focused and sharp mentally.
You have to make sure that you keep your head clear, and you do this by only worrying or focusing on what is important. That is focusing on the things that you can control.
It doesn't matter what your opponent does, or what you did last time on a hole. These are things that will only clutter up the brain and slow down your ability to swing freely. You need to focus on making a good decision on what shot to play, and then executing that shot with complete confidence.
If you are really good at this it shouldn't matter whether you are in the club championship or the16th at TPC Scottsdale during the WM Phoenix Open.
The noise around you may be different, but the noise in your head should always be the same.