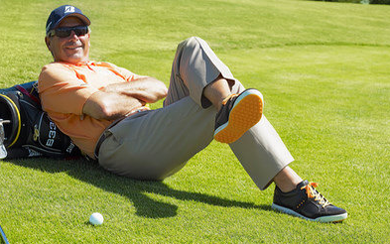 Newport Beach, CA (March 3, 2011) — Nearly a year ago, the laid back and talented Fred Couples waltzed to victory about the fairways of Newport Beach Country Club wearing a pair of shoes he may have stolen for the hut of the "Skipper" on Gilligan's Island. Freddie returned this week to the scene of one of his four Champions Tour victories in 2010, where his popularity and sizzling season start brought out the best crowds arguably ever scene at the Toshiba Classic. As stated, Fred was a four time winner in his rookie season on the Champions Tour, including the ACE Group Classic, Cap Cana Championship, Administaff Small Business Classic, where he played his college golf in Houston, and most importantly, the Toshiba Classic. Fred also narrowly missed out winning his first start too, losing by a shot to Tom Watson in Hualalai. In his illustrious career, Couples has won 15 PGA Tour events, highlighted of course by his 1992 Masters victory, his only major and the course he calls his favorite. Fred has also won a PGA Tour Player of the Year Award, and a Vardon Trophy in 1991 and 1992, as well as the Arnold Palmer Award, which is the leading money winner, in 1992.  His stellar play has garnered him selections to the U.S. Ryder Cup team five times, in '89, 91, '93, '95, and '97, and is a four time Presidents Cup player – '94, '96, '98 and 2005. At the 2009 Presidents Cup played at Harding Park in San Francisco, Fred captained his squad to a convincing victory over his good friend Greg Norman, and is preparing to captain the 2011 squad, which will compete in Melbourne, Australia in the fall.
But before contemplating what will happen, Down Under in September, Fred must get some things squared away early in 2011. "Last year, I played a lot more golf in December.  It's not that I felt much better, but I got to feel better. This year I didn't play much in December at all.  I tried to take four weeks off to rest my back. Then I started to play in early January, and I didn't really feel much better." Couples has been plagued with a chronic back ailment for much of his career, something that may escape some who watch him and his buttery swing. It led him to switch to a belly putter about five years ago while at the British Open so he could practice with less stress on is lower back. Often times while play has slowed, Fred is seen stretching on the tee box or off the side of the green. And with age, it doesn't have much chance of getting better. "I am going tomorrow down to San Diego to see if, not so much a back specialist, but another guy to try and figure out why I'm so stiff and not doing well," he said. "So as far as the season, it's brand new.
In 2010 no one was hotter than Fred Couples at the beginning of the season. He was en fuego! He won three of the first four events on the Champions Tour and finished tied for 9th at Waste Management Phoenix Open in late February. Any golfer will tell you that replicating such lofty accomplishments is difficult, Tiger-like, especially with so many good players out there but last year remains special. "I think, obviously, the quick answer is I led the Champions Tour in putting. I don't even know the last time I was even in the top-ten on the regular tour in putting. I know there were a few years where I putted pretty well. But that's the whole thing for anybody.  You know, you don't do well on any tour unless you putt well."
Couples, one of the Tour's most popular players who occasionally still dons those Ecco, boating golf shoes, has always enjoyed his time in Southern California. He was a resident some years ago after moving from his native Seattle. Based on his success at Riviera CC in Los Angeles, a traditional, old style William Bell design, Couples took a liking to Newport quickly. "I used to live in Newport Beach," said Fred. "I never played Newport Beach Country Club. I used to hit balls at the little par-3 with the lights. And then for a while at the very end, before I moved, I got an honorary membership down at Santa Ana (CC).  So when I walked on the course, believe it or not, last year, it was the first time I'd ever seen it, and I played two Pro Ams, and I really, really liked it. I like the greens. I like the way the course is set up." There are definite characteristics that can be found at both Newport and Riviera, the type of grasses, their proximity to the ocean breezes and the traditional tree lined fairways and slick, tricky greens. To enjoy further success at Newport Beach CC Fred knows that getting in some much needed practice on his short irons is the key. "The last few holes at Phoenix last week, I had these guys laughing at me because I was still driving it with them or past them, but I couldn't hit a green with an 8 iron," said Fred. "I couldn't swing once I kind of hinged and bent over a little bit.  So those are things I've got to get fixed. You know, taking time off from golf is not the end of the world, but it's when I come back and I don't feel any better, then I get a little frustrated.  Then I start to think like this is crazy. But the not sleeping at night, that's no bargain at all."
Reflecting on his five-shot victory in 2010, Fred had numerous reasons for fond memories. "I had probably 50 very close friends that came out to watch, which was fun.  A lot of times you see people over and over and over, so the Champions Tour is kind of new to me.  Some are people that used to watch me at the L.A. Open.  So that was fun.  As you know, Newport is one of the top two or three for crowd attendance. But just the week itself,    I lived in Newport for a long time. I kind of know the area a little bit.  There were some people from Shady Canyon and some people from Palm Springs, and we went to dinner one night. The golf is there, and obviously I played well each day. Going into Sunday, I knew I had a chance at winning and won. So the whole week was a fun time. I played with Mark O'Meara and Tom Watson. So it was a great pairing."
The pairings won't be introduced for a few weeks but if the Champions Tour is taking a page out of the popularity being created on the regular Tour in 2011, whatever threesome he is in should once again be the stellar grouping prancing about Newport Beach CC in the second week of March. You can almost hear the chants of "Freddie, Freddie," or "Boom, Boom." He'll be joined by an outstanding cast that includes local resident John Cook who is off to a terrific 2011, along with past champions Tom Kite and Hale Irwin. It will also be the first visit to Newport for Mark Calcavecchia, a long time friend of Freddie's, as well as CBS golf analyst Ian Baker-Finch's Champions Tour debut.
For tickets and more information log onto www.toshibaclassic.com